Ben Affleck is the Hero of Sleepy Murder Mystery
DIRECTOR: ALLEN COULTER/2006
BLU-RAY STREET DATE: AUGUST 25, 2020/KINO LORBER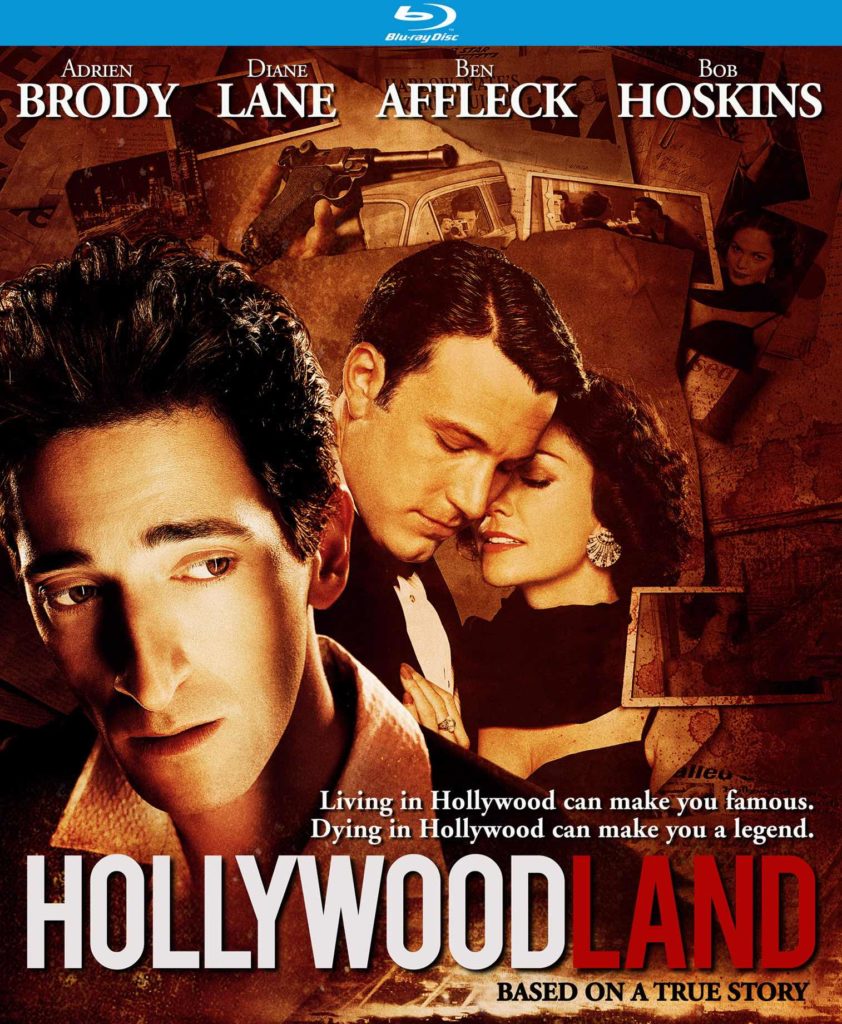 We're still wondering about the 1959 death of actor George Reeves. Was the gunshot wound to his head suicide as originally thought? Or was it murder as the second autopsy suggested? Hollywoodland follows private detective Louis Simo (Adrien Brody) as he investigates what happened in the final hours in the life of the star of The Adventures of Superman. Could a violent fight have led to a fatal accident? Did a Hollywood studio need to cover up a mess? Could an old flame have wanted revenge? As Simo looks into every lead, we flash back to meet Reeves (Ben Affleck) and all of the people who may have wanted him dead.
Not-exactly-a-spoiler-alert: Hollywoodland doesn't decide what happened to Reeves. We see several possible scenarios explaining the bullet, but just like the true story, no evidence is conclusive. (Zodiac this is not.) That makes this film a little anti-climactic, especially for viewers unfamiliar with the real events. The film does take some liberties with the investigation (Brody's character is a composite of people who looked into how Reeves died), but just a few minutes of director Allen Coulter's commentary track will tell you they did their best to recreate the world of this early screen Superman. From the facts of the case to the period costumes and props, the attention to detail never wavers, and it looks great on Blu-ray.
Also looking great? A stacked cast of 2006 Hollywood hot-shots. Affleck and Diane Lane have the most difficult tasks as Reeves and Toni Mannix, his jealous girlfriend and the wife of an MGM executive. Yes, of course these two beautiful people and bona fide talents have no problem convincing us of a real relationship with an age gap, but their individual characters easily could have gone wrong. Lane could have made Mannix a Real Housewife, glamorous and dramatic, but instead she's well-rounded and sympathetic even as she fights for a doomed relationship. Affleck—between his comic book roles as Daredevil and Batman—is the stand-out, making an icon both for heroism and tragedy into a real person.
All of a sudden I feel like I'm writing the same review I did for his basketball drama this spring, The Way Back. Affleck was the highlight of that film, too, and both of these dramas left me underwhelmed. (To The Way Back's credit, other critics seem more enthused about it than I.) He's always been magnetic on screen, which is unfortunate for Brody, the ostensible lead. While his investigation frame story threads the flashbacks of Reeves's life together, it's the sleepier of the parallel stories. And while none of this movie is showy, Brody's extra-muted performance gets lost in the mid-century decor while Affleck's enigma leaves a lasting impression.
This Kino Lorber Blu-ray also includes several behind-the-scenes featurettes on how they recreated the Golden Age of Hollywood (short but worth watching if this sparks your interest), deleted scenes, and the film's trailer. If commentary is your thing, I'd recommend the aforementioned Coulter commentary, which includes more information on how they styled this period piece. Entertainment journalist/author Bryan Reesman offers a second commentary track option, but he hoses you at such a speed with so many background facts it's difficult to keep up.
The images in this review are not representative of the actual Blu-ray's image quality and are included only to represent the film itself.