A Good Installment to This Hilarious Series That Leaves a Slight Aftertaste
Director: Michael Winterbottom/2017
The third film in this unlikely, but hilarious trilogy of films featuring Steve Coogan and Rob Brydon moves the local to the beautiful country of Spain.  For the uninitiated, the original film of this series was titled The Trip.  In it, Steve Coogan plays a fictional version of himself, where he is an in-demand actor, who has been asked to travel around England and write reviews for six restaurants for a magazine.  When his girlfriend heads to America and is unable to go, Coogan recruits fellow actor/comic Rob Brydon, who is also playing a fictionalized version of himself.  Just these two sitting around a meal and talking is comedic gold and worthy of the longetivity that this series is finding.  While the first two films were excellent, a lot of pressure is on the latest film in the series, The Trip to Spain.
Even with a slight down-note, The Trip to Spain continues what I believe is a must-see comedy series.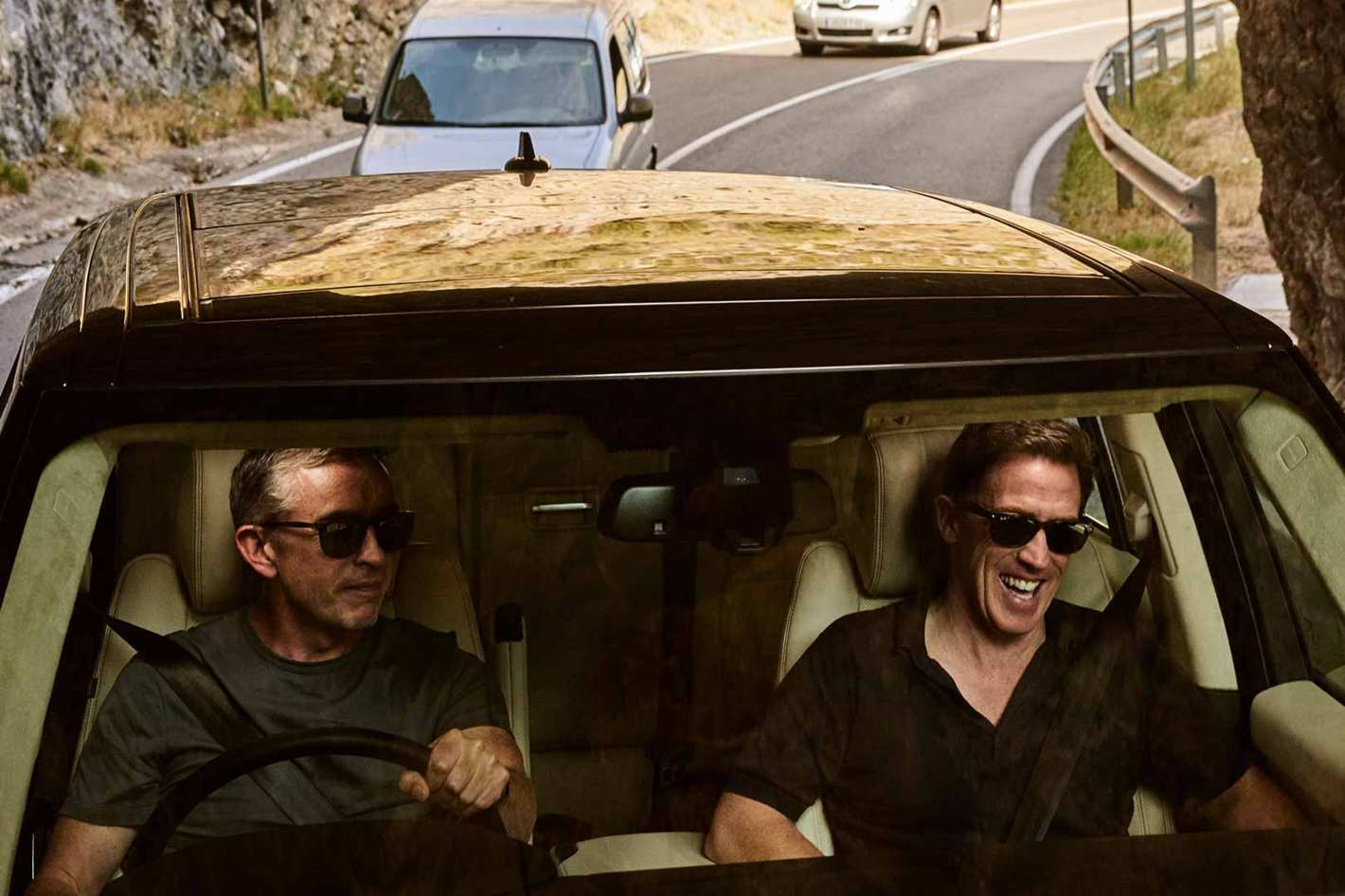 At each meal, throughout the series, Coogan and Brydon have conversations that include hilarious impersonations of their favorite celebrities and movie scenes.  Their go-to impersonation is one of Michael Caine, as well as any actor to play James Bond, and any scene in a James Bond film.  Brydon is apt to break out his real-life "man in a box" routine, and Coogan will reference his real-life work.  For American audiences you might know Coogan from the Night at the Museum films or Philomena, but many references are also made to a famous British character he has played named Alan Partridge (also worth finding to watch).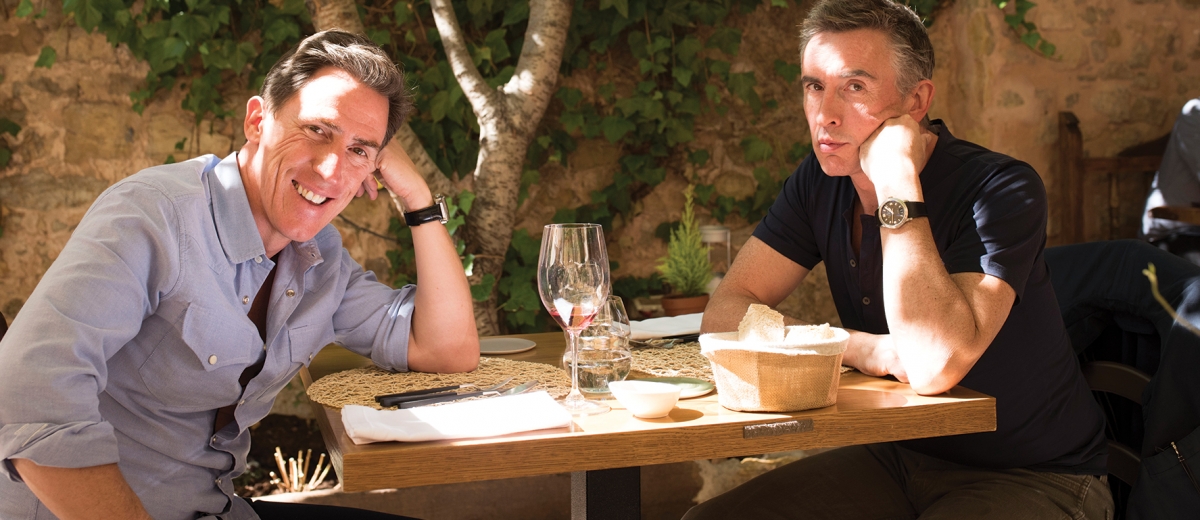 While The Trip was originally produced as a 6-part series on the BBC network, the segments were edited together into a full-length feature film.  The sequel, The Trip to Italy, took Steve and Rob to restaurants around Italy and allowed them to argue and sing about Alanis Morrisette's Jagged Little Pill album, and bring in more discussions about celebrities, and the like.  Especially funny was Brydon doing "the man in the box" at Pompeii, in front of a man in a box (not in good taste of course).
The first two films, while featuring the actors playing themselves, it does fictionalize their family and dating lives for an actual narrative playing under the reality based set-up. Coogan is seen as a divorced ladies' man, living up his so-called freedom as an eligible bachelor while also trying to be a good dad to his teenage son.  Brydon is ever the committed family man with a new child, and by the time of The Trip to Spain, a second child has been born.  Through these fictionalized family situations, we are allowed to see some character arcs, and some social commentary on aging, views on what gives someone worth, and the like.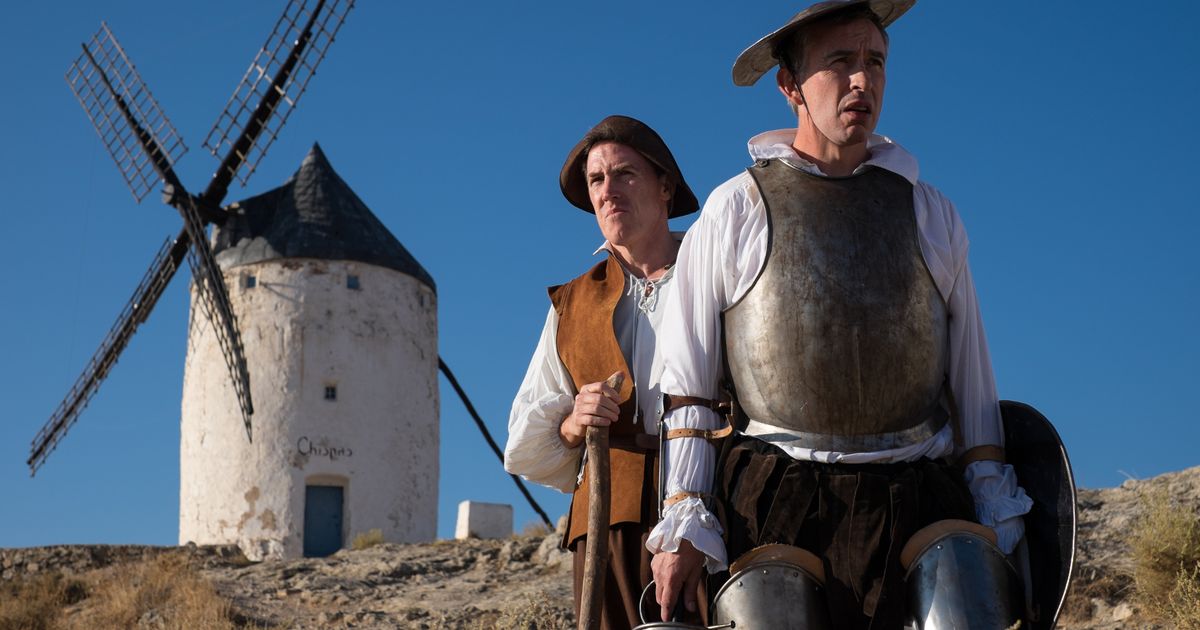 For the latest installment, it is Brydon who has been contacted to do the reviews, and Coogan is a part of it. Hoping to have his now adult son out to Spain for some quality time, Coogan is looking forward to getting through the reviews, and on to time with his son. Along the way he also begins to realize that his success with Philomena is not opening new doors, but many are starting to close professionally as he ages.  Rob on the other hand, is starting to see doors opening for him.  This creates a form of tension in the proceedings that hasn't been as directly a part of the narrative as before, at least between the two leads. Business associates, former lovers, and Steve's ex-girlfriend from The Trip return to anchor this film contextually with the other two.
Some of the threads of Brydon's rare wayward decisions in The Trip to Italy don't come into play here, making me wonder that it may be saved for a future fourth installment that seems destined to come based on the cliff-hanger ending regarding Coogan's fate after choosing to take a side trip after everyone else has left Spain to return to England.  And it is this ending that leaves The Trip to Spain on a rare down note, compared to the first two installments that, while taking some serious-minded detours, always seemed to leave you wanting more.
With this dark cliffhanger, the series may be trying too hard to hook us into a fourth film, when the vary narrative and the chemistry, charm, and performances of both Coogan and Brydon are more than enough to create that form of demand on its own. It is a rare mistake that may be able to be remedied, and built upon, in a future fourth installment.  It was noticeable enough to cause a slight aftertaste after consuming this third meal in The Trip franchise.
As far as high-notes, the chemistry of Coogan and Brydon has now settled into a wonderful comfortability as they are seen anticipating each other's reactions, and preemptively trying to blunt each other's comebacks with their own before the other can launch their first one.  Michael Caine makes their discussions again, but they don't let it wear out its welcome. New things are added to their improvisation menu such as Mick Jagger and the Rolling Stones in various comedic situations, and there is lots of Roger Moore discussions which pay tribute to him both as a person and as James Bond, which seems appropriate with his recent passing.
Even with a slight down-note, The Trip to Spain continues what I believe is a must-see comedy series.  If you would like to catch up, the first two installments are streaming online through various subscription-based services, allowing you to be ready for the third course that comes out this weekend.
Great food, great locations, and great laughs are the hallmarks of this series, and The Trip to Spain continues that tradition.