DIRECTED BY GEORGE MARSHALL/1963
STREET DATE: APRIL 25, 2017/KINO LORBER STUDIO CLASSICS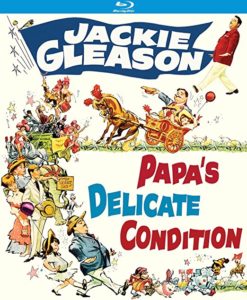 Somehow, after all these years of being a Jackie Gleason fan, I've yet to see Papa's Delicate Condition. I've understood it was a lesser entry into his ouvre, and so I kind of avoided it. But with Kino Lorber's new release of George Marshall's film on Blu-Ray, I grabbed onto the opportunity to finally see it. Look, I'm a huge Gleason aficianado—I adore The Honeymooners, of course, and The Jackie Gleason Show in general. I think he deserved the 1961 Supporting Actor Oscar for his role as the immaculately coiffed pool shark Minnesota Fats in Robert Rossen's The Hustler. He did superlative work, subsequently, in Requiem for a Heavyweightand Soldier in the Rain, and well into the 1970s, he launched a major comeback with his foul-mouthed sheriff Buford T. Justice from Smokey and the Bandit. He satisfyingly capped his career as Tom Hanks' troublesome father in the 1986 movie Nothing in Common (his final film role).
Gleason is called upon to include every beat that we loved from his Honeymooners performance as Ralph Kramden, as well as those we loved when he played tycoon Reginald Van Gleason and the gloriously sad Poor Soul but, as much as we want it to, it all just doesn't work here.
But Papa's Delicate Condition stands as the first downturn in Gleason's promising movie output—one that would eventually result in famously awful works like Otto Preminger's dazzlingly goofy Skidoo. Papa's Delicate Condition is a likable enough movie, I suppose, but one you have to continually give passes to, until you can't give no more. In it, Gleason plays Jack Griffith, a wealthy and drunken executive for a train line operating during the turn of the 20th Century. He lives in a small Texas town that resembles every small town in movie-America (the film is clearly shot on the back lot that provided settings for countless productions, including 1962's The Music Man and even 1985's Back to the Future). At the film's beginning, Griffith is returning home by train after a long time away from his family, led by impatient wife and mother Glynis Johns (who, throughout, is unfairly portrayed as a nagging shrew). Early on, there's a wholly unnecessary rendering of the character's favorite song, "Won't You Come Home, Bill Bailey?" that stands as an embarrassing sign that this movie doesn't know what it is. Is this a comedy, a musical, a drama? It's maddening.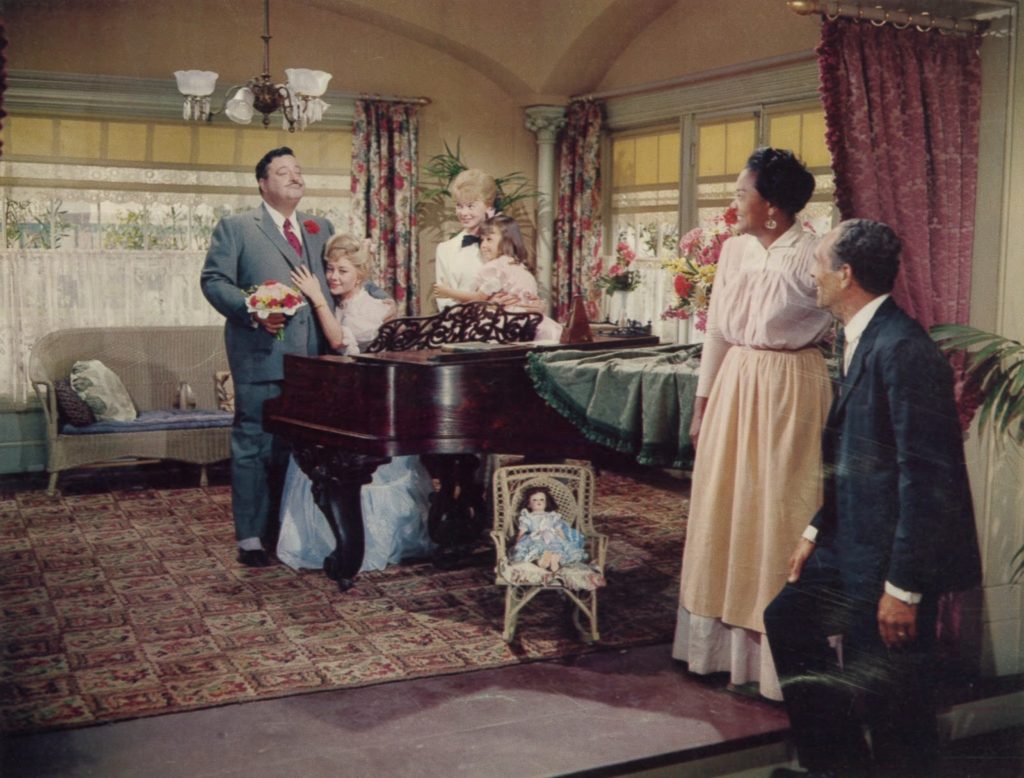 Upon arriving home, Griffith is wholly embraced by his youngest daughter Corrie (Linda Bruhl), an annoying brat who idolizes him without restraint (this character—later, in real life, a silent film star–is the one who wrote the memoir from which the film hails). She doesn't realize that his lively quality comes from his alcoholism, while much of what irritates Johns and her older daughter Augusta (a terrible Laurel Goodwin) comes from his addiction to the drink. And, indeed, when he arrives back home, problems arise when he drunkenly devotes the family's money to the whimsical purchase of a drug store (where he can secretively glug whiskey with his buddies) and the entirely nutty acquisition of a traveling circus, which Gleason's character means to employ as opposition to his wife's father, who's trying to become mayor of Texarkana.
Sounds like nonsense, right? This is a movie without a true arc. It's episodic to a negative degree, and seems like something meant to remind viewers of Gleason's appeal subsequent to his TV stardom (each time his character emits the famous Gleason phrase "How Sweet It Is!" feels like a phony, grating plea for us to recall how wonderful Gleason really is, and it never works—even as it is used as the film's final line). Gleason is called upon to include every beat that we loved from his Honeymooners performance as Ralph Kramden, as well as those we loved when he played tycoon Reginald Van Gleason and the gloriously sad Poor Soul but, as much as we want it to, it all just doesn't work here. The little girl Linda Bruhl could've been a presence that enriches the film, but her performance is horribly wooden (imagine if To Kill a Mockingbird star Mary Badham or even Jerry Lewis' The Family Jewels star Donna Butterworth had been cast in this role; each would have been a vast improvement). It's no surprise that Bruhl's acting career went nowhere.
The film is filled with horribly awkward silences, meant to accompany the peals of laughter that never arrive. George Marshall's direction feels uncomfortably static, with shot set-ups that seem like they were gawkily constructed for the stage. The film is rarely funny, and when it does strike a humorous note, you still feel like you're being generous with a giggle. I've always thought the American turn-of-the-20th-Century is an interesting place to set a movie (The Music Man remains the best in this regard), but this movie makes the setting seem like a tasteless plate of vanilla cream.
The best I can say about it is that, which each scene, Gleason impresses us with the wildly flashy outfits provided by costume designer Edith Head. I'd say this is the prime reason to watch Papa's Delicate Condition (along with the movie's impressive art direction, both of which look terrific in Kino's sharp Blu-Ray). Gleason, in splendid color, with his greased-up hair, has never looked more dazzling (seriously, wrapped in Head's regalia, he shines in every frame). As for his rendition of "Call Me Irresponsible," the Sammy Cahn/Jimmy Van Heusen song that won the Oscar in 1963 (over Mondo Cane's "More" and the title song from Bye Bye Birdie)…well, this has to be the most questionable delivery of a Best Song winner ever in movie history. Gleason, in his character's slurring state, without a backing orchestra, arrives at a stunning low as he delivers this ill-placed tune. And why is the song even in here? Again, is this a musical or what? This movie, implacably jolly as it is, is a sorry mess. Even devoted Gleason nuts will be disappointed with it, unless they're so in love with him that nothing he can do can be regarded as a bomb.
The images used in the review are present only as a reference to the film and are not meant to reflect the actual image quality of the Blu-ray.