DIRECTED BY HENRY HATHAWAY/1956
STREET DATE: FEBRUARY 14, 2017/KINO LORBER STUDIO CLASSICS
Before there was Daredevil, there was Phillip Hannon.
Justice may not be truly blind, but he is.  Like Marvel's sightless "man without fear", the protagonist of the would-be Hitchcockian potboiler 23 Paces to Baker Street (the venerable Van Johnson) must lean on his other senses to get to bottom of a murderous plot.  Also similarly, Hannon's obsessive involvement with the case leads him down a somewhat morally dubious path.  Will his noble meddling ultimately be for the greater good, or will it only result in additional strife, even death?
The Daredevil similarities end there.  Hannon is a successful American playwright living in contemporary London (1956).  He operates via recording his detailed thoughts, memories and recollections into a well used quarter inch reel to reel tape recorder, as well as with the help of his loyal butler, Bob (Cecil Parker).  Vera Miles is Jean, his "Karen Page".  She is sexy, resourceful and always kept at arms length.  (Okay, so there's one more Daredevil connection). As she gets caught up in his caper, will these two finally come together romantically?
Reminiscent of the look, palette and patina of Rear Window, this disc of 23 Paces to Baker Street is a pure representation of the great Hollywood CinemaScope era.
Van Johnson, a now-chronically overlooked matinee idol of the time, was on the career decline by 1956.  Although he would continue to work steadily into the early 2000's, 23 Paces would mark one of his last leading man starring roles.  Although the film is sorely lacking some needed charm, Johnson fares quite well as a blind man, with the caveat that Hannon conducts himself so that others won't suspect he can't see.
Henry Hathaway (Rawhide, The House on 92nd Street, True Grit) directs with a sure-handed no-nonsense approach.  23 Paces is a fairly large scale Hollywood production that, thanks in part to cinematographer Milton R. Krasner (All About Eve, An Affair to Remember, not to mention the exquisitely visual Boy on a Dolphin) shows off London quite beautifully.  You'd never know that in reality, Van Johnson and Vera Miles never left Hollywood.
That fact is courtesy of Kent Jones,  the well-studied film historian, film programmer, filmmaker and Film Commenter.  Jones takes this opportunity to deep-dive into the career and mind of Henry Hathaway, who is said to have considered this film not exactly among his best.  Jones won't dispute that 23 Paces is no masterpiece, but the fact of the matter is that it's not at all bad; a prime example of a perfectly competent work by a legacy filmmaker that is, nonetheless, now generally overlooked.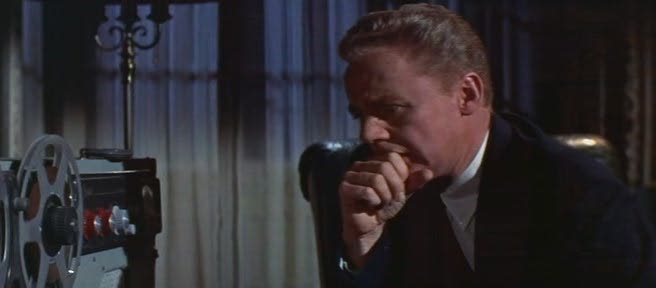 Exhuming and re-examining such films is Jones' specialty, something he reinforces on his commentary track as he refers to dozens upon dozens of lesser-known movies by famous directors that somehow tie into this one.  He makes a sound point that only by going back and examining such non-masterpieces can we truly understand the artists who made them.  Such an approach gives tremendous validity not just to Blu-ray releases such as this one, but also alleviates a film buff's frustration with the always-implied mission of having to search for masterworks.  Like Hannon in this film, we can now obsessively play back fragments, moments and details to our hearts' content – perhaps to the bafflement of those around us.  Jones' commentary track is a laid back effort, but essential for those interested in Henry Hathaway.
The fantastically restored image truly pops on this Blu-ray.  Reminiscent of the look, palette and patina of Rear Window (not to mention deriving its plot and characters), this disc of 23 Paces to Baker Street is a pure representation of the great Hollywood CinemaScope era, a parade that's truly gone by.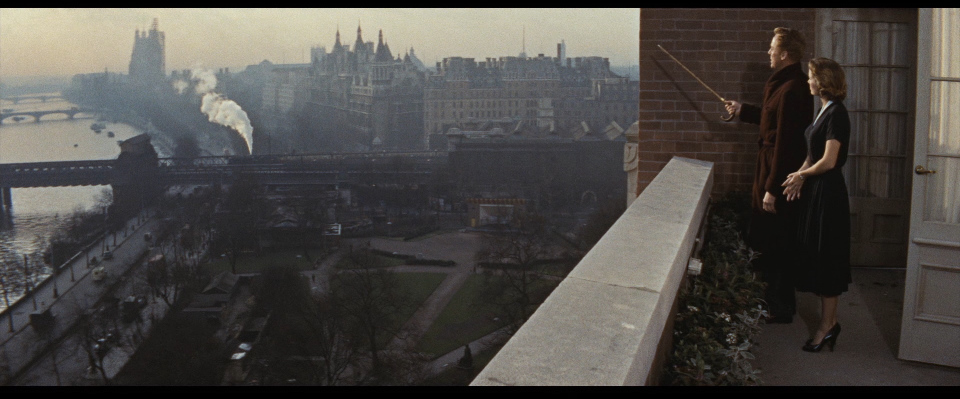 Aside from the commentary, the bonuses also includes the film's trailer and several other trailers for now-forgotten studio releases of the time.  Packaging-wise, the outer insert is reversible, offering a choice of vintage cover art.  Always a nice touch.
"23 Paces to Baker Street" is a terrible title for a well-rendered and altogether decent film which boasts a compelling lead character, and at least two highly effective thrilling scenes.  Van Johnson's Hannon may not be a man without fear (then again, neither is Matt Murdock), but he does get the scoop on something like Lights Out by a good sixty years, proving to be steely hero of his day.
The images used in the review are present only as a reference to the film and are not meant to reflect the actual image quality of the Blu-ray.