DIRECTED BY HENRY HATHAWAY/1951
STREET DATE: AUGUST 2, 2016/KINO LORBER STUDIO CLASSICS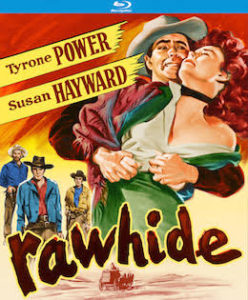 "San Francisco to St.Louis in 25 days, for $200 – beans included! It's the Overland Mail! Next stop… Rawhide Station!"
Circa 1861, Rawhide is one of many such stops on the perilous journey into America's Midwest; so we're told. It's a humble outpost, away from civilization and worked by an aging, gruff cowpoke Sam (Edgar Buchanan) and his grown learner, Tom Owens, played by a too-dapper-for-the-Old-West Tyrone Power.
Tom's dapper nature (shaving?? Who does he think he is, Cary Grant?) is explained as a built-in character trait, the mark of a man perhaps not cut out for this business. (A refreshing admission that clean cut matinee idols and "authentic Old West" don't mix.) His leading man looks go unnoticed by an all-business Susan Hayward, with a toddler in tow. As notoriously "feisty" as ever, Hayward's character Vinnie proves to be more than a pretty face, or damsel in distress. This is, at least by 1951 standards, a progressive equal rights movie: Whatever distress Vinnie finds herself in, Tom finds himself in, equally.
"Rawhide" belongs on the shelf of every Western fan.
And before long, there's plenty of distress to go around. Thanks to a crazy-taut screenplay by ace film scribe Dudley Nichols (who found great success redefining and resurrecting the Western with 1939's Stagecoach, the film that gave the world John Wayne in his youthful persona) and consistent, spot-on direction by veteran filmmaker Henry Hathaway (who would go on, decades later, to make True Grit, a defining film for the aging, end-of-career Wayne), Rawhide is an unforgettably intense and wholly satisfying experience. (And, I should add, of no relation to the later, long-running television series with the famous theme song of the same name.)
When a small cadre of murderous bandits arrive at Rawhide, and forcibly take it over, Tom finds himself in what we'd recognize as a Die Hard situation: a lone hero against a carefully defined group of terrorists that are led by an evil, calculating mastermind (Hugh Marlowe). Vinnie, locked in his bedroom with the child, mistaken for his wife and daughter, are a perceived ace in the hole.
But Rawhide doesn't so much unspool as tightly wind itself. Nichols is careful to establish "outs" for our heroes – a forgotten pistol, secret notes, a knife – only to undercut those possibilities at every turn. In that sense, Rawhide is frustratingly, terrifically "realistic". Even a carefully cultivated escape plan, necessary once the film shifts into more of a prison film, seems nothing more than a valiant, desperate attempt. (Is it any coincidence that our single location, Rawhide Station, resembles a fortified jailhouse? We too cannot escape this nail-biting situation, short of turning the movie off. We are willing prisoners of Hathaway and Nichols.)
Audience members prone to the "Why don't they just…?" habit of film watching will realize that although it is an adventure Western, Rawhide is not that movie. Tom and Vinnie's situation is detailed in more of a real-world way, where escape from oppressive situations is never as simple as it may seem, and the "get out of jail free" card doesn't exist. In that sense, Rawhide succeeds entirely on the basis of subverting classic expectations while still charging forward. Control is an elusive illusion for these characters, but never for the filmmakers, who prove themselves crafty to the last.
Consider this an official advocation for "Rawhide"'s canonization alongside the Great Westerns that will be remembered for all time.
Without apprehension, I openly wonder why Rawhide isn't more readily known, discussed, and appreciated. Yes, it's true that Power's "hero" proves ineffectual, if ever-noble. And Hayward's heroine, as memorable as she is, doesn't lag far behind in either department. Yet, their heavy sense of helpless, and their perpetual struggle in the face of it nonetheless, are what sets Rawhide apart. They are a template for the Indiana Jones model, heroes who can't catch a break. By the time the most terrifying of the villains (Jack Elam, in an early role in his long career) has cast aside his sexual prowling at Vinnie to take potshots at the frightened toddler, it's all almost too much. Yet, it's perfect. Consider this an official advocation for Rawhide's canonization alongside the Great Westerns that will be remembered for all time.
Kino Lorber Studio Classics blu-ray of Rawhide belongs on the shelf of every Western fan. It's beautiful transfer makes the film's black and white cinematography and well-played location ambiance (Lone Pine, California – the famous home of over 400 such films) truly pop. Any "old movie" trapping that may irk contemporary viewers fall away in this film, and such a quality presentation as this truly assists in that area.
Don't be fooled by the "bodice-ripping", sensationalist cover art – Rawhide is no lurid affair. Susan Hayward's striking presence as a woman who holds her own is backed up by the short bonus feature, "Susan Hayward: Hollywood's Straight Shooter", which establishes her as an actress of the same qualities. Hayward, one of few if any other women on the set, is said to have retained a wall of unapproachability while filming, which was respected. (Regarding the cover of the blu-ray, hopefully the errors on the backside, an incorrect running time and incorrect year, will be corrected in future pressings.)
Additionally, there's an informative newer featurette detailing the famous location, "Shoot it in Lone Pine!", in which we learn that the area remains largely unchanged, despite having become a tourist destination. The bonus features are rounded out with a 2007 restoration comparison, the film's own trailer (which I strongly recommend not watching until after seeing the feature, as it gives away the final showdown), and an assortment of other trailers for recent Kino Lorber Western titles.
Perilous, cagey, and as intense as any proper potboiler of today, Rawhide is, without question, a destination well worth arriving to.
The images used in the review are present only as a reference to the film and are not meant to reflect the actual image quality of the Blu-ray.