A Personal Passion Project For Ellen Page
Director: PETER SOLLETT/2015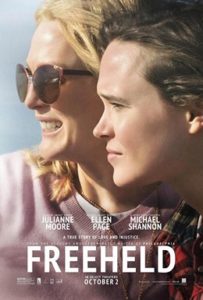 For Ellen Page, this film was a personal project that she has been championing for some time, long before her publicly coming out herself as a gay actress while promoting X-Men: Days of Future Passed.  Adapted from the Academy Award-winning documentary film, also called Freeheld, writer Ron Nyswaner finds a compelling story that is not unlike his most well-known writing effort, the Tom Hanks starring film, Philadelphia, from 1993.
Freeheld tells the story of policewoman Laurel Hester (Julianne Moore-Still Alice) who discovers she is dying of cancer and who wants her pension to go to her registered domestic partner Stacie Andree (Ellen Page-Juno, Inception) so that she can keep the house they have bought and restored together. Taking place just over ten years ago, the film still feels like it is depicting the story of struggle from a long time ago, despite the Supreme Court's recent decision of 2015 validating same-sex marriage.
Moore plays Hester as a dedicated police officer who keeps her personal life very close to the vest, keeping her same-sex attraction from her partner Dane Wells (Michael Shannon-Man of Steel, 99 Homes), who believes they are completely transparent with one another.  Her commitment to just "doing her job" is a source of conflict for Andree, a talented mechanic, who doesn't want to just be a compartmentalized lie in Hester's life.  Through Andree's persistence, Hester takes the plunge and agrees to register for New Jersey's newly established law allowing for registered domestic partnerships.  It allows Hester and Andree to have a legal arrangement to purchase a house together, and while its not marriage, it is something that allows them to celebrate their relationship and commitment to one another.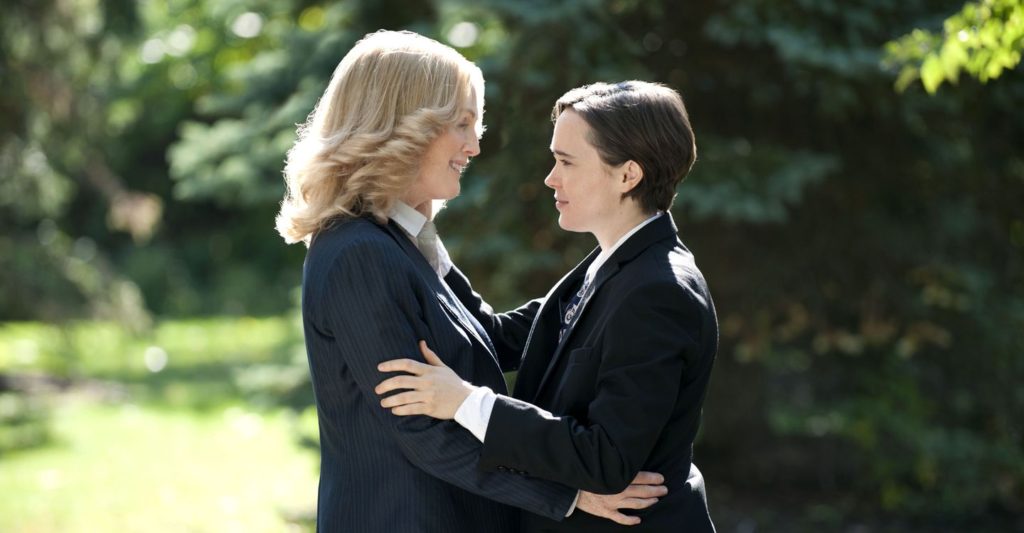 When Hester's cancer diagnosis comes back as terminal, she only longs to be open about her personal life to the city counsel members, called 'freeholders', in order to take care of Stacie Andree through her pension. She is reluctant to make waves, and is only asking out of her innate sense of right and wrong that she uses as a cop to serve and protect.  When the counsel turns her down for financial reasons, and the political pressure to not go against "traditional values", she is thrust into a civil rights struggle for "equality", all while she is dying.
The story is fascinating as it depicts a different way of raising social awareness than exists today, despite being set in a time that really was not long ago.  Prior to social media and apps, one had to turn to organizations who would help your cause get "on the news" or "in the paper".  For Laurel Hester, that help comes in the form of the charismatically "gay-Jew" Steven Goldstein (Steve Carell-Foxcatcher, Dan in Real Life) who brings in people from outside the small New Jersey town, in order to make this a national story so that he can push for the larger prize of gay marriage.  Hester just wants equality regarding her pension, but both are willing to use one another to accomplish their own agendas.
While the methods feel dated, the drama of the story is kept front and center.  The cast  is solid and elevate an otherwise middle-of-the-road story whose outcome is nearly a forgone conclusion.  While the story builds on previously used "courtroom" type drama techniques, substituting the court for an open council meeting, Moore's transformation from being the able-bodied officer to the bald, barely-able-to-breathe cancer patient asking for a decision in her favor, is a powerful one that transcends the formulaic approach of the script.
More compelling in its presentation than the council meeting drama is the politicking going on within the police station as the straight-laced Officer Wells puts his reputation with his fellow officers on the line as the ultimate "alpha-male" when he dares to help that "lesbian dike" who they all supported when they weren't aware of her being attracted to women.  Its a powerful conflict which asks the bigger question of how we treat others, even when it might be seen as support of everything one might disagree with.
Freeheld wears its politics a bit too boldly at times, but usually seeks to soften its sermonizing so as to engage those who disagree on this topic.  And while it is a softer approach than Philadelphia, there will still be much for the other side to take issue with.  The main example would be the freeholders who vote against Hester for "upholding traditional values" are seen to be using this excuse because they are pandering to the "values voters" of the town rather than wrestling with their own convictions that are arrived at after true reflection and evaluation.  In other words, it categorizes people into either being on the right side (pro-gay equality) or the wrong side (against gay rights), as the filmmakers see things, without allowing for much grace for those who truly try to live within the tension of convictions, love, and truth.  Despite the Supreme Court ruling affirming gay-marriage, this is hardly a cut-and-dried-issue, even in 2015.
Freeheld, ultimately, asks the right questions and humanizes the struggle as it existed in the not-too-distant past.  It provides us with sympathetic characters, a superb cast, and a discussion starter as we, society, continue to have to live in the tension of a changing world, and a country that seeks to celebrate the freedom to differ in our beliefs and yet still treat one another with love and respect.  In that sense, this becomes a very spiritually-charged film, especially as Hester seeks to only seek "equality" as an extension of her own moral character, not to fight a larger political battle.
For Ellen Page, her personal struggle to bring this project to screens can only be seen as a success as it debuts this weekend.  And while she is passionate about the story based on her own identity as a homosexual woman, this can hardly be the last word in a conversation that is not going anywhere, anytime soon.