Whatever Happened to Bikini Kill's Kathleen Hanna?
DIRECTED BY SINI ANDERSON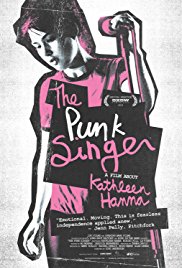 Rebel. Firebrand. Provocateur. Icon. Target. Victim. Survivor.
Kathleen Hanna has been all of these things and more, providing inspiration to a generation of feminists and punks throughout her decades-long career. Following her trailblazing trajectory through the mire of sexual politics from the Clinton era through today, The Punk Singer details the extent to which Hanna became a defining presence within third-wave feminism, beginning with her roots in the riot grrrl scene of the Pacific Northwest. Fusing feminist theory with the fury and immediacy of punk rock, riot grrrl presented female empowerment as a righteous DIY venture, reclaiming the feminine identity of Generation X from the virulent misogyny of late-'80s MTV and casting it as an underground movement that spanned the globe, spurred on by a network of mixtapes and zines.
Hanna's band Bikini Kill led the charge, providing a model of stamina and unwavering ethics in the face of intense media scrutiny and public backlash. Taking a blowtorch to decades of oppression, Bikini Kill redefined the role of women in rock, exposing the sexist roots that lay beneath the egalitarian façade of punk and forcing the headbanging boys' club to the back of the room. Despite constant threats to their health and well-being, the band soldiered on, amassing a body of work that stands as a testament to the vision and tenacity of the third wave.
Hanna's post-Bikini Kill career wound through some interesting venues, bringing her in contact with the likes of Sonic Youth and Yoko Ono, leading to a creative revitalization through her solo project Julie Ruin and an ultimate return to form with Le Tigre. Re-contextualizing the anthemic sloganeering of Bikini Kill through a glamorous and sexually ambiguous strain of synth-pop, Le Tigre represented the feminist subversion of the mainstream, a union best depicted by Hanna's marriage to Adam Horovitz of the Beastie Boys, another group renowned for tackling dodgy sexual politics in a commercial arena.
Combining archival footage with first-hand accounts on behalf of Hanna and her admirers and friends—including Kim Gordon, Tobi Vail, Joan Jett, and Carrie Brownstein—The Punk Singer serves equally well as an introductory and refresher course on the history and impact of riot grrrl. Although the past decade has seen Hanna retreat from the spotlight for numerous reasons, the recent resurgence of the Julie Ruin has reaffirmed her vital place in the music scene. In an age in which feminist punks are disappeared by totalitarian regimes, her voice remains a call to arms.