Not Exactly a Family Destination
DIRECTED BY JOHN WELLS/2013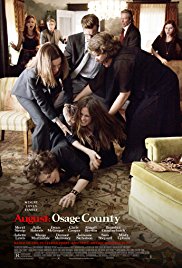 If you like attending your own dysfunctional extended family gatherings, you'll just love paying to attend someone elses!
That must be the prevailing assumption behind the decision to release this film this time of year. Having been through multiple mandated gathering from Thanksgiving onward, family members are more likely than ever to be harboring seething resentment, or even at each others' throats. So why not take this yuletide opportunity to hold a silver screen-sized mirror to them? But, far be it from me to question the release strategy of Bob and Harvey Weinstein, the award-mongering moguls behind this uneasy star-studded adaption of the acclaimed Tracy Letts play.
Clearly they're banking on star power to fuel this would-be Oscar machine. It's got Meryl Streep, Julia Roberts, Ewan McGregor, Chris Cooper, Abigail Breslin, Benedict Cumberbatch, Juliette Lewis, Margo Martindale, Dermot Mulroney, and Sam Shepherd. All belittling and yelling at one another, the entire time. All that is, except Sam Shepherd – but that may only be because he dies immediately. (When struggling prestige films needs an instant injection of goodwill, what do they do this year?  Trot out Sam Shepherd.  First Out of the Furnace, and now this…) Oh, and one of the producers is George Clooney. (Just look at that statuette shine! But not so fast, Weinsteins…!)
August: Osage County demonstrates in no uncertain terms the cyclical nature of the sins that plague families. More to the point, and more than a little disquieting, it's the women who outwardly perpetuate the hate. There's an argument to be made that their behavior is rooted in frustrated reaction to the detached isolation of the men in their lives. (One man is a admitted alcoholic, another a philanderer, another an intellectual milquetoast, and on and on…) But that aspect of the Weston clan is as backgrounded within the story as the themselves are. Indeed, August: Osage County is the "women's picture" of 2013. If Letts is being misogynistic with his unyielding female focus/blame, it's nonetheless a sadly familiar depiction, even to those who haven't endured a life like this.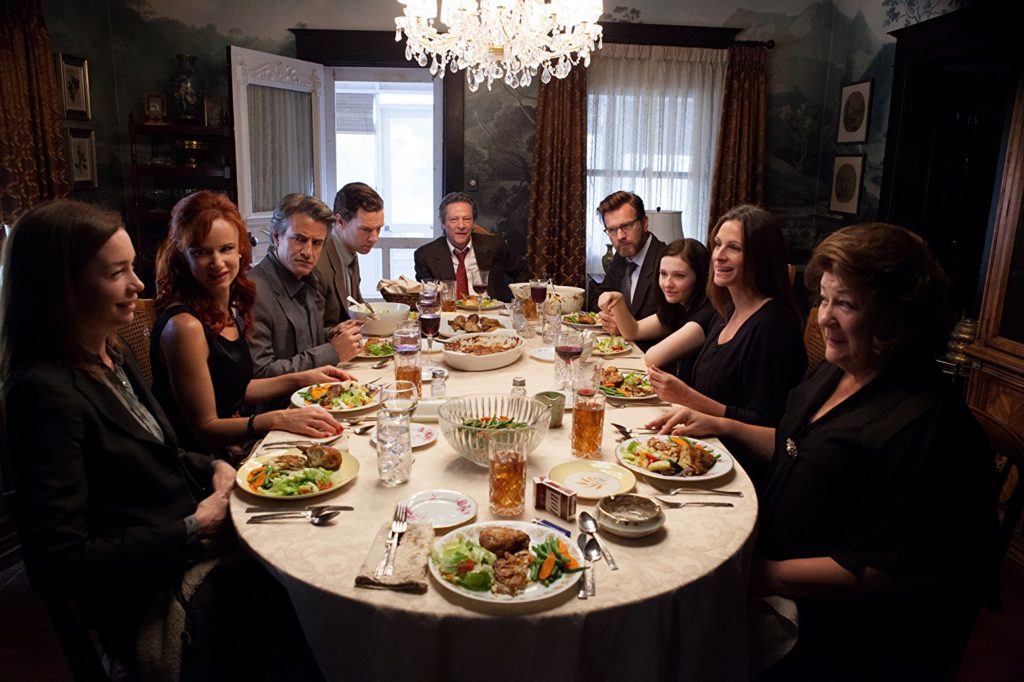 Perhaps this reads a little harsh. August: Osage County is not a poor film, per se. Just difficult. And harsh. Anyone familiar with the play should understand that. This is Letts providing his own adapted screenplay, for the first time sans director William Friedkin (who helmed the recent films of Letts source material Killer Joe and Bug, both of which are wiggier and more "out there" than this grounded domestic hotbox). It's an actor's piece through and through, and boy does it play that way. Which is actually all the bigger credit to director John Wells, a television vet with a history of the stage version. Wells manages to expand the "stagey" scope of the story beyond the large musty country house where most everything happens to reveal a larger, dustier, sweltering Oklahoma no man's land.
This is the kind of dried out small town fish tank where native Americans work as live-in housekeepers for the white Americans, and a trip into town in a different car with different company will certainly be noticed as suspect. Meryl Streep plays the aging pill-popping wig-wearing harpy matriarch Violet Weston, mother of three grown daughters, Ivy, Karen and Barbara. They are respectively played by three varying Julies, their vitriol increasing in order of fame: Julianne Nicholson, Juliette Lewis, and Julia Roberts. The Westons are a terrible family with a terribly secret, and by the end of it all, it'll be splattered all over every character's conscious and dignity. (Hint: It's the kind of thing that gives Oldboy a run for its money. Yeesh!!!)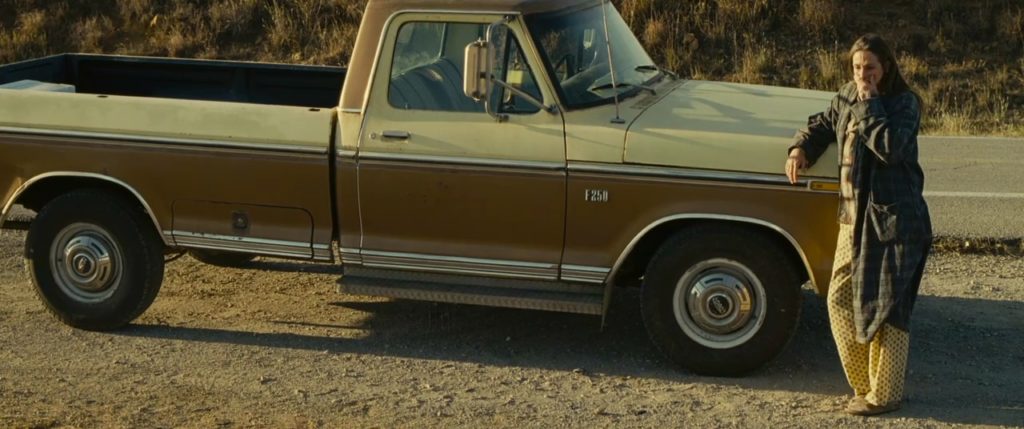 The acting is top notch all around. (It had better be, that's what this movie is here for!) Streep owns the screen when she's on it, no matter the state of sanity her character's occupying as she prowls in and out of the movie. Julia Roberts' character, scoring perhaps the most screen time in this genuine ensemble piece, is so far gone that the veins in her neck seem permanently protruding. Abigail Breslin is her teen daughter, really and truly having transitioned out of kid territory. There's an inescapably prolonged dinner table scene where no one gets out alive, figuratively speaking. In the film, it's intended to be a post funeral feast, but all that's served up is bile, hatred and resentment.
August: Osage County will be, by far, of greatest interest to those with a hardcore interest in the art of performance. The film is a series of mostly one on one dramatic interactions, none of them uninteresting. But as "cinema", it's an accomplished talk fest, and little more. The film itself is not punishment, but you'll likely be relieved when it's over. This isn't the Smith family, it's the Westons – and they're firing on all cylinders in a bad way.
Perhaps, just maybe, August: Osage County will inspire viewers to work on the beneath-the-surface issues in their own family dynamic. But more likely, it'll terrify people for fear of what they might find buried there. Little hope is offered, and the cycle remains unbroken…