Esther Williams and Jeff Chandler find Trouble in Paradise
DIRECTED BY RICHARD WILSON/1958
BLU-RAY STREET DATE: FEBRUARY 7, 2023/KL STUDIO CLASSICS
The 1958 obscurity Raw Wind in Eden boasts two great movie stars of its era and a multifaceted artistic genius. But, having flopped at the box office and never released on home video in any form until now, its dynamic title is liable to strike some as vaguely erotic and others as, well, farty.
Obviously the former is the intent, though the film's subsequent lack of chemistry and any trace of heat will disappoint anyone reeled in by such an assumption. It doesn't help that the illustrated poster showcases stars Esther Williams and Jeff Chandler in an impossibly passionate entangling right off the romance novel shelf. There's such moment, my friends.
What we get instead is a not-half-bad island adventure with a pleasantly surprising erudite panache within its screenplay. There's satisfying set-up and payoff with a handful of comments and retorts, and even a shred of eye-opening innuendo here and there. (The daughter, Costanza [a feisty Rossana Podestá]: "I'm a woman in full bloom!" Her father, Urbano [the respected artist and actor Eduardo De Filippo]: "The bloom will be full when you get the ring!" Well!) With only four, sometimes five characters all secluded on a majestic Greek isle with little to do other than bicker and get shot at by a pesky armed outside looking to steal away Costanza, it seems that only it's 1950s Hollywood studio pedigree is keeping Raw Wind in Eden as chaste as it is.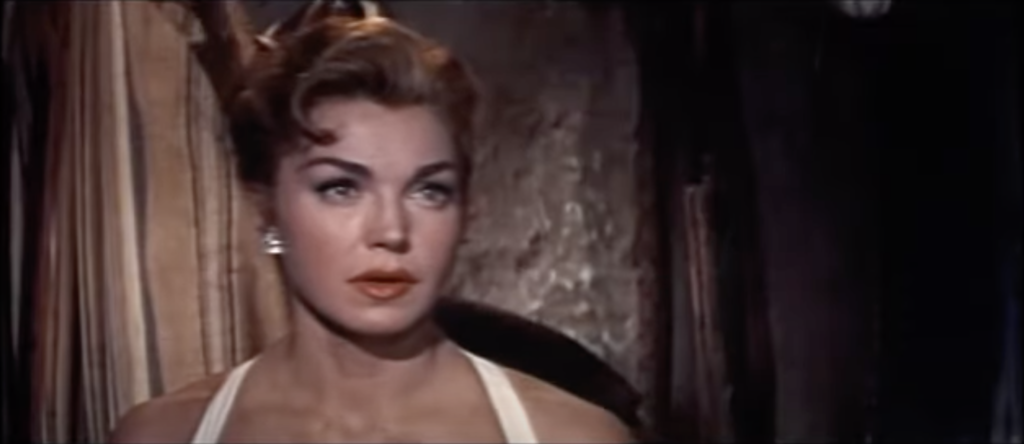 Add to that the reported canoodling between stars Williams and Chandler, and the film's mediocre chemistry becomes particularly glaring. But even still, in the right frame of mind, Raw Wind in Eden is a more-than-passable gust of mid-century adventure-romance.
Former competitive swimmer Williams, having made the sprint to Universal-International following the end of her contract at MGM (as the aquatic queen of the screen) plays Laura, who is established as a major glamour model before a plane crash traps her and her de facto manager, Wally (Carlos Thompson) on a remote island in the Mediterranean. That's where they meet the right n' rugged cement-headed Mark Moore (Chandler)… if that is his name. And also Costanza and Urbano. Moore estimates that they've got seven weeks before they stand a chance of being rescued. But that's only if whomever keeps sabotaging Laura's distress flag knocks it off.
KL Studio Classics provides a terrifically robust, colorful transfer of this pervious rarity. In addition, there's a new audio commentary by film historian David Del Valle and film historian/filmmaker Daniel Kremer. Kudos to these guys for speaking their minds about being disappointed with Raw Wind in Eden. Like most of us, its pedigree, obscurity, and eye-catching poster caught their collective eye. They're open about never having seen it prior to being given access to it in preparation for their commentary. It's another great, well-researched and personal track by these guys, who eventually come around on Raw Wind on Eden as a halfway decent entertainment.
And that it is. Support of this Blu-ray sends the right message to the labels that it's still worthwhile to put out nice versions of rare films of the distant past. Raw Wind in Eden may not be a total gas, but it certainly doesn't stink.