Street of Chance (1942) / Enter Arséne Lupin (1944) / Temptation (1946)
BLU-RAY STREET DATE: JULY 19, 2022/KL STUDIO CLASSICS
Going back to the earlier years of Film Noir, we have the three films that comprise KL Studio Classics' eighth volume of its ongoing series, "The Dark Side of the Cinema". Like every preceding volume except for the packed-out first one, this installment contains a triptych of vintage pictures that may or may not live up to the "Film Noir" branding. Fans of obscure and aged crime-themed films will be intrigued if not ultimately won over by this three-fer. Unlike earlier sets, this one has no big stars or directors to exploit. That is, unless one considers Burgess Meredith and Merle Oberon big stars.
The movies themselves are a very mixed bag, spanning the globe and often defying the expected hard-boiled sensibility of Noir. Were it not true that two of the three could just as easily be grouped into non-"Noir"-branded sets, a case could be made here that this volume VIII demonstrates that even in its rudimentary phases, Film Noir wasn't just femme fatales and dumb lugs making poor choices at night in the alienating Big City. But alas…
Utilizing brand new 2K masters for all three titles, Street of Chance (1942), Enter Arsène Lupin (1944), and Temptation (1946) each look rather good. Some minor wear and tear are evident throughout the print of Street of Chance, but these imperfections do nothing to quell the enjoyment of that tremendous entry. Enter Arsène Lupin evidences fewer scratches and marks, and only most noticeably at the beginning. Temptation looks pretty enough to turn your head. Each film has a newly recorded commentary track with a film historian guiding our way through these likely new-to-us titles. Below, each film/Blu-ray is considered individually…
Street of Chance
DIRECTED BY JACK HIVELY/1942
One of the earliest entries to grace one of Kino's long-running "Dark Side of Cinema" series is this knotty 1942 tale of memory loss and murder, Street of Chance. A punchy little programmer from Paramount (only seventy-four minutes long), the film stars a young-ish Burgess Meredith as an unlucky ordinary shlub who, first thing, happens to have high-rise construction debris knock him unconscious. When he comes to, he comes to realize that he's somehow lost a year. In that time, his wife presumed him dead, and he took on another identity… one perhaps not so innocent.
On his outstanding commentary track, professor and film scholar Jason A. Ney details the overall Film Noir importance and vitality of author Cornell Woolrich (Rear Window), who's novel The Black Curtain was adapted into Street of Chance. Ney, with adept focus and pacing, moves on to discuss the history of what he calls "amnesia noir", a ridiculously prolific subset of there ever was one. It's interesting to hear the history of "blow to the head" amnesia stories, and the real-world medical origins of the crackpot theory of a corrective second blow to an amnesiac's noggin setting things normal.
Jack Hively, who saw a prolific directorial run in this time before eventually gravitating to television, helms Street of Chance with a forward-leaning Twilight Zone-esque intrigue. Although this film is not well known, it has a great deal going for it, particularly as an early Film Noir. The flourishes can be overt (an illuminated streetlight blips off just as our protagonist passes under it) but are nonetheless great touches. But there's no narrative handholding here. We are given information when it's time, and no sooner. Particular elements that would turn up in more seminal works such as Billy Wilder's Double Indemnity (1944) would first come into play here. It's great to see Claire Trevor as a woman of mystery, the caretaker for an eerily mute geriatric woman who one communicates through eye blinks (Adeline De Walt).
Enter Arséne Lupin
DIRECTED BY FORD BEEBE/1944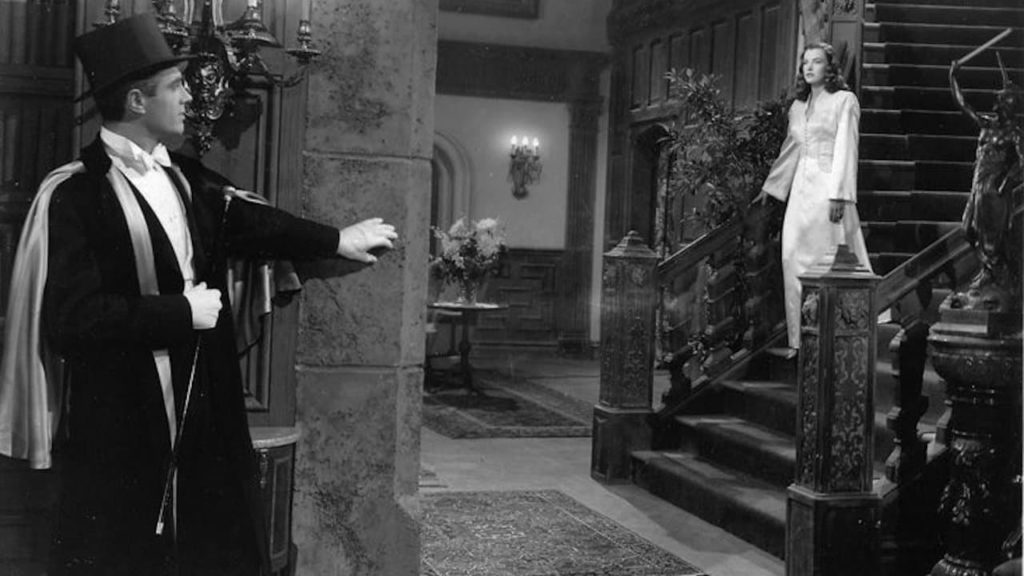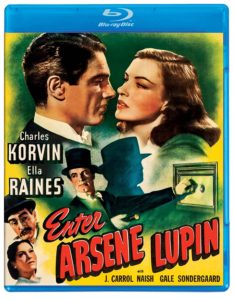 Next up is a comparatively odd curio, 1944's Enter Arsène Lupin. Chronicling the lightweight exploits of the titular master thief, this breezy would-be series launcher has, above all, the feel of pulp comedy. The film isn't bad at all, yet it curiously lacks the spark it so badly thinks it has. At a mere seventy-seven minutes, it almost doesn't matter what happens.
"Enter Arsène Lupin, exit our national art treasures!" High-profile fine art robberies scandalize merry ol' London over and over in this adaptation of novelist Maurice Leblanc's primary character. The character has most definitely landed on his feet, having inspired far more successful parlays, including the popular current French television series Lupin and various anime versions from TMS Entertainment (popularly known as "Lupin III"). In Enter Arsène Lupin, Charles Korvin makes for a satisfying dashing lead with an understandable eye for Ella Raines' owner of some highly valued jewels. J. Carrol Naish, George Dolenz, and Gale Sondergaard costar even as they don't quite gel.
As pleasingly airy as Enter Arsène Lupin can be at times, its biggest mystery now is what it is doing in a Film Noir box set.  Quite amusingly, this is not a fact that is lost on film historian Anthony Slide, who flatly denounces such classification on his commentary track that was recorded specifically for its inclusion in The Dark Side of Cinema VIII.  Beyond that, Slide spends much of his commentary taking shots at Enter Arsène Lupin, a film he clearly seems to have very little use for.  One wonders not only why and how he wound up with this assignment, but also how the result went down at Kino Lorber.  In any case, Slide is, in the end, more educating than not.  He's done his due diligence in researching all aspects of this, what he calls a kind of inverse take on Sherlock Holmes but lacking the spark of similarly scaled Basil Rathbone-starring Holmes films of the same era.
Temptation
DIRECTED BY IRVING PICHEL/1946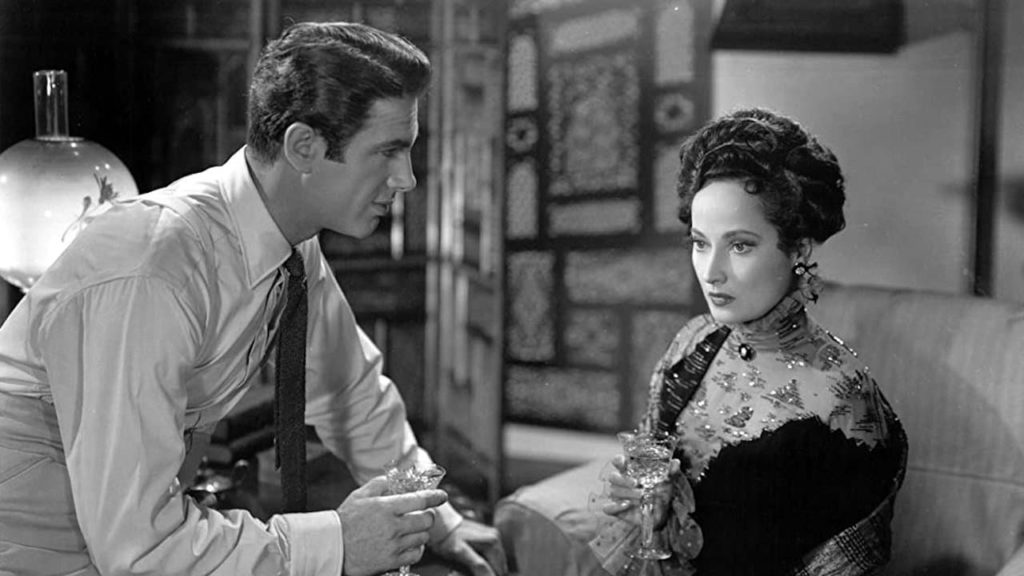 Finally, we wind down considerably with director Irving Pichel's 1946 melodramatic potboiler, Temptation. Rather than chase the exceptional Street of Chance with another diamond in the rough, KL has opted to include this duller-than-desert-sand stretch of an entry.
Temptation's setting of 1900 Egypt goes some distance to set it apart from the pyramid of wife/lover murder scheme Noirs targeting her husband- of which Double Indemnity forever resides the very top. This one, by contrast and sheer lack of pulse, languishes in the dust for all eternity. The glamorous Merle Oberon looks and dresses like a million bucks, appearing in a different impossibly perfect Victorian gown every time we see her. (And we see her a lot). She plays the conniving Ruby, a British woman looking to off her Egyptologist husband Nigel (George Brent) on the brink of his greatest success. She's made the mistake of falling for the treacherous Mahoud (Charles Korvin), who of course has self-interests of his own motivating him to homicide…
The whole thing is based on author Robert Smythe Hichens' 1909 novel, Bella Donna. Edwin S. Porter and Hugh Ford directed a version in 1915 for Famous Players-Lasky; Robert Milton directed another one in 1934 for Julius Hagen Productions out of England. Neither version seems to be in any danger of being labeled "Film Noir". Nor, one could argue, should Temptation, which itself was made by International Pictures, which shortly went on to become the "International" in Universal-International. Yet, due to its release timeframe and expressive cinematography courtesy of Lucien Ballard, it just manages to slot in.
Film historian Kelly Robinson manages to eke a decent commentary out of Temptation.  Considering the previous rarity of the film, this gig was likely no task to be envied.  Good performances and decent chemistry between the leads help carry this too-long ninety-eight-minute film slog to the finish line.