Elliott Gould and Robert Blake Chase the Criminal Wind in Early 1970s L.A.
DIRECTED BY PETER HYAMS/1974
BLU-RAY STREET DATE: DECEMBER 7, 2021/KL STUDIO CLASSICS
Something stinks in L.A. And while the possibilities of the source may be myriad, few will be surprised to see it tracked to the Los Angeles Police Department. One look at gnarled vice cops Keneely (Elliott Gould) and Farrel (Robert Blake), and it's fair to wonder if it's them. Gould in particular, operating with full post-M*A*S*H sleepy-eyed bluster and full handlebar mustache, is never not grizzled, garish, and glistening with dirty sweat. He struts, shrugs, and sneers his way through Busting, like the unlikely movie star he was in that moment. His amped-up antics are more "bluster" than "busting", but 1970s filmmaking stalwart Peter Hyams knows exactly which direction to send him in.
Robert Blake, dangling an unlit cigarette in his mouth and right there in the developing quagmire, is Murtaugh to Gould's Riggs.  That Lethal Weapon analogy is as apt as it can be, considering their differences in decades.  If anything, Richard Donner, Shane Black, and company took Busting as a model and rung out its cynicism and rough edges, keeping the unhinged cops who find themselves increasingly morally isolated within an L.A.-based system that keeps telling them "no".  As a result, Lethal Weapon went iconic, complete with sequels and a TV series.  Busting was served a prompt one-way ticket into obscurity.  Where's the justice in that??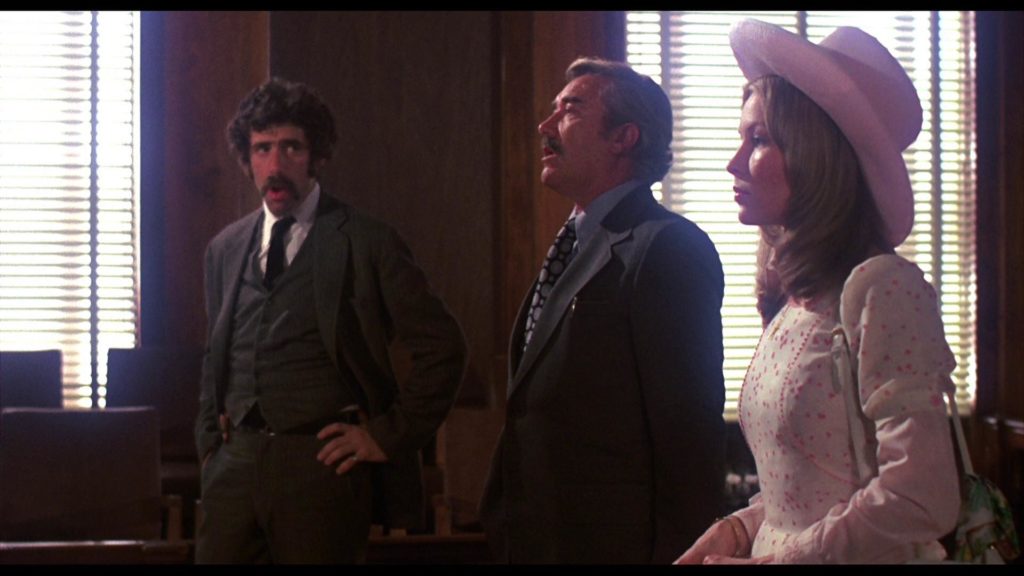 Hyams, especially in those days, was something of a one-man band. Although not the credited cinematographer on Busting, he did write and direct the picture with what is now considered a raw 1970s bold auteur-ist grit. This is particularly significant since Busting was in fact his first major directing work. He would go on to make a bigger mark with the conspiratorial thrillers Capricorn One (1977) and The Star Chamber (1983) before settling into lesser action fare like Sudden Death (1995) and The Musketeer (2001). Along the way, he would be the one to sequelize Stanley Kubrick's masterpiece 2001: A Space Odyssey.
If Busting is remembered any one sequence, it is the unrelentingly tense foot chase through a crowded market.  Hyams keeps the frame wide to capture all the well-orchestrated collateral damage as he stays in front of his harried characters, guns frighteningly a'blazing.  It's a kinetic nail-biter insofar as in this moment, we're less inclined to root for our heroes than for this tense situation to simply wrap up with minimal civilian bloodshed.  It plays to the cynical heart of the film, which is ultimately about two intensely devoted vice cops who come to realize that they're on an adrenalized moral crusade supported by no one.  
As their daily routine of arresting common prostitutes and junkies sends Keneely and Farrel up a dangerous ladder towards an untouchable local crime lord, they only get more and beaten up.  Beaten up and beaten down.  It's rough to see them holed up alone as they mend their wounds and keep their heads low in a dingy men's room.  But that will not be the worst of it for Keneely and Farrel. Apropos, sunny Los Angeles never looked more like the sleazed-up Times Square of yore.
Being that Busting hails from the early '70s and sports that era-specific "clouded" (flashed?) look, it could not have been an easy film to bring to Blu-ray. Film negatives from this time are notoriously fragile. This film has the typical "urbanizing" picture grain, and a prolonged scene in a gay bar (a very controversial one at the time) that is rendered in vibrant deep red. Fortunately, it really does look quite good here. Presumably, this is the same then-new HD transfer that Kino Lorber utilized for its 2015 Blu-ray release of this title. Like a terse Gerald Ford-era police knockabout should.
Also reappearing from the 2015 disc (if not some even earlier release) are two audio commentary tracks. The first, by director Peter Hyams, is no great shakes. Hyams immediately states that he'd not seen this for over thirty years and makes a point of never revisiting his work once it's completed. Yet, here he is, ignoring his way through Busting. Long silent stretches are broken only with the occasional unenthusiastic memory.
Much better is the other commentary, featuring actor Elliott Gould chatting with film critic Kim Morgan. Morgan is eloquent in her appreciation of this film, and Gould is quite comfortable with her. It's a very good listen, rife with de end anecdotes and honest recollections. We also get the film's theatrical trailer, and a nice slipcover, to assure that at least this movie about a particularly mussed-up and worked-over pair looks handsome on your shelf.
Forever trapped in its present tense, Busting is a very engaging of-its-time, brazen depiction of an increasingly hazy purgatorial drive to do some good, even when they no longer know why they should. And let's face it- that stinks.