Whoa, We're Halfway There…
And I'm definitely living on a prayer. It's like this every year – by mid-December I am scrambling to watch all of the movies and write all of the reviews and the finish line seems to slip further and further into the distance. This year I have been helped by a number of guest contributors and I've still fallen farther behind than ever before. But I have confidence that a little Christmas magic unleashed by a street corner Santa or a wise child or a maybe a wish I make on a snowglobe (note to self: "Buy snowglobe") will get us to movie 48 before baby Jesus drops into the creche. Until then, like the magi I will continue to follow the shine from Rudolph's nose, strengthened by the d*** fine hot cocoa and gingerbread made from my family's traditional recipe.
Or maybe this thing won't end on Christmas Eve but will stretch into the 12 days of Christmas. Who knows.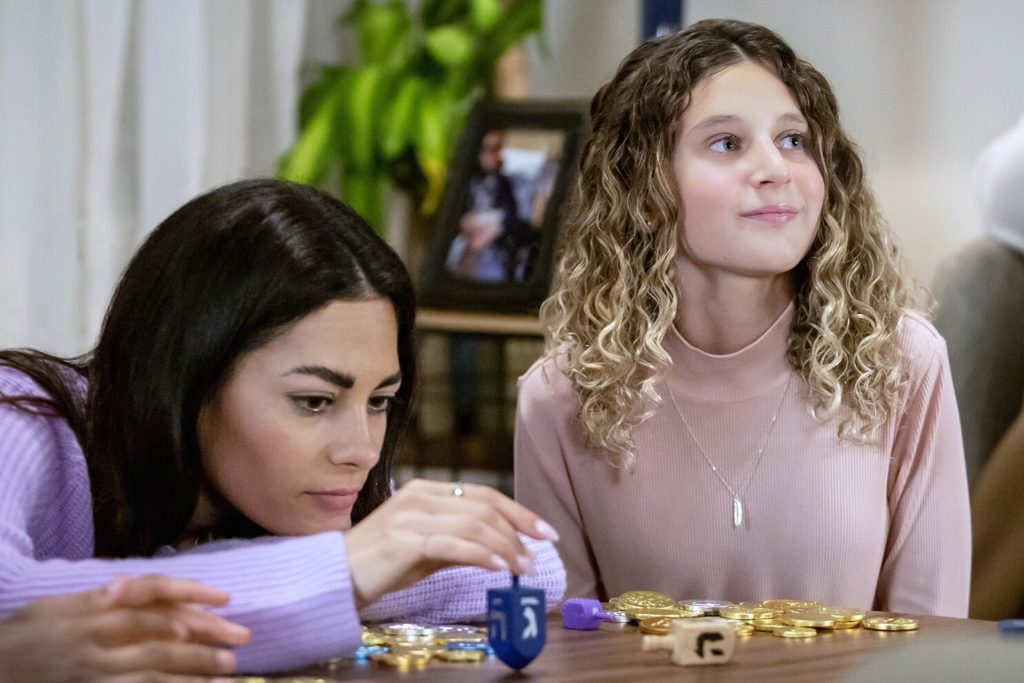 FUNDRAISING UPDATE: Just a reminder that this is all about the Benjamins. We've now passed $2111 toward our $4800 goal for asbestos remediation in our friend's home AND a second, lower, bid is allowing us to drop our goal to $3900. And that means…WHOA, WE'RE OVER HALFWAY THERE! You can help us out by pledging per movie on this form: https://forms.gle/LdpkmPiDppD9aTjF7. If you don't want to mess with pledging and just want to make a flat donation, you can find me on Venmo (@Sharon-Autenrieth), PayPal (@sharonautenrieth1) and the Cash App ($SharonAutenrieth).
ENTRY #21: MY NIGHT AT MAUDE'S (1969)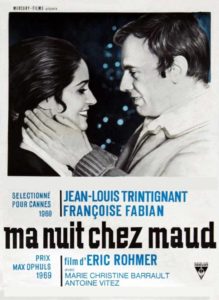 DIRECTED BY ÉRIC ROHMER
GUEST CONTRIBUTOR!
Bren O'Connor is a financial tech worker and aspirant to the priesthood in the Episcopal Church. When she isn't busy watching obscure art forms she can be found playing piano at various open mic nights and aggressively power walking through her neighborhood.
Premise: It's 1969, and 34-year-old bachelor engineer Jean-Louis has moved to Clermont-Ferrand, France. A church-going Catholic, he notices an attractive blonde woman in the cathedral one December day. Later, Jean-Louis runs into an old school friend, Vidal, currently a Marxist lecturer of Philosophy at the local university. They spend Christmas Eve drinking and attending Midnight Mass, before visiting Vidal's recently divorced friend Maud after barclose, leading to a confrontation around religion, chastity, Pascal's Wager, and the cultural identity of Catholicism vs. a genuine faith in God. After a tense, fateful night, Jean-Louis attempts to woo Françoise, the blonde woman he met at church, but not all is as it seems.
The Romantic Couple: Jean-Louis (Jean-Louis Trintignant) & Françoise (Marie-Christine Barrault)
The Meet Cute: Jean-Louis sees Françoise in church, and later introduces himself when he sees her riding a bicycle in the winter.
Star Power Casting: Several stars of the French New Wave
110% Award: Françoise Fabian as the title character. She simmers on screen
Observations: In a recent social media post, I expressed my true feelings about Christmas: "The holiday as it is celebrated in our culture often feels to me like a worship of a past that never existed, an idealization of the nuclear family which is ahistorical as it is unbiblical, and to use my harshest language, garish and cloying.
"Garish and cloying. Do we really need the trees? The stress of gift-buying? Family visitations? The fixation around a vague "Christmas Spirit?"
And yet, despite my cynicism, I committed to this filmwatching series. Scanning the Critrion Channel, I discovered a French New Wave film that seemed to be about Christmas and Relationships, and after getting approval from the operators of this series, I set upon watching the film.
My Night at Maud's isn't a comedy, at least not in the way I was expecting. I suspect if I were a French speaker I would have picked up on the humorous qualities of the banter that runs throughout the film, but make no mistakes, this is the sort of Art House Film you would imagine gets screened on a college campus. It's the 1960s, it's in subtitles, people talk about religion and sex and Karl Marx, and there's a lot of cigarette smoking.
While the film takes place on Christmas Eve and Christmas Day, the film's characters seem largely disinterested in Christmas as an abstract concept. The black-and-white film stock mutes the usually bright colors of decorations, a child is only briefly seen on screen, and the Anglo menagerie of Elves, Reindeer, Coca-Cola Polar Bears, and Santa Clauses are nowhere to be found. A character even makes the observation that it's the Protestant countries which make a big deal about Christmas, and "They stay indoors and don't even know if it's snowing." From the face of it, we have a Christmas film with no emphasis on cheer or family togetherness, especially as the main character is a bachelor, yearning to find a companion. As an unmarried, churchgoing person in my 30s, I very much related to Jean-Louis' loneliness and sense that he would like to marry another Catholic.
While the United States is by all measures a very religious developed nation, it's often unusual to find people of faith in academic and professional settings, especially among my peer group of other aging millennials. Jean-Louis the engineer find himself in a discussion about Blaise Pascal and sexual ethics with Marxist, atheist Vidal, and atheist pediatrician Maud, and yet they are very receptive to their friend Jean-Louis. Vidal even speculates that he is using a version of Pascal's Wager, the argument that it's better to "wager" one's belief in God and be proven right than to disbelieve in God and be proven wrong, as a way of justifying his belief in the Marxist concept of Historical Materialism.
This evaluation or reevaluation of one's belief about what makes for a good life appears to be the underlying theme of many Christmas Romances, especially finding value in home, hearth, and family. Oddly, it's surprising how few Christmas movies really attempt to grapple with faith in any significant manner. The Nativity story is the "Reason for the Season," but what does that really mean for the season? On Christmas Day mass, the priest preaches a sermon on the adventure of a Christian life. In perhaps the funniest and most human part of the entire life, the camera lingers on Jean-Louis and Françoise as they nervously look around, weighing their recent romantic experiences against an idealized Christian life. What is Christmas, after all, without a little guilt?
While not a particularly sad film, I do think it's telling how the Criterion Channel included My Night at Maud's as part of a "Blue Christmas" collection. With the exception of possibly Thanksgiving, no other holiday produces the level of anxiety, guilt, and sadness the way Christmas does. It's a sign of the paradox of the holiday: a family holiday we often dread, a celebration of light in the darkest time of the year, and the honoring of Christ with an outpouring of kitschy pagan iconography and present swapping that leaves everyone exhausted. Given this cultural baggage, My Night at Maud's delighted me as a Christmas Romance which unabashedly leans into the melancholic undercurrent of the holiday. Who would have thought it would have taken a French atheist to tell a profound film about faith and Christian love, but if we can believe our Lord and Savior was born in a barn in a colonial outpost, I will grant that all things are possible.
Entry #22: AN UNEXPECTED CHRISTMAS (2021)
DIRECTED BY MICHAEL ROBISON
Watched: December 5, 2021
Our Romantic Couple: Emily (Bethany Joy Lenz) and Jamie (Tyler Hynes)
Their Meet Cute: They are exes, so this a re-meet cute. Jamie is headed to his home in Fulton, IL for Christmas. Emily, who is in advertising, has been sent to Fulton to help the city design and launch a new tourism campaign. They meet in the train station in Fulton – and are met by Jamie's family who assumes they've arrived together. You see, Jamie, that big chicken, hasn't told his family about the breakup.
Plot Synopsis: Well, the meet cute gets you off to a good start on the plot. Emily has to do well on the ad campaign so that she can get a promotion and the big corner office that comes with it. Jamie is now working as a speech writer for the governor of Illinois and needs to write her big Christmas Day speech to prove he's got the goods. After the unfortunate run-in at the train station, Emily ends up staying with Jamie's family because of a problem with her hotel reservation, but she wants him to come clean about the end of their relationship. He says it would be too hard on his family, right now, during the holidays, especially after granddad's recent passing. So Jamie strikes a deal – he'll get the governor to come to Fulton to give her speech if Emily will continue to pretend that she and Jamie are still together. From there on it's love, lies, and shenanigans, not necessarily in that order.
Star Power: Not much, aside from Bethany Joy Lenz who was a regular on One Tree Hill. One Tree Hill became a launch pad for future Hallmark leads (Lenz, Chad Michael Murray, Hilarie Burton, Stephen Colletti, Danneel Ackles, Jana Kramer, and Robert Buckley).
The 110% Award: The waiter who serves Jamie and Emily at a bar, and then at an Italian restaurant. He makes the most of his tiny part.
Observations: Unexpected Christmas marks a personal tipping point. I am pretty sure I'm now a basic Hallmark fan. How do I know? Because this movie is dumb as rock, and also I loved it. But even more telling, in a scene inside the bar, a man walks through and asks for "Walker, table for two" and I nearly screamed. Why? Because I recognized Andrew Walker, another Hallmark leading man, star of such films as Snowed-In Christmas, Christmas On My Mind, and A Christmas in Tennessee. "Why is Andrew Walker in this scene? Is this a cameo? Is he going to be important to the story? Is he friends with the director?" I asked all of these questions to no one but myself, because there is no one else in my household – or extended family – or workplace – or my LIFE in general who knows who Andrew Walker is, or having been provided with information about this gentleman and his illustrious career, would care. After watching 116 of these movies I have entered a land from which few return. I got excited over a cameo by Andrew Walker.
Bethany Joy Lenz is perhaps the most charismatic Hallmark leading lady. If you're a straight dude and you can't imagine falling for her, I feel sorry for you, son. Tyler Hynes is almost at her level, with a boyish charm not unlike a young Nathan Fillion – but paired with far more emotional complexity than Hallmark characters are typically given.
There is a Jackie Joyner Kersee cameo in this movie, too. It is random and absolutely unnecessary to the plot, but it's JJK, nonetheless.
Okay, when I said this movie was dumb as rocks, I was oversimplifying. The plot is certainly stupid, but the dialogue writing is top drawer for Hallmark, especially the laugh lines. The script was written by Paul Campbell, a Hallmark king and star of such films as Christmas by Starlight, The Godwink Christmas, and The Santa Stakeout. He should keep writing, because he's pretty good at it, as these things go.
Another way in which Unexpected Christmas rises about the pack: when Emily and Jamie are walking down the street drinking coffee, it almost seemed like there was SOMETHING IN THEIR CUPS! Immediately after the coffee scene, our leads are drinking out of different coffee cups, using straws. Do people drink hot cider or hot cocoa with straws? Isn't that a good way to burn your mouth?
There are lots of silly things in this movie that I could point out, but I don't want to spoil it for other Lenz or Hynes or Walker stans. I will say, however, that this movie ramps up a particular trope – a looming holiday work deadline, ignored while the leads attend Christmas karaoke, build gingerbread houses, play Christmas charades, etc – by having both leads blowing off the work they should be doing. It made me incredibly anxious.
Tyler Hynes plays a very realistic character – a petty man-baby who broke up with the woman he loved because he couldn't handle her being more successful in her career than he was. He offers a sincere apology at the end of the movie, and he needs to – but I actually appreciated the fact that Jamie had recognizable human failings. Most Hallmark movies are trying so hard to make the leads loveable that relationship conflicts seem thoroughly contived. But this guy – well, you've either dated him or you know someone who has. Jamie will never be a solid romantic partner until he stops being threatened by Emily's strength and drive.
We get a happy ending here, but it's still a bit sketchy. Why did Jamie need to take his ENTIRE FAMILY to the train station to stop Emily from leaving? You made it weird, Jamie.
BINGO? Nope. Lots of Santas, though.
Available wherever you can find the Hallmark Channel.
Entry #23: EIGHT GIFTS OF HANUKKAH (2021)
DIRECTED BY MARK JEAN
Watched: December 8, 2021
Our Romantic Couple: Sarah (Inbar Lavi) and Daniel (Jake Epstein)
Their Meet Cute: No meet cute – they've been best friends since childhood.
Plot Synopsis: Opthamologist Sarah is newly single and ready to mingle. She has not one but FOUR determined suitors and someone is sending her a secret admirer gift every night of Hanukkah. What Sarah doesn't know is that the gifts aren't coming from any of the obvious candidates, but instead from Daniel, her lifelong friend who is now a successful custom home builder. Will Sarah ever figure out that her best friend doesn't just like her, but LIKES her-likes her?
Star Power: As far as I know, there isn't any. It's a delightful cast, mostly, but the only I even recognized was Jack Epstein, who was the lead in last year's sole Hallmark Hanukkah entry, Mistletoe & Menorrahs. I think I'd recognize a lot more of these Hallmark folks if I'd ever watched Degrassi. My lack of exposure to Canadian entertainment undoes me here.
110% Award: I'm giving it to Sheila Tyson as Sarah's mom, Esther. She's a judge. She's very proud of being a judge. Everyone in the family introduces her by saying, "She's a judge." She constantly tells courtroom puns. She makes sure to tell everyone that she just got home from being in court. If this was set in England, I suspect she'd enter every scene in gown and wig. Did I mention that Esther is a judge?
Observations: As representations goes, Eight Gifts of Hanukkah is a huge step forward for Hallmark. It is a love story set around Hanukkah, with two Jewish leads, mostly Jewish characters, and this movie doesn't come across like an instructional video called Let's Learn About Hanukkah!
Do you want to know what previous Hallmark Hanukkah films felt like? Imagine that instructional video in B&W, crackling from having been run through decades of film projectors in high school classes, opening on a blonde boy in a buzz cut, button down shirt tucked tight into his high wasted jeans. He is speaking to a pretty dark-haired young girl in an A-line dress. The voice over says, "Bob really likes the new girl in his class, Rachel. He's just asked her if he can accompany her to the Christmas Carnival at his school, but Uh-oh! Bob didn't know that Rachel doesn't celebrate Christmas! She's a Jew and she celebrates a different holiday with a very strange name! Hanukkah! What is Hanukkah??? (Here Bob is shown scratching his head.)
You get the idea.
So, anyway, Eight Gifts of Hanukkah is a big improvement. There's only one scene in which a Christian – Sarah's co-worker and friend, Keisha (Natalia Malaika) is shown learning about Hanukkah, and only briefly. Whew! And the Jewish characters in this movie are entirely spared the humiliation of acting like they've never scene a Christmas tree before, etc.
Inbar Lavi is a lovely and winsome lead, even if she has a high, baby girl voice – which usually bothers me. I hope she gets more Hallmark gigs.I had a friend in high school and college who was a guy magnet. While I pined away wondering if anyone would ever be interested in me, my radiant friend Djuana was dealing with prospective boyfriends left and right. Frankly, for her it was almost burdensome. I struggled not to hate her for it – and ultimately, I couldn't, because she was a wonderful person. But still. You know? That's Sarah. EVERY GUY loves Sarah. Thank God Sarah doesn't have a homely best friend or this movie would have been hard to take.
Eight Gifts of Hanukkah gives us scenes of the interior of a JCC during a planning meeting for a Hanukkah Mazel Ball. Hallmark has really come a long way, y'all.
Sarah falls in love with her anonymous gifter because of the gifts, which is weird. But also, as the gifts become more and more specific to her personal history one wonders how on EARTH she can still not figure out that they are coming from Daniel. It makes no sense that Nigel, celebrity chef who she met through online dating, would know this much about her. Same for Adam, optometry customer who keeps losing his glasses just to have an excuse to see her. Or Tom, who serves with her on the JCC planning committee but otherwise plays no role in the movie. That leaves Paul, her ex-boyfriend who is not even cute so we know he's not the one, and also he was an inconsiderate boyfriend – too consumed with work for a relationship. So, really, Sarah. Who knows your dead Bubbe Rose's favorite song? Think, Sarah. THINK.
On the other hand, rather than getting angry at her for not guessing, Daniel needs to just grow up and confess his love without all the drama. And he owes Sarah and apology for getting angry at her, by the way.
When he is yelling at her for not guessing, Daniel is doing a rundown of "Who else knows…" and includes the line, "Who else knows that you smell good even when you sweat." Okay, um, I don't like that one. It's a bit icky for my Hallmark viewing experience.
Sarah's brother is in a band entirely made up of Jewish accountants called "The Bean Counters". They play at the Mazel Ball and they're actually good. Give me more of The Bean Counters!
Apparently Hallmark bought the rights to Howie Day's "Collide" because we see Sarah and Daniel dance to it twice. Is Howie Day Jewish?
One last thing. Daniel lives in a custom home that he built. It is ENORMOUS. It doesn't even look like a house, it's so big and sprawling. I just want to know why.
BINGO? Well, it's unlikely with a Hanukkah movie, right? My BINGO card is Christmas-centric, admittedly.
Available on the Hallmark Channel.
Entry #24: FATHER CHRISTMAS IS BACK (2021)
DIRECTED BY MICK DAVIS AND PHILIPPE MARTINEZ
Watched: December 9, 2021
Our Romantic Couple: There are several. You don't need to worry about it.
Their Meet Cute: There's nothing cute in this entire movie (except the guinea pig, Ringo).
Synopsis: 27 years ago, on Christmas day, John Christmas abandoned his wife and four daughters. Now sister Caroline Christmas-Hope is trying to host her sisters and mother for the perfect Christmas at her English country estate. The sisters, however, are very different and things quickly turn combative as they come together – as they do in these sprawling, dysfunctional family comedies. But what's this? Youngest sister Vicky reveals that while traveling in the U.S. she stayed their father and his girlfriend – and as it turns out, invited him for Christmas. Father Christmas and arm candy arrive, leading to confrontations, a brief fist fight between John Cleese and Kelsey Grammer, secrets revealed , relationships restored, and a very merry Christman to everyone but those of us who sat this steaming heap of garbage.
Star Power Casting: Kelsey Grammer, Elizabeth Hurley, John Cleese.
110% Award: Ringo, the guinea pig. I hate every other character.
Observations: Within 15 minutes or so I knew that this movie was a washout. It's so bad that I didn't take notes because that would have required paying closer attention. It was an endurance trial enough, just being in the same room with it.
What we have here is a wacky sex comedy combined with dysfunctional comedy but both of those subgenres of comedy require that someone involved in the writing or directing have some acuity with comedy. Clearly, no one does. A critic that I enjoy, Alonso Duralde, has observed that when a film in any genre is very, very bad it becomes funny. But when a comedy is very, very bad it moves farther away from being funny. This is a real problem for Father Christmas is Back.
The four sisters are supposed to be very different, but they really break down into two types. Caroline (Nathalie Cox) and Paulina (Naomi Frederick) are both fussy and uptight. Caroline is obsessed with creating the perfect holiday, Paulina is forever working on her doctoral thesis on the Beatles. The other two sisters are the freewheeling bad girls – sleeping around, wearing sexy clothes, that sort of thing. Joanna (Hurley) is a fashion editor. I'm not sure what Vicky (Talula Riley) does, but we know she's wild because she shows up on the back of a motorcycle.
Not one of the four sisters is tolerable. Joanna hates children. Paulina is basically Mary Bennett (Jane Austen fans will get it). Vicky steals Joanna's clothes and her boyfriend's Rolls Royce. As for Caroline, she is forever trying to smile but her mouth is just fixed in a terrifying rictus. She also squeaks a lot.
As for the older generation, the explanation offered for why James left his family is stupid. And the Christmas mother, Elizabeth (Caroline Quentin) carries on a romance with John Cleese, which is fine. But the pre-sexual escapades in which we are forced to watch Elizabeth pretend to be a bull while John pretends to be a bullfighter lasts about three hours too long. Same for the seen in which a liquored-up Caroline dances for her husband, Peter (Kris Marshall). Where the flip was the editor on this movie?
Joanna's boyfriend, Felix, is handsome but doesn't respond to this ridiculous family in a plausible way. The most sympathetic character by far is James' girlfriend, Jackie. She is a dumb blonde, but she's got a decent heart. The camera work is bad, the script is bad, the acting is bad. Kelsey Grammer is playing someone who left the U.K. 27 years ago and has not even the tiniest trace of an accent left. I guess that would have required more effort than he was willing to put into the movie?
Anyway, I hated this movie. Worst I've seen this year.
BINGO? Are you kidding?
Entry #25: SINGLE ALL THE WAY (2021)
DIRECTED BY MICHAEL MAYER
GUEST CONTRIBUTOR!
Chris Kessler retired from Southern Illinois University Edwardsville after a thirty-year career as an office administrator. She earned her Masters' degree in Creative Writing in 2013. She volunteered with Partners for Pets for twelve years, and the Edwardsville Library for several years. As a Master Gardener, she volunteers at the Gardens at SIUE. She is single and childless by choice, instead opting for fur babies. She currently has a chihuahua mix named Jellybean, and two cats, Simon and Charlie
Watched: December 2, 2021, on Netflix.
Our Romantic Couple: Peter and Nick, two Los Angeleans who have been best friends and roommates for nine years.
Their Meet Cute: None. Peter and Nick already knew each other.
Plot Synopsis: Peter, (Michael Urie, of Ugly Betty and approximately a million other tv appearances which I have never seen either) is an ad executive (I guess) who is monitoring a photo shoot with the fey Adam (Adam Capriolo of whom I have never heard, who has been in shows of which I have never heard). They are watching a photographer shoot an ad for razors with five hunky shirtless men wearing shaving cream over their beards. Their trousers are holiday red worn with Santa hats. At a party that evening, we learn about Peter's obsession with plants. He would be happier as a horticulturist. Peter's best friend Nick (Philemon Chambers), who owns a handyman business, TaskRabbit, meets Peter's boyfriend, Tim, a heart surgeon.
The next day, Nick discovers that owner of the house he is decorating is Peter's boyfriend, and oops, Tim is married to a woman. He tells Peter before the latter begins talking to his named plants. Peter laments not having a date to take home for his family's Christmas celebrations in Bridgewater NH. Nick has no family and was planning to spend the holiday alone with his adorable rescue dog, Emmett, but agrees to pose as Peter's boyfriend to appease Peter's family. The only downside is that Emmett had to spend the holidays at a doggie hotel, but I'm glad the writer didn't have him ride in the cargo hold of the plane.
Introductions to the family were a bit confusing. Peter has two sisters. Lisa (Jennifer Robertson known for Schitt's Creek) has two daughters, Daniela and Sofia, and Ashley has two sons, Simon and Sam. He has brothers-in-law too, but I kept confusing them with the wallpaper.
Aunt Sandy, a washed-up off, OFF Broadway diva played by Jennifer Coolidge (who I first saw in Legally Blonde as Paulette, the insecure, bulldog-loving manicurist) stops by. Nick declares that he loves her, probably because she is so over the top she seems like she would be at home in a drag show.
Before Peter and Nick can launch their deception, Peter's Mom, Christmas Carole (Kathy Najimy who I first saw as Sister Mary Patrick in Sister Act) announces that she has set Peter up with her spin instructor, James (Luke Macfarlane, a member of the Hallmark stable). Carole is amusingly convinced she knows the gay scene because she read a book on the "LGBTTT" community.
There is no cocoa in this movie! Peter meets James for peppermint lattes and they appear to like each other. James is a very sweet jock who, as Little Britain's Matt Lucas might say, is "the only gay in the village."
Meanwhile, Daniela and Sofia (Madison Brydges and Alexandra Beaton, respectively, both of whom appeared in the 2020 remake of The Hardy Boys) are gung-ho about getting Uncle Peter matched up with Nick. Along with Peter's dad, Harold (Barry Bostwick, of Rocky Horror Picture Show, Spin City, and many other things), the girls ambush Nick and explain (niecesplain?) that Nick needs to be with Peter. There is a joke about HGTV that made me laugh out loud.
Nick fits in so well with Peter's family that he volunteers to put lights on the house, and reads the children's book he wrote about Emmett to Simon (Gryffin Hanvelt) and Sam (Viggo Hanvelt). The boys ask Nick when he and Peter got married, leading to awkward silence.
Peter almost chickens out of his ski date with James due to the lameness of his outfit, an old dorky jacket and a helmet covered in stickers. Nick reminds him that if James doesn't like him because of that, he's not worth it anyway. While Peter skis, Nick starts writing the sequel to Saving Emmett. After his ski date, Peter tells Nick he wants to move back home, saying that he doesn't really have anything in LA, except Nick. "You're the only one I love." Talk about mixed messages.
Aunt Sandy is ready to give up on her nativity play, called Jesus H. Christ. Lisa insists she let Peter and Nick help her so that the two can spend more time together.
Disaster strikes on December 23rd. Peter's boss doesn't like that shirtless Santa ad and wants it reshot. Harold suggests using Nick as a model, leading to flirty eye sex in the woods with an ax and shaving cream. The two actors have boatloads of chemistry, most evident in this scene. Peter wears the shaving cream too while Nick takes pics. Peter and James go out to Lisa's bar, where she tries to sabotage their date at the behest of her daughters. I wonder about the mental health of this whole family. While he is out with James, Peter gets a text asking for more pictures like the new ones, so he takes pics of James wearing shaving cream and doesn't seem to think it's as sexy as with Nick. James talks about how maybe Peter and Nick might be good together but they are the only ones who can't see it.
The girls force a confession of romantic love from Nick while holding his ladder hostage – Nick is on a roof at the time. They later get a confession of romantic love from Peter and tell Nick so they each know how the other feels thanks to these meddling kids. Both leads are concerned about starting a romance that might trash their friendship if the romance bombs. If their friendship is as strong as it's presented in this movie, that's a ridiculous fear.
For reasons which escape me, Aunt Sandy wears a Glinda the Good Witch costume while narrating Jesus H. Christ. From the audience, James sees Peter and Nick buddying up offstage. Misunderstandings abound, Peter goes off to have a drink with James after Nick declares his love, and Nick decides to flee to Boston. We were spared another airport love declaration scene since Nick stopped to paint an empty store on his way out of town. When Peter finds him, Nick announces that he bought the store for Peter so he can move back home and pursue his dream of running a plant store. They finally kiss. The next day, when they announce that they're together, the family bursts out in cheering, applause, and tears.
Late in the movie there is a karaoke bar at which Kevin, the Snow Plow Guy, (Dan Finnerty (Najimy's husband) possibly best known for The Hangover) performs. This is cute, but he's featured again as the end credits roll over him singing and dancing with Aunt Sandy. I would rather have had the end credits roll over a scene of the leads or the supporting characters rather than a random bystander.
Star Power Casting: Barry Bostwick and Kathy Najimy!
The 110% Award: Jennifer Coolidge as Aunt Sandy. Yikes! Aunt Sandy's obnoxiousness is not pleasant to watch. I forced myself to sit through her awfulness the first time through but fast-forwarded through all her scenes thereafter.
Observations: Do these people have NOTHING else to do other than to match-make their son/brother/uncle with his bestie? On the other hand, knowing that some fathers of gay men in the real world can be … difficult … it was a pleasure to see Barry Bostwick's Harold rooting for Peter to get together with Nick. The only on-screen drawback to being part of the LGBTQ+ community in Bridgewater was not having enough gay guys to date in this small town. For the longest time, I was convinced that Nick was going to be the only African American in the town but there were some other POC after all.
Christmas Carole says that they only see Peter once or twice a year. How he is so close to the four kids if he hardly ever sees them? Has Nick ever been there before? He gets heartfelt hugs all around when he shows up and they seem to know him really well.
In the UK version of Queer as Folk the three lead (heterosexual) actors who play Stuart, Vince, and Nathan convincingly showcase plenty of nude sex scenes and loads of guy-on-guy kissing. I had to wonder why gay creator, Russell T. Davies, cast straight actors in the roles. In Single all the Way Peter, Nick, and James are all played by openly gay actors. A special shout-out to Philemon Chambers for making Nick such a loveable, expressive guy. He reminded me of the late Richard Biggs of Babylon 5.
Single all the Way was directed by Michael Mayer (who directed 27 Dresses) and written by Chad Hodge from Highland Park, IL. Hodge wrote and will direct the feature film Anita about the anti-gay rights activi
Bingo? Nope.