Peckinpah's Underrated Classic Strikes on Blu-ray.
DIRECTED BY SAM PECKINPAH/1974
BLU-RAY STRET DATE: MARCH 9, 2021/KL STUDIO CLASSICS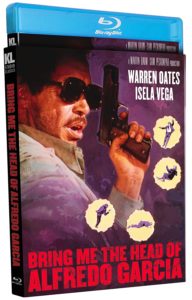 Controversial director Sam Peckinpah's (The Wild Bunch, Junior Bonner) uncelebrated 1974 masterwork Bring Me the Head of Alfredo Garcia is a sunbaked, tortured, trip through the worst part of nowhere: The desolate Mexican desert.  
Starring a scorched, muttering, gun-toting Warren Oates (as cool as ever) and a quickly decomposing severed head in a burlap sack, Peckinpah's vision is something crossed between demented outlaw Western and heatstroke noir. Bring Me the Head of Alfredo Garcia also stars Isela Vega, Gig Young, Robert Webber, and Kris Kristofferson. It is 112 minutes of unforgettable cinematic sinew that is not to be missed.
This Kino Lorber Studio Classics blu-ray edition boasts a stunning, textured look and feel. While this 2017 HD Master of a 4K scan of the original camera negative properly retains the films essential grit and flavor, the movie has frankly never looked better. The Blu-ray features the following bonus features, some of which date back to MGM's original release of the film on DVD:
Special Features:
-Audio Commentary by co-writer/co-producer Gordon Dawson, moderated by Nick Redman
-Audio Commentary by Film Historians Paul Seydor, Garner Simmons, David Weddle and Nick Redman
-TRAILERS FROM HELL with Josh Olson
-TV Spot
-Image Gallery
-Theatrical Trailer
Additionally, the packaging includes reversible cover artwork, and a cardboard slipcover.
In honor of the film's re-release to Blu-ray courtesy of Kino Lorber Studio Classics, we re-present this in-depth discussion between Robert Hornak and myself, all about Bring Me the Head of Alfredo Garcia. Among the many other things covered, I share why this is my own favorite of the Peckinpah canon.
Divisive from day one, Bring Me the Head of Alfredo Garcia has, in its own twisted way, influenced, repulsed, and inspired those adventurous few who have dared to discover it, and look in the sack.