Chabrol, Rohmer, and Godard Feature Among Barbet Schroeder's Classic French New Wave Anthology.
DIRECTED BY CLAUDE CHABROL, JEAN DOUCHET, JEAN-LUC GODARD, JEAN-DANIEL POLLET, ERIC ROHMER, JEAN ROUCH
DVD STREET DATE: FEBRUARY 23, 2021/ICARUS FILMS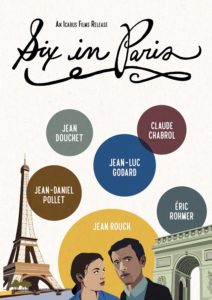 A woman. A man. Their problems. And the Eiffel Tower. Such is the apparent formula for each of the short films comprising 1965's anthology Six in Paris. Barbet Schroeder, then a relative newcomer to the thriving French filmmaking world, functioned as producer in assembling six of the country's most notable directors to contribute individual short films to the project. To Schroeder's certain advantage, such anthology films seem to have been particularly en vogue in that time and place.
The films' Parisian setting and uneasy romantic dynamics are the only major through-lines of Six in Paris.  Luminaries Claude Chabrol (The Champagne Murders), Eric Rohmer (Claire's Knee), Jean Rouch (Chronicle of a Summer), and Jean-Luc Godard (Breathless) each contribute reasonably satisfying tales that are concise and compact (each average about fifteen minutes in length).  The same can be said of the contributions of lesser-known filmmakers Jean Douchet and Jean-Daniel Pollet.  
At the same time, none are particularly challenging; certainly not in the way that the best of the movement of which this anthology is a part of was (and still is). That movement, the French New Wave, stands as one of the most resonant cinema revolutions in the history of the medium. With a number of monumental films under its provincial umbrella, it can be afforded a lightweight here and there.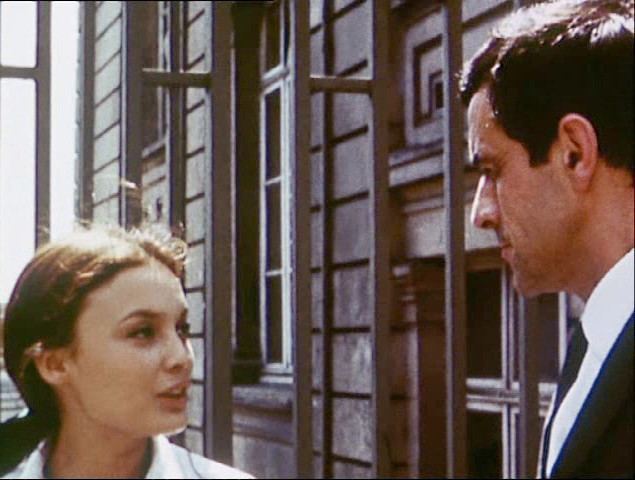 That said, Douchet's "Saint-Germain-des-Prés", is among the anthology's best.  Something of a twist on Billy Wilder's The Apartment, it also has the benefit of being the first in this little wave unto itself.  In it, an American female student comes to realize the true motives of the young male occupants of a modest flat.  Rohmer's "Place de l'Etoile" is also noteworthy for its darkly comedic nature amid its director's own typically dramatic oeuvre.  It sees its main character grappling with the realization that his sudden skirmish with a stranger near the Arc de Triomphe may've been deathly.  Shot by the great Nestor Almendros (Days of Heaven), it might be the finest looking of the half-dozen.
Godard's entry, "Montparnasse-Levallois", though criticized as inane, is perhaps something of a piffle, but not bad. The notorious director has certainly turned in far inferior contributions to other such collections. (It seemed that even into the 1980s, Godard never turned down an invite to participate in an anthology). In this case, he takes the opportunity to actualize a news story described by Jean-Paul Belmondo to Anna Karina in his 1961 feature A Woman is a Woman. Shot by famed documentarian Albert Maysles, it details a young woman's plight to smooth over a potentially disastrous mix-up of telegrams she's sent to two separate lovers.
The final short film of Six in Paris, "La Muette", is directed by and stars Claude Chabrol. He plays the husband opposite his real-life wife, Stéphane Audran, constantly arguing and fighting in their stately upper-class home. Their son has taken to blocking it all out with earplugs, resulting in unexpected experimentation with the film's own audio track. Mischievous silence, it seems, sees us out of Schroeder's collective humble odyssey.
This new DVD edition of Six in Paris sports what is likely as tidy of a transfer as is possible. The film is said to be the first French feature to be shot completely on 16mm film and blown up to 35mm for its theatrical run. The 16mm aesthetic is most definitely apparent, lending Six in Paris a certain handmade and roughhewn effect. In such, the DVD's image compliments it. While it is lamentable that this New Wave classic wasn't also made available on Blu-ray, its undeniably good to have it even in standard definition. There are no bonus features. A commentary track by a knowledgeable nouvelle vague historian would've been quite ideal. But alas, like most of the relationships depicted in Six in Paris, it wasn't to be.
Nevertheless, cinephiles should not turn up their noses at this release from the venerable Icarus Films. Thanks to this much-needed physical release, collectors can always have Paris.