Billy Wilder Rolls Into WWII via International Moral Intrigue
DIRECTED BY BILLY WILDER/1943
BLU-RAY STREET DATE: SEPTEMBER 29, 2020/KINO LORBER STUDIO CLASSICS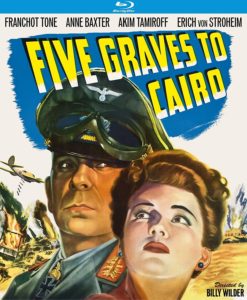 A tank rolls aimlessly through the desert, a lifeless man flailing about in the turret. It is a tank full of dead men. Dead British soldiers, to be more exact. That is, as it turns out, save one.
Corporal John "J.J." Bramble (Franchot Tone), in desperate straits, braves the unforgiving North African desert to make his way to a bombed-out hotel at the edge of everything. The place's moniker, "The Empress of Britain", flags it as a friendly (for him) refuge- which it is… generally speaking. Run by a moderately rotund fez-wearing and well-meaning man named Farid (Akim Tamiroff), the place hovers in a perpetual state of forgotten mending. The hotel's last remaining employee is Mouche (Anne Baxter), an emotionally distant Frenchwoman with an agenda of her own.
It's 1942, and the globe is fully engaged in the Second World War. And, before long, a good portion of the said world-at-war arrives at The Empress of Britain. The place quickly becomes a melting pot unto itself, with numerous nationalities colliding in the story (even if the various accents don't always land).
Dominance is had, though, by Germany, as General Rommel (Erich von Stroheim, playing it up as the noble enemy) himself rolls in with his then-victorious army.  It was this army, in fact, that fatally decimated Brambles battalion.  Bramble, in desperation, assumes the identity of the hotel's waiter who was killed in the prior night's bombing.  But little does he know that the waiter was secretly functioning as a German spy, thus immediately casting him among the highest of the Nazi's high command.  Will he be able to make the most of his position before he is found out?
Director and co-writer Billy Wilder, in crafting his second Hollywood feature, aims considerably higher than his debut, the comedy The Major and the Minor.  He not only hits his target, he fully decimates it; thus, proving his versatility beyond the acerbic comedic niche he indeed came to be known for, paving the way for such darker and varying works as Double Indemnity, Sunset Blvd., and Ace in the Hole.  Working alongside his first of two major career writing partners, Charles Brackett, Wilder's Five Graves to Cairo succeeds as an exceedingly tightly wound piece of work.  Though made and released during the war, the film doesn't feel like a work of outward propaganda.  The only thing American in the story, in fact, is the accents of several characters. (Leading man Tone, for one, doesn't even attempt to sound British).  
Venerable film historian Joseph McBride delivers a considerably solid commentary track, covering not only historical and production details, but quite a bit about Wilder himself, and how his films are often about transience and disguise on an international level. This is a very enriching talk about the revered filmmaker, as well as all things Five Graves to Cairo. McBride goes monotone at times, making it semi-challenging to stay with him. But like any good presenter, he is always able to reel us back in. It also helps that as Five Graves to Cairo is presented on Blu-ray by Kino Lorber Studio Classics, it is rather immaculate.
Even at this point, Wilder is thinking visually in a highly effective way. Yet, it ultimately does come down to the screenplay, which clicks along so well that we gladly overlook certain contrivances and occasional performance weaknesses. Once we've checked into the hotel, we remain there for most of the film. That being the case, it should come as no surprise that it's based loosely upon based on a play (Lajos Biró's 1917 work Hotel Imperial: Színmű négy felvonásban, to be specific). It's actually not the first film of that origin, though it likely the most victorious.
Like much of Wilder's finest work, Five Graves to Cairo lives and breathes in both its own time and for all audiences going forward. A character-driven puzzle box of a film (the title itself being a key component), its satisfaction granted by Wilder and Brackett is of the rare transcendent variety. (Though, we are occasionally reminded, nobody's perfect). Like the Second World War itself, Wilder's second directorial effort is a bigger and more-immersive affair. It may not be a flashpoint to his career the way that WWII is the flashpoint of the twentieth century, though those expecting Wilder to roll in sophomore-slumped over his careening turret will rightly be somewhat blown away.