Barbara Stanwyck Takes on a Murderous George Sanders in Solid Film Noir Entry.
DIRECTED BY ROY ROWLAND/1954
BLU-RAY STREET DATE: DECEMBER 2, 2014/KINO LORBER STUDIO CLASSICS
Straight to the point, 1954's psychological noir Witness to Murder opens with the film's heroine awakened in the night by a ruckus in the apartment in the neighboring building. From her window, she witnesses… a murder. Slam! Opening title.
It's true that Witness to Murder evokes the neighborly voyeurism of Hitchcock's Rear Window and the villainization of the erudite author witnessed in Lang's House by the River as well as the initial blanket distrust of the word of a woman over the word of a man seen in the lesser-known  Ida Lupino starrer Woman in Hiding.  But this movie has at least one thing that none of those have: Barbara Stanwyck.  Stanwyck, a veteran of what may be the single greatest Film Noir of all time, Billy Wilder's 1944 spellbinder Double Indemnity, tops the bill as the titular witness to the murder across the way.  
Her dutiful call to the police unleashes a torrent of distrust and gaslighting that all but destroys her life. Like the aforementioned Woman in Hiding, even the well-intentioned central male protagonist (Gary Merrill) is far too late in granting her even a baseline degree of trust. Even then (especially then?), if a woman has no proof, it didn't happen.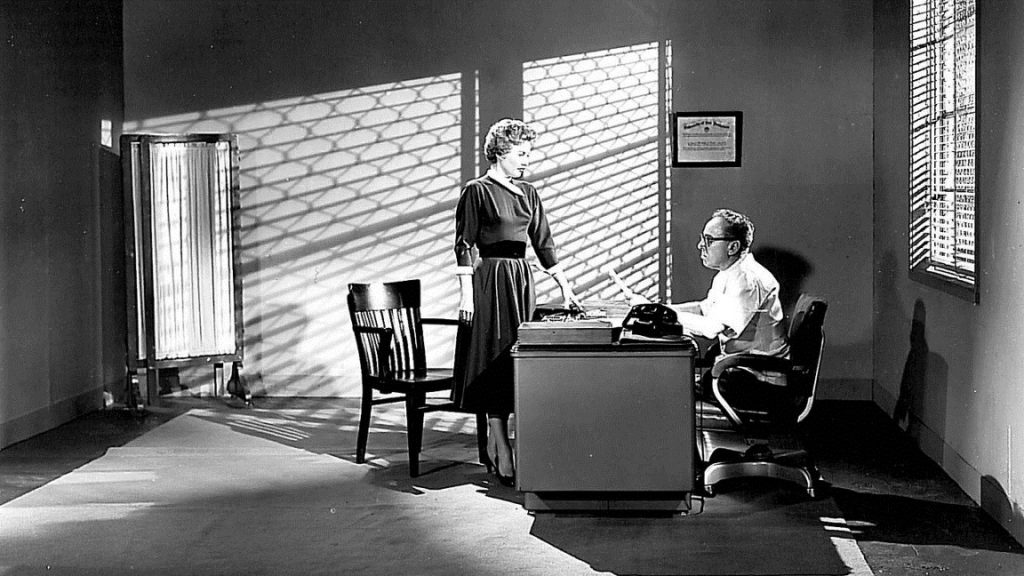 Another thing that this film has that the others above do not: ace noir cinematographer John Alton. Alton, known for his uncompromising pools of darkness and untethered use of large, expressionistic shadows, is one of the artists who made Film Noir Film Noir. For him, it was a matter of vision melding with the utilitarian need to simply fill out the scenery that low budgets couldn't afford to dress. At the time, no one knew that the stylized b-pictures they were churning out would go on to have lives of their own; collected in curated collector's box sets, even. (Case in point: this 2014 Blu-ray is the kick-off title in Kino Lorber's 2016 box set, "Film Noir: The Dark Side of Cinema". The label has returned to Noir with a vengeance, as subsequent volumes are scheduled drop one per month through at least July of 2020).
In salvaging and venerating even a mid-level entry (by bargain-basement Noir standards), today's labels are doing right by history. It's said often, but no other type of cinema nails the male angst of postwar alienation quite like Film Noir. In an entry like the stark yet fully engaging Witness to Murder, that conceit is stretched nicely by making the protagonist a competent female facing down a scheming antagonist (George Sanders) who is revealed to be increasingly fascistic. A bit on the nose? Yes- though so many of the best films also are. Not as empowering as it could be? Again, guilty as charged. But none of that should diminish one's viewing of 1954's Witness to Murder. Stanwyck demonstrates that although her marquee value may be in decline by this time, her skill, commitment, and sheer presence is not. She utterly carries this film, elevating it, along with John Alton's spectacular visuals, to the heightened heights that contemporary audiences seek when picking up a Blu-ray collection labelled "Film Noir".