A Passionate, Funny, and Erotic New Portrait of "The Myth of Amherst"
DIRECTED BY MADELEINE OLNEK/2019
Perhaps the educational system has advanced since we read Emily Dickinson in my high school and college classes. Perhaps students are no longer presented with the image of one of America's greatest poets as an unhappy, loveless spinster tucked away in her home, an almost spectral figure. The pale, grave face in her familiar portrait seems to fit that image, but how many people in 19th century photos didn't look pale and grave?
Recent scholarship has offered a much more dynamic picture of Emily Dickinson as a woman with vibrant friendships, strong ambition to see her poetry published, and even passionate love affairs. In Wild Nights With Emily director Madeleine Olnek adapts her play of the same name, focusing on Dickinson's decades-long relationship with her sister-in-law and (almost certainly) lover Susan Gilbert. If you think that a film about Emily Dickinson's lesbian love affair sounds serious and artsy, I've got news for you. While Olnek is trying to do justice to the misunderstood poet, she delivers this corrective history as a comedy and a very funny one. Molly Shannon delivers a wry performance as Emily: zealous, prolific, and uncompromising in her writing, but warm and playful in her relationship with Susan. Susan (Susan Ziegler) is not only Emily's romantic partner but the biggest booster of her poetry, encouraging her when no one else – including a number of high profile publishers – seems to appreciate her art.
There was more than one scandalous love affair in the Dickinson family: Susan's husband, Austin Dickinson, was involved with another married woman, Mabel Todd (Amy Seimetz). Todd helped to publish Emily's poetry posthumously, but not before erasing Susan's name from dozens of the poet's handwritten manuscripts. Mabel's sanitized version of Emily's life is used as a framing device for flashbacks to the "real" story.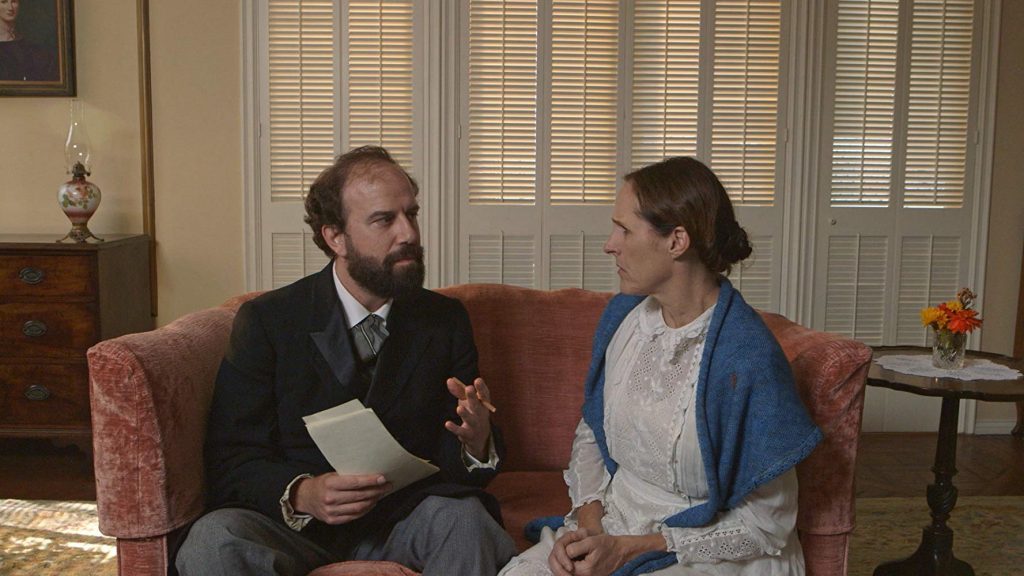 Wild Nights with Emily is a quirky film. A number of Emily Dickinson's poems are included in the film, used in ways variously erotic, tender, and mysterious. But the film also has a silliness to it that sometimes approaches an episode of Drunk History. Surprisingly, it all works. The power of the poetry is undeniable; the romance is affecting, and the wit of the comedy is winning. Particularly funny are a scene in which Emily visits with an elderly friend (and potential suitor), and one in which Austin (Kevin Seal) tries to persuade his slightly daft sister Lavinia (Jackie Monahan) to arrange a personal meeting between his mistress and Emily. Rather than a dead serious historical biography, Olnek has used a light touch to deliver a solid message about the challenge of Dickinson being both an innovative female artist and a sexual outsider in a time period that had little space for either. The Emily Dickinson depicted in Wild Nights With Emily wasn't a solitary spinster. She was a passionate proto-feminist who insisted on creating, and loving, on her own terms.