Off-Hitchcock But Not Un-Hitchcock
DIRECTED BY ALFRED HITCHCOCK
STREET DATE: JUNE 19TH, 2018/KINO LORBER STUDIO CLASSICS
An atypical though unmistakably distinctive project for the director, Alfred Hitchcock returned to England for his first film made in his homeland since 1939's Jamaica Inn. Like that earlier, unusual entry in the director's filmography, Under Capricorn – produced independently by his and producer Sidney Bernstein's short-lived Transatlantic Pictures – is the suspense master's rare historical film, drawing on a similar source of period gothic melodrama, that nonetheless feels never less than Hitchcockian. Long, drawn-out scenes, stagy staging, and declamatory acting, yes; but even the fancy dress, far-flung locale, and remote time-period fail to disguise the omnipresent sense of dread inescapably encapsulated in that thematic and style-descriptive adjective.
Spatially and temporally aligning upon Sydney, Australia in 1831, the studio and Technicolor recreation of the British penal colony, based on a 1937 bestseller by Helen de Guerry Simpson – and subsequent play adapted by John Colton and Margaret Linden – comes complete with a trademark Hitchcock cameo (possibly two) featuring the famed director in a strangely becoming waistcoat and top hat. Irish aristocrat Charles Adare (Michael Wilding) arrives with his cousin, the new and anxious governor of the emerging colony (Cecil Parker), to Sydney harbor as the film opens, where Adare is immediately drawn to the forthright 'new money' element of shady but extremely wealthy entrepreneur Samson Flusky (Joseph Cotten). The self-made, former convict's rough-hewn ways in turn find reciprocal interest in the dandyish Adare's cultured manner and easygoing charm.
The past of a onetime transported criminal, a new arrival is quick to learn, is a matter of both social politeness and political necessity not to be inquired into too closely, but Flusky's complex backstory reveals itself beyond his and Adares' land-buying scheme: namely, in Flusky's ulterior motive, through Adare's friendship, towards the social reforming of Sam's alcoholic, traumatized wife, the former Lady Henrietta (Ingrid Bergman). Looked after and in turn exploited in classic "mad woman in an upper story"-fashion by the Flusky mansion's socially and romantically ambitious housekeeper, the chilling and ruthless Milly (Margaret Leighton), the quadrangle emotional entanglements of Under Capricorn's title and story lays complete in the class divide between Henrietta and Adare's mutually cultivated background clashing against the individual social-climbing intrigues, the former for good and the latter for evil, of Sam and Milly.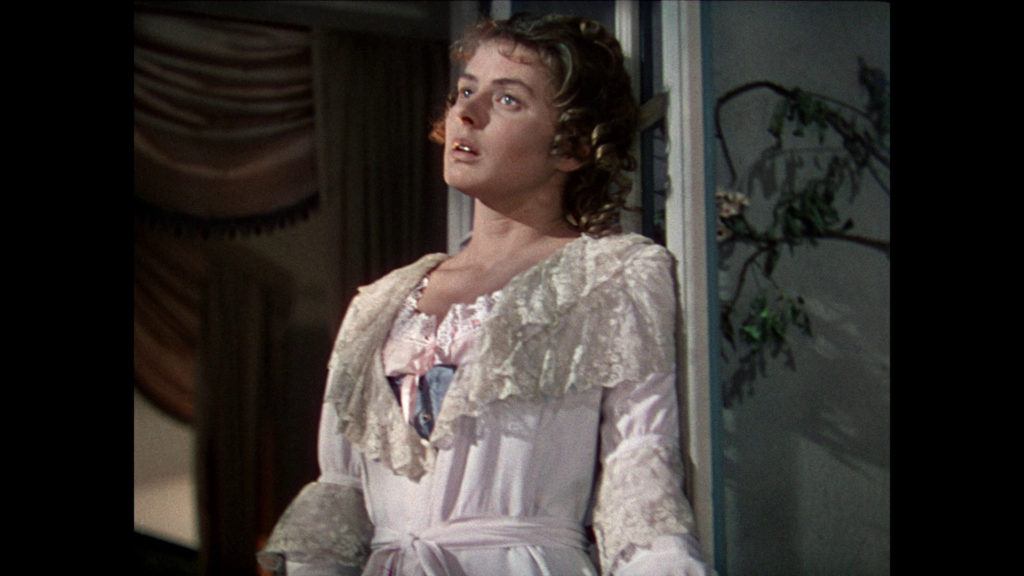 Introduced walking barefoot into Flusky's expansive dining hall during a party given for Sydney's upper crust, whose wives pointedly do not attend, Ingrid Bergman's neurotic Henrietta expends much of her in-drawn resources over the next hour-and-a-half tirelessly outward. Responding warmly yet cautiously to Adare's essentially kind though oddly insistent appeals to her upper-class origins, vaguely yet firmly resisting Milly's subtle and undercutting tactics of psychological harm, and, finally, uneasily yet unshakingly loyal to Sam's grasping lurches towards upward social mobility, Henrietta's emotionally strong yet inner-wounded bearing suffers exquisitely through every drawn-out passage of screen-capitalized Gothic Melodrama. Bergman's nuanced performance and flickering presence is a true star's showcase; all the more resonant, as an audio excerpt accompanying the Blu-ray from a 1962 interview by French director Francois Truffaut (that resulted in the classic 1966 study Hitchcock/Truffaut) informs us, the project was primarily undertaken for her benefit.
Shot in moody Technicolor by Jack Cardiff (fresh off his triumphant one-two-three color process-punch of A Matter of Life and Death [1946 ], Black Narcissus [1947], and The Red Shoes [1948] for Michael Powell and Emeric Pressburger), the languorous long-takes and meticulous mise-en-scene, stylistically continued from Hitchcock's companion Transatlantic production Rope (1948), results in occasionally wearying though frequently breathtaking motion-compositions. The metric-ton three-strip camera roving through every square-inch of its presumably breakaway interiors – through hallways, up staircases, and down long tables – Under Capricorn's restless stylistics mirror the heightened reality of its story and telling. And if the performances and dramatic stage origins feel overwrought, and the material ill-suited to the director's usual up-to-the-minute and in-the-moment screen aesthetic, the willingness of its viewer to camera-traverse motion-roads less frequently taken in a more conventional thriller – where much of the dread is here internal and suggestive as opposed to external and explicit – may reward those more responsive to the imaginative spine-chills of its descriptive equivalent in literature.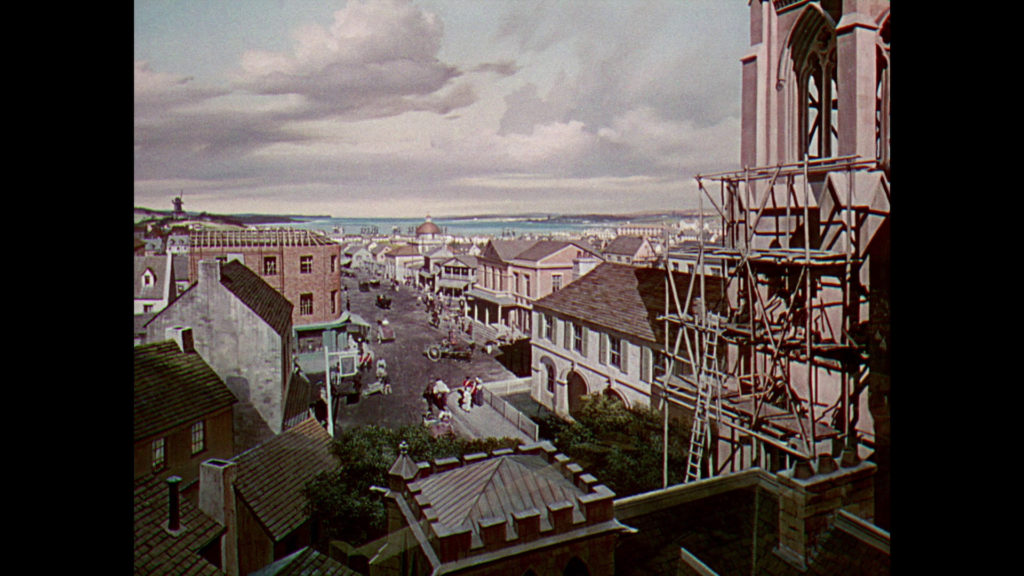 Making a great case for Under Capricorn as a prime piece of and rare success as screen gothic melodrama, Kino Lorber commentator Kat Ellinger returns to illuminate the dark corners and shadowy passageways of this most unusual entry in the Hithcock canon. Usually derided in critical circles as one of the worst and least-seen among this era of Hitchcock – sandwiched like an unturned and dusty volume between 1948's Rope and 1950's Strangers on a Train – Under Capricorn is more rarely valuable among Hitch's more well-known efforts as an at least valiant attempt to suggest feelings, motivations, and subtleties that his more popular thrillers may not otherwise have taken the screen-time to address.
A window-mirror glimpse of a former self thought long-dead; a necklace of gaudy stones concealed behind a gruff posture of touching uncertainty; the sinking regret of a carriage-ride away from years' worth of wasted and misguided scheming; noble self-sacrifice despite and through painful near-loss of an arm; this stunning 4K restoration of an often-overlooked movie may finally give cineastes the excuse to experience Under Capricorn's obscure pleasures.
The images used in this review are credited to DVDBeaver and are taken directly fromKino Lorber's Blu-ray release.