Matt Dillon Stars in Quintessential Garry Marshall
DIRECTOR: GARRY MARSHALL/1984
STREET DATE: OCTOBER 10, 2017/KINO LORBER STUDIO CLASSICS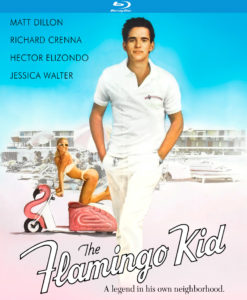 It's 4th of July Weekend in 1963 Brooklyn, and Jeffrey Willis swelters on the street corner. Since it's too hot to do anything worthwhile, he doesn't need much convincing to abandon the block for a game of gin at the exclusive Flamingo Club on Long Island. By sunset, he has a job parking cars, a romantic interest, and a new plan for his summer. Jeffrey's ready to make money, set to gamble it all, and going to be…a legend in his own neighborhood?
Well, at least the tagline of the movie insists he earns that status, but I can't be sure what that means. Jeffrey's (Matt Dillon) new swanky pastimes don't impress his father (Hector Elizondo) back in Brooklyn, who would rather him focus on getting into college. And no one on Long Island is ready to claim him as one of their own, though he warms up to the elite Brody family, including suave gin master Phil (Richard Crenna), Lucille Bluth-lite Phyllis (Jessica Walter), and their friendly niece Carla (Janet Jones). Even as a lifelong Midwesterner, I know Jeffrey hasn't earned legend status in either New York neighborhood.
Marshall was a master of voice and controlling style down to the moment, and his fingerprints are all over this one.
Director Garry Marshall was two decades into his television career in 1984, but The Flamingo Kid was only the second feature film he directed. Perhaps that's why the plot is a little too slow and the story beats are very familiar. It's hard not to think about the summer adventures of The Sandlot while watching this one. (The two films even share a few songs on their soundtracks.) The difference is that even when The Sandlot meanders, it's still moving.
The Flamingo Kid may not be Garry Marshall's best movie, but it's quintessentially his. (Except for those leering shots of women's legs and backsides at the country club beach—those feel decidedly not Garry Marshall.) You can see the family drama he would later put at the heart of Raising Helen, the class issues central to Pretty Woman, and the same kinds of quirky character moments that color The Princess Diaries. Most importantly, the well-defined characters feel lived in, and the film never questions their humanity.
In an interview with Variety after Marshall's death last year, Elizondo shared, "Garry Marshall didn't say funny things. He said things funny. He had a way of looking at the world. A unique Garry sound," which is why he could make watching stock stories like Flamingo fun. When Jeffrey awkwardly dries the sink after using the restroom in the Brodys' fabulous house, it's a weird but wonderful way to show he feels uncomfortable. When he and his father both hum while eating at the dinner table, Marshall is cuing us to look for the similarities between father and son, even when they can't stand each other. Marshall was a master of voice and controlling style down to the moment, and his fingerprints are all over this one.
The images in this review are not representative of the actual Blu-ray's image quality and are included only to represent the film itself.