DIRECTED BY TERENCE FISHER/1959
STREET DATE: MARCH 14, 2017/KINO LORBER STUDIO CLASSICS
Hammer Films presents The Man Who Could Cheat Death as a part of their mad scientist series of films.  Though those centered around Dr. Frankenstein, starring Peter Cushing, would be their crowning achievement, this small film is a worthy entry if just to see other frequent Hammer Films alumni, Christopher Lee, play the hero for a change.
Directed by Terence Fisher, with a screenplay by Jimmy Sangster based on Barre Lyndon's play, The Man in Half Moon Street, this is a film that is simply a briskly paced idea that comes and goes in a meager 83 minutes.  Like other horror films from that time, the terror is less in things that modern audiences might think of when hearing the word "horror", such as jump scares or brutally savage masked killers, and more in the idea of things that the audiences of "that time" might see as unnatural.  For The Man Who Could Cheat Death, the age-old idea of immortality, and specifically what one would do to achieve it, is where the terror enters into the narrative.
The story is not all that scary, and Anton Diffring and Hazel Court lack chemistry, but much of this is made up for by Christopher Lee who exudes charisma, even when playing a fairly buttoned up character with very little in the way of exciting dialogue.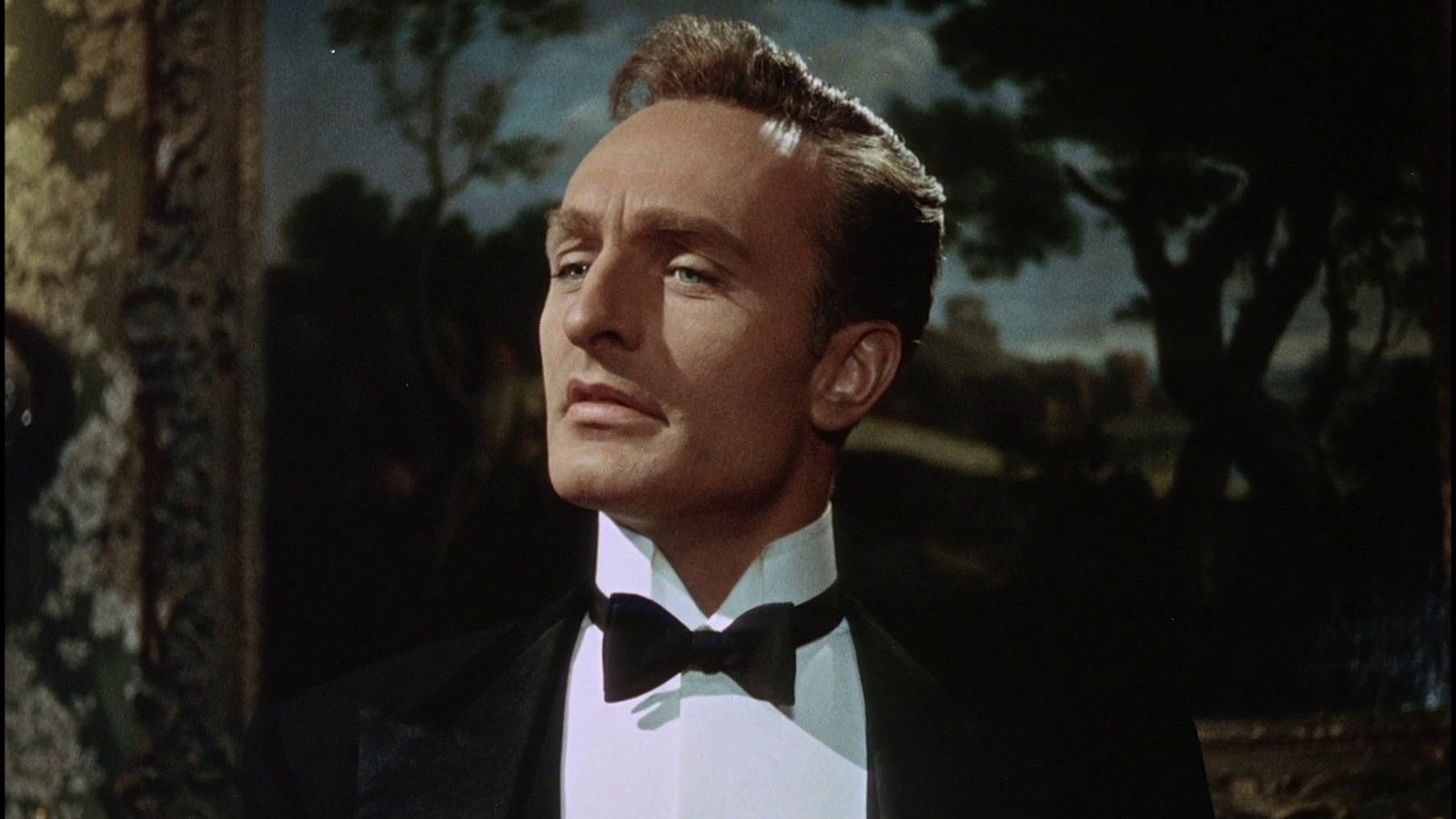 Anton Diffring stars (in a role originally given to Peter Cushing) as Dr. Georges Bonnet.  Dr. Bonnet is a man who is well respected in town and has a panache for creating statues of beautiful women.  It is at the unveiling of such a statue that a woman named Janine Du Bois (Hazel Court) arrives with her date Dr. Pierre Gerrard (Christopher Lee).  Janine recognizes Dr. Bonnet as the one who got away following a lovely time in Italy where they apparently met years before.  Now being reacquainted, she desires to truly win over Dr. Bonnet…and get him to finish his statue of her that was started long ago.
Dr. Bonnet is nervously awaiting the arrival of his old friend Dr. Ludwig Weiss (Arnold Marle), who is to perform a surgery on Dr. Bonnet that will save his life.  His illness is a curious thing as Dr. Bonnet looks, by all accounts, like a healthy 38 year old man.  Yet, this is the secret that he carries.  He is not well.  And he is not 38 years old. Every six hours, Dr. Bonnet must take a green liquid that he keeps stored away in a safe, or else his skin begins to turn the color of gold and his mental state becomes erratic and dangerous.  As this transformation takes place, and before he drinks the liquid, heaven help whatever soul might be around.
Dr. Weiss is a part of the experiment that has affected Dr. Bonnet and given him the look of the 38 year old he was when they began, but to maintain that youth, they must perform a gland transplant every 10 years. Where they get these replacement glands, how old Dr. Bonnet truly is, and the notion that one can cheat death and whether that means they are playing God all becomes the key focus of the story.
When Dr. Weiss informs Georges Bonnet that he cannot perform the surgery due to complications on his hand resulting from a stroke, they must try to rope in the help of Dr. Gerrard, who would want nothing to do with such "mad" science if he knew what they were really up to.  There is also something strange about Dr. Bonnet's obsession with his statues, and the mysterious disappearance of women who pose for him to create these works of art that seem to happen every 10 years.  The viewer will have to watch to see how all of this comes together.
The story is not all that scary, and Anton Diffring and Hazel Court lack chemistry, but much of this is made up for by Christopher Lee who exudes charisma, even when playing a fairly buttoned up character with very little in the way of exciting dialogue.  He is so much younger here than most modern audiences will remember him as, especially in such films as Star Wars: Attack of the Clones or The Lord of the Rings and Hobbit films, that they might not be able to spot him right away (hint: look for the tallest guy in the scene).  Arnold Marle provides the most realized character arc in the film, and brings a bit of sympathy to a man who has basically enabled the terror brought on by Dr. Bonnet.
Kino Lorber is releasing this film in Blu-Ray and the picture quality looks great.  The opening foggy scene following a man walking down the street before he is mysteriously murdered before the credits finish rolling helps give the contrast between dark and foreboding mystery, and the bright and cheery colors at the gathering of socialites at the home of Dr. Bonnet the next day. These two extreme use of color gives one the idea of the range of clarity contained in this Blu-ray release.
The film is presented here in color and contains several extras as a part of this release.  These include an audio commentary track from Film Historian Troy Howarth which documents a lot of important aspects to the film. There are also two 15-17 minute interviews with film critic and novelist Kim Newman, and one with author and historian Jonathan Rigby.  Modern film director, Joe Dante, presents a "Trailer from Hell", and the film contains several other trailers to other Hammer horror films.  Overall, this is a very respectable film release for those interested in the mad scientist films originally released by Hammer Films.
The images in this review are not representative of the actual Blu-ray's image quality, and are included only to represent the film itself.