Twilight Time Unearths an Underseen Gem
DIRECTED BY JOAN MICKLIN SILVER/1979-81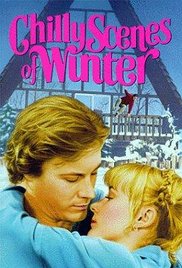 Joan Micklin Silver's Chilly Scenes of Winter is a film of which I've long been a massive fan. I first read about it in Danny Peary's 1988 book Cult Movies 3, and then finally saw it in the '90s when A&E still showed movies; I adored it at first sight. But despite a once sizable cult following, it only saw its first digital release in 2010 (bundled together on DVD, via Amazon, with another early '80s John Heard movie, Ivan Passer's excellent modern noir Cutter's Way). Its newly polished Blu-Ray release by Twilight Time requires Silver's film be given another gander, especially by film nuts clamoring for underseen nuggets from that last Golden Age of cinema.
Chilly Scenes of Winter has a complex production history. Adapted from Ann Beattie's novel of '70s romantic malaise, it was originally filmed as Head Over Heels in 1979 and barely released by an ailing United Artists (which was busy pumping money into their own stake-in-the-heart, the underrated Heaven's Gate). After Head Over Heels' financial failure, UA and writer/director Silver pulled the film from release, altered its ending, and re-released it in 1981 with the original title of Ann Beattie's novel. I still can't really understand, from an economic standpoint, why they bothered, since nothing they did could possibly ensure the film would perform any better at the box office. (I can only surmise that UA was a supremely confused collective at that moment.)
There's just something particularly timeless about the film that I attribute to Micklin's expert direction. There are very big laughs in it, but it'll also leave you with a deep sort of nostalgia for any lost love you may have experienced.
The unusual thing about this (SPOILER ALERT) is that Silver took the happy ending to this troubled love story–mind you, the same happy ending that's in the original novel–and replaced it with a crushing yet realistic finale. Of course, this is the sort of thing no focus group today would ever go for, addicted as they are to happy endings. But, in the cynical 1970s, it seemed as if every movie out there had a downbeat ending, so I suppose this is what Silver had in mind. Or maybe she just saw it as unlikely that her troubled protagonists, as much as we want to see their success, would ever enjoy a lasting relationship together. (End SPOILER ALERT). Anyway, I do think the extra effort improved the movie.

In the film, John Heard plays Charles, a go-nowhere Salt Lake City civil servant living in the gloomy house his grandmother left him. As the film begins, he's in a crippling state of depression over his breakup with Laura (Mary Beth Hurt), the sweet but damaged file manager he met on the job a while ago, but who's now decided to return to her shaky marriage (where she's acting as mother to her husband's young daughter). But this is only one of the things bringing him down. Almost everyone else in Charles' life sucks the energy out of him: his best friend, Sam (Peter Riegert), a similarly unambitious but romantically successful jacket salesman; his annoying boss (Jerry Hardin), always asking for silly advice for his sexually addled son; a very-available but bland female co-worker (Nora Heflin) who has the hots for Charles; a suicidal mother with a tenuous grasp on reality (Gloria Grahame, superb in one of her last films); a sardonic sister (Tarah Nutter) who, annoyingly, seems to have everything together; and a rosy but dour stepfather (Kenneth McMillan) with major inferiority issues.
About the only seconds of joy in Charles' life come from regular booze swillings accompanied by his private memories of Laura, which the film documents with a deft ease that gives similar time-juggling films like Pulp Fiction or The Killing a run for their money. The viewer is completely convinced this is a linear structure, and is only aware later that the film is told almost entirely in flashbacks. Heard's narration weaves in and out, and Silver even has him address the camera at times in, perhaps, an Annie Hall-influenced move (though Chilly Scenes of Winter is its own animal, it owes much to Woody Allen's masterpiece).
Anyway, the moments with Charles and Laura together, in happiness and anger, are some of the most electrifying romantic scenes in movie history. In particular, their first meeting has a sexual tension that pops like no other sequence of its type. Their banter, their body language, their flirtatious looks and barest confessions–it's all like nothing else I've ever witnessed on film (I cannot stress this strongly enough). It's on the power of glimpses like this–another is their charged slow-dance to Bette Midler's version of "Skylark," with Charles' voice-over admission: "Say what you want–it was perfect"–that we're able to understand our lead's unwavering devotion to this woman, and this relationship. But it's in the argumentative bouts–like the one they have after exiting a porno movie, and Charles spouts the unadvised view that Laura was prettier than the girl getting boffed on screen–that we realize Laura has no room in her soul for this strangely pressing love. There's something both in her present (her on-again/off-again marriage to A-frame house salesman, played by co-producer Mark Metcalf) and buried in her unmentioned past that won't allow her to enjoy such rampant adoration. And Charles is often too smothering anyway, putting up, for instance, an unnatural objection to Laura visiting her gynecologist without his assistance, culminating in a disturbing promise of violence that shakes both Laura and the viewer to the marrow. Charles clearly knows (or thinks) she's too good for him, and this keeps him in a state of noxious worry.
One of the things that makes Chilly Scenes of Winter work so well is the decision to deviate from the push me/pull you dynamics of the love story by peppering the movie with lots of offbeat characters, all nicely-played. Curly-topped Peter Riegert, then fresh off his National Lampoon's Animal House success, adds a game brand of wildness to Sam, his laconic tone mixing humorously with a determined physicality. The legendary Gloria Grahame is also quite fine, demented and sad, as a woman whose lust for life has been whittled down by the empty-nest syndrome and a desire for a man–Charles' long-dead father–whom she never got to love as fully as she wanted (now, as I type this, I wonder if this is what set Charles up for the kind of poisoned relationship he'd experience with Laura). Also, finally, I should point out Kenneth McMillan–a fantastic character actor of the '70s and '80s–as the rotund stepfather, always eager to please, promising olives to Charles for their Sunday dinner and zealously boosting both Turtle Wax and dancing lessons to his stepson. There are smaller roles for David Lynch veteran Frances Bay as a hospital nutcase with which Charles has a playful moment, and co-producer Griffin Dunne as Charles' sister's squarish boyfriend. But, of course, Chilly Scenes of Winter is entirely steered by the considerable gifts of its two leads; with this and Cutter's Way, John Heard cemented his place in film history as one of the era's most friendly yet world-hardened actors (his Charles is a dangerously lovable cynic), while flaxen-haired Mary Beth Hurt hit a career high portraying Laura's as a stifling neurotic confidently backed with nerdy charm (Hurt has never looked more delectable–I especially love the scene where she asks Charles for a birdfeeder and does little tweety bird sounds for him; I anticipate that sunny moment every time I see the film, as I think it justly encapsulates Laura's delicious appeal).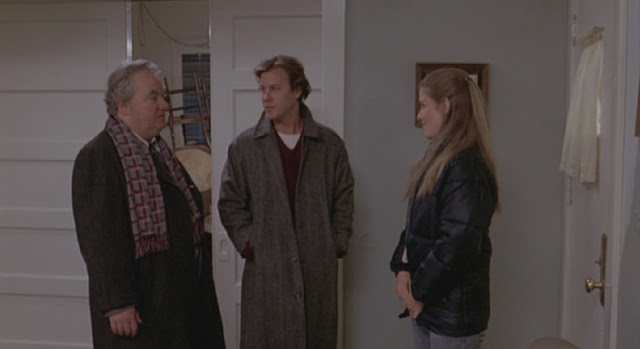 Joan Micklin Silver is one of my favorite unsung film directors (the Jewish immigrant story Hester Street, the small-press newspaper comedy Between The Lines, the Amy Irving-led romantic comedy Crossing Delancey and the early HBO movie Finnegan Begin Again, with Mary Tyler Moore and Robert Preston, are some of her other accomplished movies), and she's certainly a pioneer in the realm of women filmmakers. But this is the most complete, and frankly, simply my favorite of her works. She builds a brilliantly snowy, rainy look to it (I love how her art director and photographer bring its everyday autumnal beiges to life). Moreover, I marvel at her acumen at writing this man Charles so remarkably well (with all due credit to the novel's author Beattie who, by the way, cameos in the film as a harried waitress). So often I'm astonished at how so many male screenwriters these days know so little about writing for women that they usually forget to even try for understanding, reducing most female roles down to cliche and sex. But Silver is exceedingly giving and insightful in her portrayal of men–at least men of this era (perhaps it's easier for women to pen male roles because they listen so much more intently). Silver also vibrantly captures the stench of disappointment in the late '70s air as the hopeful Woodstock generation plods towards Reagan's inevitable New Dawn (Tarah Nutter, as Charles' sister, has a wonderfully dismissive line: "All Woodstock was was a bunch of people walking around in the mud looking for a place to pee," before admitting her only proof is that she saw it in the concert documentary). Charles' struggle to keep Laura is, in a way, a last-ditch salvo of '60s-era idealism. He knows this bond has its problems but somehow–somehow–he's gonna make it work because something tells him it's worth it. Until it isn't anymore.
As suggested by the bleak title and Ken Lauber's plaintive musical score (performed by the late jazz harmonica maestro Toots Thielemans, who also provides the soundtrack's tuneful whistling), Chilly Scenes of Winter chronicles one man's descent into a time-jangling depression whirling in wistfulness over the past. But it does so with a lithe air and about as entertainingly as any movie could. There's just a particular timelessness to it that I attribute to Micklin's expert direction (the clothes, for instance, are not dated and outrageous, and there's no disco music on the soundtrack, though '60s casualty Janis Joplin does show up with "Get It While You Can"). In watching Chilly Scenes of Winter, expect big laughs (despite his doldrums, Charles remains genially playful throughout the film–just wait for the bit about yogurt), but also be prepared to experience a profound nostalgia for any lover you may have lost…and this goes for both male AND female viewers. Because, let's face it–as much as we treasure Woody Allen's films, most of us aren't part of the New York intellegentsia. We are, instead, poor working-class schlubs like Charles and Laura.