Long Unavailable Noir Succeeds On Three Levels Of Noir Viewing
DIRECTED BY ROBERT SIODMAK/1948
STREET DATE: November 15, 2016/KINO LORBER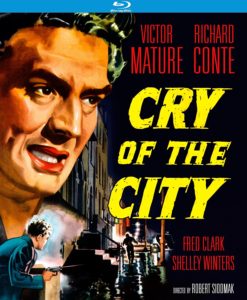 Our unofficial Noir-vember celebration continues as Robert Siodmak's long unavailable Cry of the City finally finds its way to Blu-ray; providing many home video viewers, including myself, a first-time glimpse at this highly-reputed and much-discussed 1948 Twentieth Century-Fox crime thriller. With its low-key lighting and high-key storytelling, the world of noir effectively casts its evocative shadows and effortlessly absorbs its viewers' rapt interest courtesy of a strong balance between on-location shooting and realistic studio sets, dramatic intensity and urban color, passionate performances and coolly-detached plotting. In short, noir fans: Cry of the City has been eminently worth the wait.
To test that bold assertion, then, I decided that no less than three viewings would be necessary to accurately gauge the levels on which Cry of the City succeeds as a stylistic exercise, a gripping narrative, and a thematic discourse. While many would begin with the story details, my film-watching habits lead me more naturally toward the visuals, which one imagines better serve a highly visual genre of storytelling in a medium that itself tells stories visually. Opening in a shadow-drenched prison hospital, the establishing scenes linger on claustrophobic images of bed railings, screen partitions, and barred windows. Revolving around the low-angled view of and from a starkly-lit hospital bed, men in dark-hued overcoats and nurses in starch-white uniforms move through narrow corridors, linking inserts between quickly shifting moments of mourning, love, interrogation, persuasion, manipulation, and even sudden violence. As the protagonist/antagonist effects his preemptive escape from abbreviated convalescence, limping through those same shadowy corridors, one of the trenchcoat figures forcefully emerges from the shadows, having previously established himself as the chief pursuer with a deep and deeply personal connection to the pursued. From dimly-lit tenement interiors stuffed with wall-mounted crucifixes, rosaries, and portraits of St. Mary through neon-lit streets blazing forth false illumination and empty slogans to, finally, the brightly candle-lit nave of an inner-city Catholic Cathedral, pursued and pursuer inexorably merge on the steps of the church, and, one imagines, the "cry of the city" has been definitively answered.
Drifting from one level of storytelling to the next, the second viewing tracks through the dream-like world of visuals to more fully appreciate the complicated story details a good noir revels in. And Cry of the City is nothing if not complicated: following a botched restaurant robbery, small-time hood Martin Rome (Richard Conte) recovers from a shoot-out which resulted in the death of a police officer. Also suspected of carrying out a jewel robbery with an unknown female accomplice, of which he is actually innocent, childhood friend Lt. Candella (Victor Mature) takes a personal interest in bringing down the criminal after Rome makes a daring escape from the security ward of the hospital in order to protect his unknown girlfriend (Debra Paget). As if to emphasize this "personal interest", an early scene where Lt. Candella visits the tiny apartment of Rome's mother and father (Mimi Aguglia, Tito Vuolo) may initially seem to many viewers, as it did to this one, as if Candella is visiting his own victimized parents; the doubling and mirroring extending to a past image of both their "selves" in Rome's conflicted younger brother Tony (Tommy Cook). Inextricably linked by their background, the remainder of the film details the complicated moral choices open to two men who have chosen very different pathways in life. From Little Italy to downtown Manhattan, and all the hangouts, hideouts, and shootouts in between, Rome leads Candella on a New York City-wide manhunt that sees a former girlfriend (Shelley Winters), a shady doctor (Konstantin Shayne), a shadier lawyer (Berry Kroeger), and an outsize female masseuse (Hope Emerson; given one of the more memorable entrances in all noir) successively fall victim to the pursuit between law and lawlessness.
Having taken in the images and story details, the third viewing is greatly assisted in the digital age by the under-appreciated feature-length commentary. And as supplied by a brand-spanking new discourse by the great Eddie Muller, recorded in 2016 for this very Blu-ray release, one has the benefit of tying all the loose narrative ends and visual storytelling details through a true noir denizen's learned repository of relevant facts and trivia, along with his keen eye for moment-to-moment stylistic and thematic choices. On this third viewing, what most impressed me, as emphasized by Muller's commentary track, were the character roles: your Brenda Nightingales, Miss Pruetts, Dr. Veroffs, and Mama Romes; these are the inhabitants of noir who give its world shape and substance. When, say, Rose Givens tenderly massages wounded Martin Rome's neck, and then that physical motion just as naturally turns into a savage stranglehold across his suddenly vulnerable windpipe, one can't help but appreciate the unheralded skill of a performer who makes film moments such as these so effortlessly alive. Having once dramatically fled the Nazi apparatus or having been the daughter of a great Sicilian diva actress or having been the silky voice heard nightly over coast-to-coast radio for a solid two decades; the history of performers like Konstantin Shayne, Mimi Aguglia, and Berry Kroeger are etched in their characters' faces, imbuing their screen presences with a reality even beyond the murky visuals or plot machinations of noir. In this noir, as in many others, the Cry of the City is truly theirs.
Kino Lorber's first-time transfer of this much sought-after title is definitely to be commended, with the visual clarity of noir in its late '40s prime coming to stunning life for what one would presume to be its highly selective and discriminating audience. As this review would hopefully attest, this is a movie that holds up after and in fact encourages repeated viewings, making Cry of the City a must-own for fans of great noir.