Director David Lowery/2016
Director David Lowery seems to be parking his car in the Disney garage.  His latest film is a remake of the 1977 Disney musical Pete's Dragon, and next up on his slate is a Disney-produced live action film of Peter Pan. Disney has been giving the live action treatment to many of its classic animated tales with recent efforts including Cinderella, Maleficent (as a tale of the Sleeping Beauty villain), and the upcoming Beauty and the Beast and Little Mermaid on the way. But from his live Q&A that followed our screening at the Alamo Drafthouse, that he did with his co-writer Toby Halbrooks, it is obvious that what drew David to this project was his love of the original. David Lowery wants us to also know that he is not the famed singer of the 1990's alternative band Cracker either (though putting a Cracker song into the soundtrack would have been a clever joke-maybe "Let's Go for a Ride")
Lowery, was asked the obvious questions we all have when we hear about a remake to an older film that many see as a mediocre original attempt by a Disney Studio, who was clearly in the decline in 1977. The questions being "why remake this?" and the "how do they compare?".  Lowery's response, I believe, is a good and apt description of how they compare.  He said, "We wanted to capture the memories of the original without re-creating the scenes of the original".  He was more interested in the "feelings" people had.  And the new film definitely gives you that.
 Pete's Dragon (2016) soars higher than the original, and with more heart!  This is the family adventure of the year.
The updated version of Pete's Dragon is no longer a musical.  Elliot, the dragon, is no longer a traditional animated figure but a strong CG creation that is quite impressive down to the tiniest details, such as the hair, eyes, and facial expressions.  The tale is set in a more modern day than the early 1900's of the original.  It could be set to today's time, but I have a sneaky feeling that this film is set in the late 1970's/early 1980's.  Primarily, I gathered that through David Lowery's interview and little pieces of information he threw out.
Pete's Dragon (1977) was the first Disney film featuring animation that did not have the involvement of any of the famous "Disney's Nine Old Men", the original core group of animators that worked on everything from Snow White and the Seven Dwarfs, onward. The original film was released in 1977, but it was also the first Disney film to be released on VHS and Beta in 1980.  There was also a subsequent re-release in 1984.  In the new film, Pete, along with his family, are traveling in a 1970's era station wagon and many of the clues strewn about the new town are consistent with that era.  There are also more modern touches, so you will have to be the judge.  But I think these dates, and the age of the director, are some of the clues of why I think he secretly may have set the new film in that time setting.  The film doesn't really say, so it could be a good discussion.
Like the original, Pete (Oakes Fegley) is orphaned and left to fend for himself for a number of years.  Here, Pete is given quite a bit more backstory on his time before being reintroduced to modern society, though his time on his own was spent with his friend Elliot who no one else can see.  Elliot is able to not just disappear as he did in 1977, but here it is more of an extreme form of camouflaging.  Dallas Bryce Howard plays a forest ranger named Grace who has a love of nature, despite dating a man named Jack (Wes Bentley) whose company is responsible for tearing down the forest around the town in order to bring in "progress".  Grace's father, Meacham (played by film icon Robert Redford), is the beloved grandfather type who still tells the town's children his tales of seeing the dragon in the woods from years ago.  Grace has grown up hearing these tales but takes them as nothing more than tall tales from a father she loves, but can no longer believe in, given his belief in something so preposterous that no one else has been able to corroborate.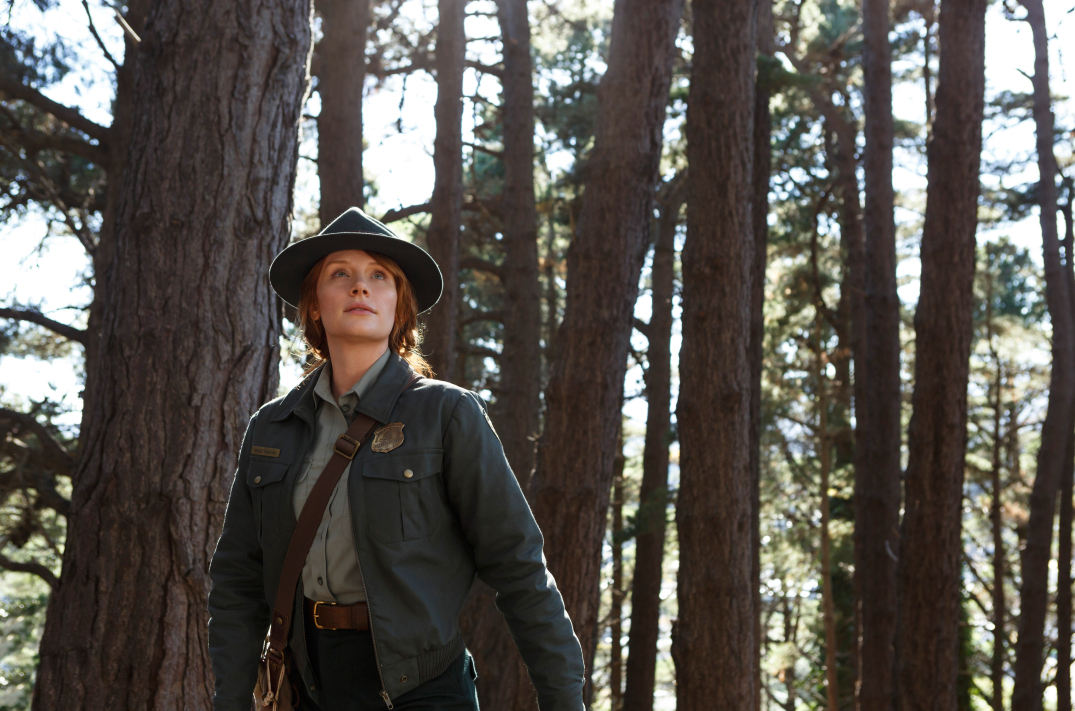 Grace's boyfriend Jack may be in charge of a lumber company tearing down the forest, but we are made to believe that he only wants to do what is necessary to accommodate natural growth of the town, while his more ambitious and reckless brother Gavin (Karl Urban) is seen going behind his back in order to accelerate the cutting down of the forest to push for more and more profit.  It is Gavin who comes in conflict with Elliot and who will do nothing to hunt him down and show the town that the dragon tales of Meacham are true.
While the films tone is more gritty and realistic than the 1977 version, this is still a film made for families.  It is very clean in terms of language, and the hope and joy of Pete and Elliot's friendship is still very much intact. Even some of the darker moments, like the moment Pete becomes an orphan, are done in a way that captures the horror of the event, but with the camera looking away from the traumatic event and instead focusing on the facial reaction of a boy who doesn't know in that moment that his world is changing.  This will allow younger children to know why Pete is alone, but they won't be scared of the details either, since they are not explicitly shown. Oakes Fegley did an amazing job in this role of Pete, as did Oona Laurance, who plays Jack's daughter, Natalie. The children interact with the computer-generated dragon as if he was a real creature and help provide children of all ages, the idea that this could really be a real-life dragon after all.
Behind the scenes, Pete's Dragon is a family affair as well.  Both David Lowery and his friend, and screenwriting partner, Toby Halbrooks, have worked together previously, and are collaborating on future projects together as well.  Throughout the film, Pete has a book given to him by his parents called "Elliot gets Lost".  The book was written by this creative team, and David Lowery's brother did the concept art and illustrated the book, which has been published and is being made available for sale.  The opening song, that also plays during the credits, was written by Toby Halbrook.
The film was shot in New Zealand, and used WETA, the renown special effects company, who is responsible for the incredible visuals in Peter Jackson's Lord of the Rings and Hobbit trilogies.  And I'd say, after Smaug, they know a thing or two about designing impressive computer generated dragons.  Elliot, is much more friendly than a Smaug, but interestingly enough, his "sounds" are all created by John Kassir, who is famous for being the voice of the Crypt Keeper, in HBO's "Tales from the Crypt", which is not really known for being "friendly".
The original film had a process whereby the animation was layered between two live action layers.  All 3 layers would run simultaneously through each frame to create a more realistic dragon, at least for the 1970's.  This is not that.  WETA has created a creature that looks natural against the beautiful backdrop of its New Zealand topography, so much so, that you'd believe it was a native creature to the those islands if you didn't know better.
All of these interesting tidbits aside, the question we must answer is "is this a worthy remake?".  As someone trying to watch this film, while sitting with my 9-year old daughter, and channeling my inner 7-year old self who first saw this film on VHS around 1980, I'd have to say a resounding "Yes"!  Pete's Dragon (2016) soars higher than the original, and with more heart!  This is the family adventure of the year.  This is not to say that there aren't flaws.  Pacing is an issue, and there is some serious chemistry problems between Dallas Bryce Howard's Grace, and her boyfriend Jack.  But in the end this film has enough heart and charm that you simply walking away with a smile on your face, especially if you are walking out looking at your own kids faces who are seeing the tale of Pete and Elliot for the first time. Disney should have a hit on their hands.