Has Ethan Hawke Found His Ultimate Tortured Artist Role?
DIRECTOR: ROBERT BUDREAU/2016
Ethan Hawke has always been an actor who skirts around the musical landscape.  Whether it be playing slacker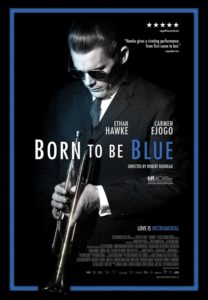 guitarist Troy Dyer in the Generation X themed Reality Bites, to a more recent documentary where he directed and appeared celebrating the music of Seymour Bernstein in Seymour: An Introduction.  If not always a direct musical focus, Hawke still embodies the tortured artist, often playing writers (See Before Midnight, Before Sunrise, Before Sunset, Sinister).  In Born to Be Blue, Hawke combines these tortured artist characters of his past and then accentuates them with a subtle portrayal of a man who is slowly losing it all, and may not really care except that it would keep him from his true first love: music.
In Born to Be Blue, Hawke is the real-life jazz great Chet Baker who finds himself in an Italian prison in 1966.  Baker shot to fame in the 1950's playing alongside greats such as Miles Davis, Dizzy Gillespie, Clifford Brown, and Charlie Parker.  Rumor has it that Miles Davis encouraged Baker's first use of heroin that eventually consumed him for the rest of his life.
This film takes some large liberties with Baker's life, having him being bailed out of the Italian jail by a Hollywood director who wants to shoot a film based on his life to serve as a vehicle for his late 1960's comeback.  This is merely a plot device where Baker (as played by Hawke) is cast as himself in this autobiographical take on his life.  It allows for scenes being filmed for the film to serve as the flashbacks to give us glimpses of Baker's musical greatness and to introduce us to the actress, Jane (Carmen Ejogo from Selma), that was playing his former wife Elaine in this film version of his life.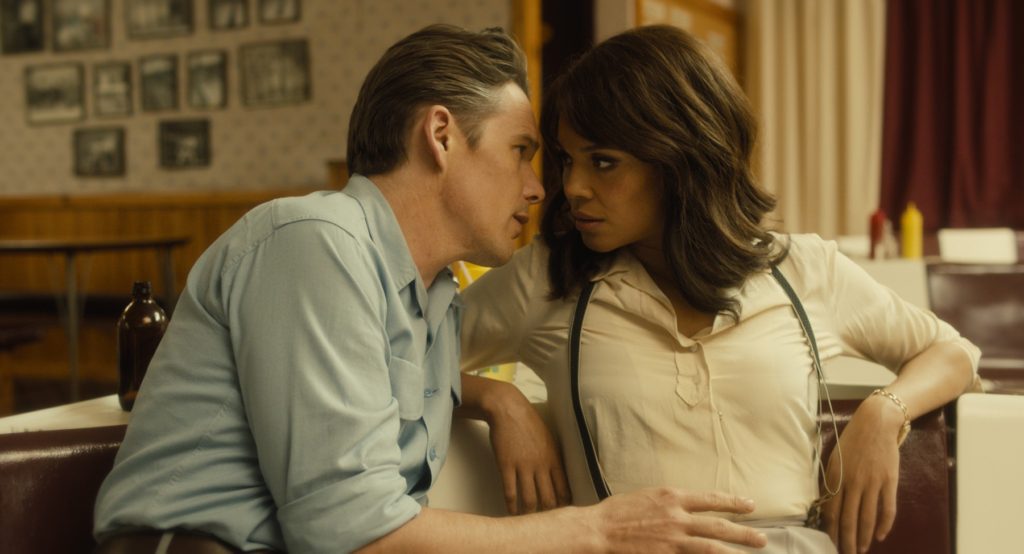 Baker was attacked one night by what is believed to be a group of thugs sent by Baker's dealer for money owed that costs him his teeth, and as a result it destroys his embouchure, which is needed to play his horn.  He is left broken physically, mentally, and emotionally and forced to face a life where he will never play the trumpet again.
Jane accompanies him to his parent's home in Oklahoma to recover and dry out, and it also begins a relationship that encourages him to push through the pain and to pick up his horn again. His former friend and business partner Dick (Callum Keith Rennie-Momento) won't work with him anymore until he is absolutely sure that Chet is clean and sober.  Eventually, Chet and Jane set back towards California to see if they can help Chet return to the stage and get his life back.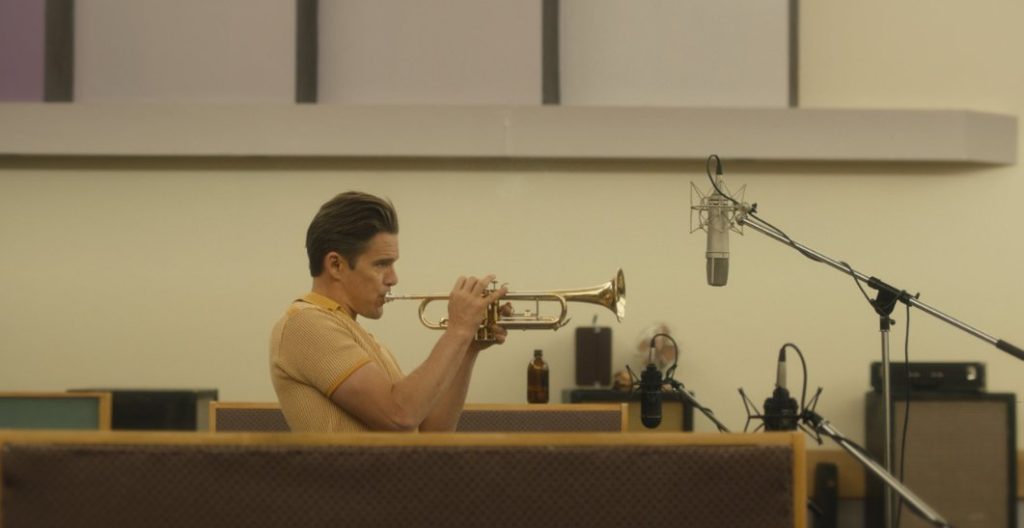 Having also reviewed another biopic, the Don Cheadle led Miles Ahead focusing on the great Miles Davis, it is an interesting contrast in how these two films approach their particular legendary trumpet player.  In the case of Cheadle, his Miles Davis is lots of attitude and charisma.  With Hawke, Chet Baker is a subdued and quiet presence who is every bit as passionate about the music he loves, as Cheadle's Miles Davis.  Born to Be Blue just tends to play the story in a straight ahead way, compared to the jazzy loose structure of Miles Ahead. Both films celebrate jazz in what rock journalist and director Cameron Crowe has described in his films as the only true American art form.
Happiness and fulfillment are two themes that pop up throughout this film with Dick asking Chet about trying to be happy "for more than 10 seconds at a time".  It seems that some artists are bent on their own personal destruction for the sake of better art.  The drugs seem to be an facade that lets the artist feel that they are truly living inside of each note, stretching out the brilliance and radiance of the music they create.  We certainly celebrate the brilliance of the music and how it resonates and effects us who hear it, but so many artists have died tragically far too soon.  With the jazz greats of Chet Baker and Miles Davis, they were both able to live far longer than they probably should have, and were able to continue to produce moving works long after their golden age.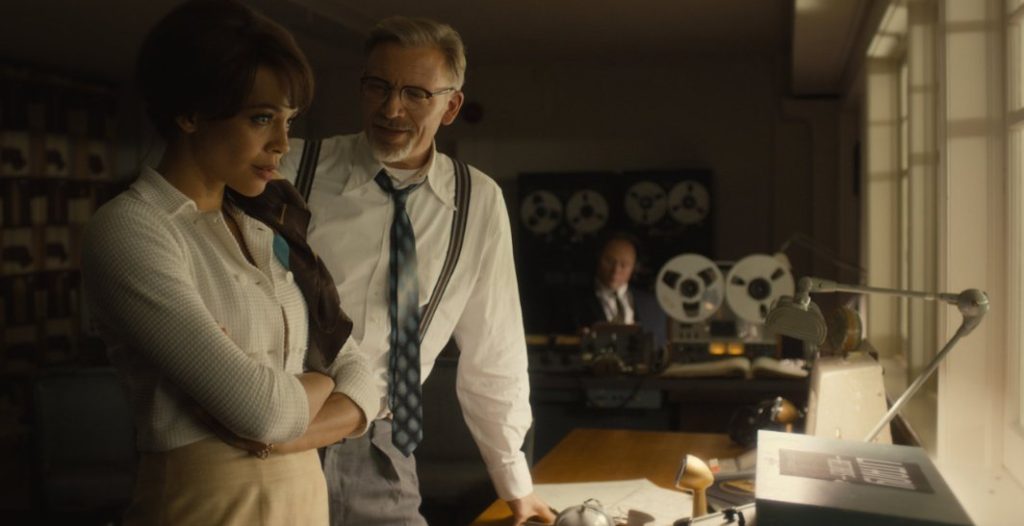 Director Robert Budreau had previously directed a short film titled The Deaths of Chet Baker starring Stephen McHattie as Chet Baker.  McHattie appears in this feature length film as Chet's father who is both proud of his son's talent, but disappointed in how Chet has ruined the family name through his drug addiction.  Born to Be Blue ends prior to Chet moving to Europe where he spent the last 20 years of his life, and so The Deaths of Chet Baker may be the natural ending of the Chet Baker story for Budreau who incidentally dealt with Baker's death 7 years prior to filming this story of his life.
Chet, like Miles, faced his own demons and there is a powerful moment in the film where Dick finds Chet vacillating between taking the medication he has been given to help keep him clean, and the heroin that held him captive.  At this moment, Dick paraphrases the scripture of I Corinthians 13 to Chet when Chet tells him that he needs the drugs to play truly.  Dick loosely says, "If I play, but don't have love, then I'm just a sounding gong, a clanging symbol".  In other words, is he succumbing to the drugs as a sacrifice to his love of music, or is he foregoing true love in the process and ruining the legacy of the music he claims to love?  Baker makes his choice, and we will see the consequences of it all.  So many of these storied musicians seem to embody the title of this film….Born to Be Blue.