A Brilliantly Rendered Batch
Who doesn't love a good animated short film? This is the filmic art form where imagination can truly cut loose, and an individual creator's vision, however warped or grandiose it may be, can shine bright. All it takes is time, resources, and above all, talent. Good on studios such as Disney, Blue Sky and Pixar for continuing to front-load their heavily-promoted and popular animated feature films with quality short films they've produced. Of course, as we see with this year's batch of Academy Award nominated animated shorts, it isn't only the big name animation studios that are turning out well made shorts. Individual animators, some stalwarts of the form such as Richard Williams and Don Hertzfeldt, are still going strong, and hailing from all over the world. Kudos to the Academy of Motion Picture Arts and Sciences for continuing to not just honor the makers of great short films, but for keeping it as part of their annual telecast. This year's animation batch is particularly strong, and well worth checking out. If the official Oscar Nominated Short Films 2016: Animation showcase is screening theatrically in your town, that's the perfect way to see them all.
Here are reviews of the five films nominated for Best Animated Short Film this year:
Bear Story
Directed by Gabriel Orsorio
From the start you are drawn in. A lone male bear in a sparse apartment, working on a mechanism with three small figurines. He has lost his wife and son and he goes out everyday to remember and redeem their story with his elaborate mechanical diorama. This heart wrenching allegory is told wonderfully by Gabriel Orsorio and it's a tale close to his heart. His grandfather was torn away from his family during the bloody Pinochet regime in 1970's Chile. Orsorio grew up not knowing his grandfather who was exiled in England for over 10 years. The reason Orsorio chose a bear as the main character… his grandfather was large in stature. So he wrote this story of a bear being taken away to the circus and the life he hoped to return to. "I felt like the story shouldn't be too literal," Orsorio said. "But it's very clear to audiences in Chile what it's really about. And it's interesting that in countries that have similar stories, like Russia, they make a connection to their own stories." As I have grown older I have become completely aware that animated films are not just for children. What is whimsical and magic as a child becomes profound and truthful as an adult and both are necessary.  – 
Krystal Lyon
Prologue
Directed by Richard Williams
Prologue is the latest offering from highly respected animator Richard Williams, who at 82 is regarded as a master of his craft. Beloved by fans and fellow animators for his dedication and artistry, Williams is widely known for his work on films like the 1988 hit Who Framed Roger Rabbit?, his gorgeous and haunting 1971 version of A Christmas Carol, and The Thief and the Cobbler – an epic undertaking which was in production for decades. Prologue's title points to the fact that this is just one sequence of a feature length film that Williams is currently working on which depicts the Peloponnesian War. The film opens with real life close-ups of colored pencils being sharpened, as if to remind the audience that, yes, what you're about to see is actually hand drawn – or perhaps the animator himself preparing for battle. The incredibly detailed animation is hypnotizing, seamlessly capturing intense facial expressions and wind-blown dandelions alongside brutal, graphic violence between the Spartan and Athenian soldiers. Prologue plays a bit oddly as a stand alone piece, but it makes an excellent glimpse of Williams' labor of love, one which we will hopefully see in its entirety (as he is known as an artist who cares about the quality of his animation and not so much finishing it in a timely manner). This six minute film is a chance to see the work of a seasoned animator who is currently at the height of his powers.
– Anna Drehmer
Sanjay's Super Team
Directed by Sanjay Patel
Having run before theatrical screenings of The Good Dinosaur, Sanjay's Super Teamis without a doubt the most widely seen of this year's Animated Short Film nominees. Pixar Animation Studios, from the start, has maintained a gift for capturing the wonders, mysteries, and general headspace of childhood. (Look no further than this year's likely Best Animated Feature winner, Inside Out.)  Sanjay's takes it into new and perhaps daring territory, as it very visibly operates in that area most avoided and feared by major film studios: religion. Told from the auto-biographical perspective of Sanjay Patel, the film is the story of a distracted young boy being corralled by his devout father to settle down and practice their Hindu faith. Little Sanjay's restlessness proves relatable, as does his solution – imagining the Hindu icons as neon super manga characters! (They are realized in a very different, frenetic Saturday morning wild style.) This proves to be his successful inroad to falling in line. Although the ultimate point is Sanjay's youthful distraction, the fore-fronted matter-of-fact presence of Hinduism as a central plot detail is inescapable. A story like this seems likely to offend more people than it satisfies, as Hindu's might not appreciate seeing their deities cartoon-ified, and others might simply decide to be offended by being made to watch a Hindu story in order to get to the The Good Dinosaur.  Yet, here is Sanjay's Super Team, Oscar nominated.  – Jim Tudor 
We Can't Live Without Cosmos
Directed by Konstantin Bronzit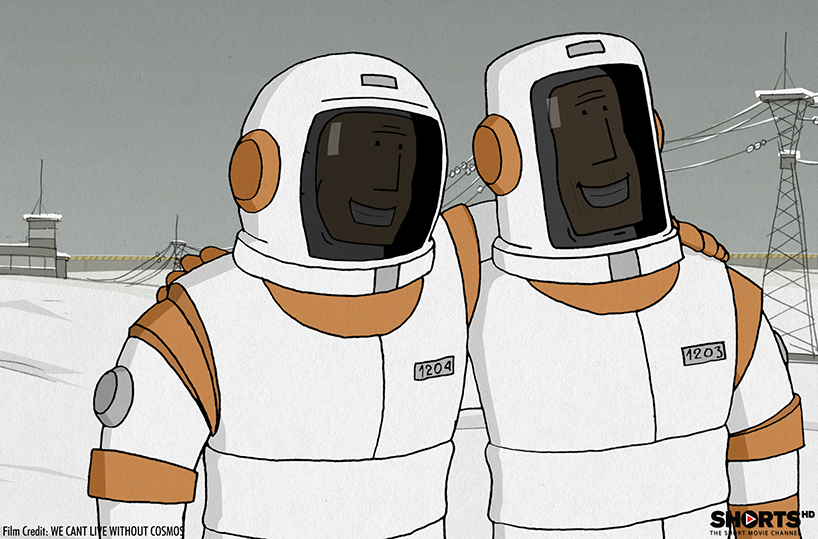 This heartfelt work of minimalist colorful animation arrives from Russia, with love, just before setting off for an even further destination – outer space! Animator Konstantin Bronzit details the story of two lifelong pals who have dreamed, trained, worked and lived together in their quest of traveling the stars as cosmonauts. Although not a word is spoken, and they are relegated to a dingy barracks and lorded over by stern officials, it is quite clear by their actions and spirits that these two guys, identified only as #13 and #14, are indeed living their dream. Then one day, they get the call. A manned flight awaits! For one of them, at least. The other is the "reserve" cosmonaut, wonderfully unfazed that he isn't the one leaving the planet. Things don't stay so cheerful, although the storyline's developments never betray the established vibrancy of the film. We Can't Live Without Cosmos works quite effectively as it runs the gamut of emotions and ideas.  – Jim Tudor
World of Tomorrow
Directed by Don Hertzfeldt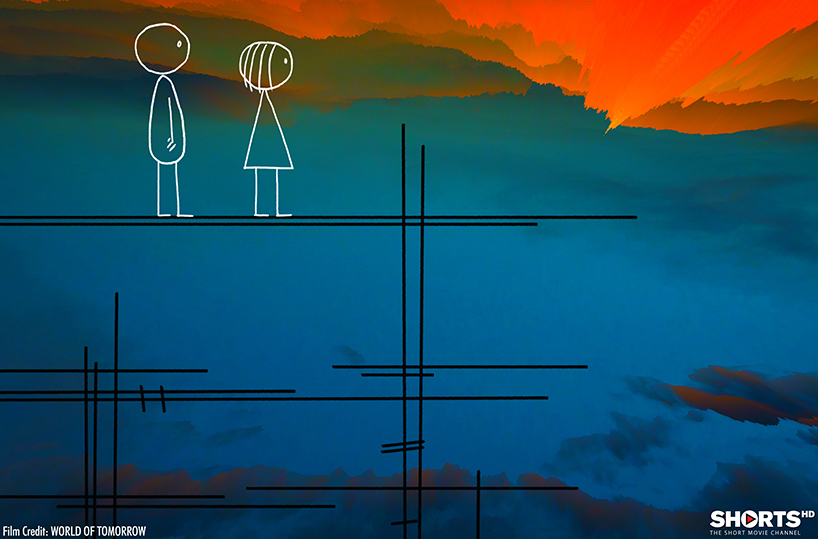 "Our more recent history is often just comprised of images of other people watching view screens." 
Fans of The Simpsons may recall the extended opening couch gag that filmmaker Don Hertzfeldt animated for the series a little over a year ago, where Homer accidentally fast-forwards far into the future, and the characters are seen in some kind of binary coded nightmare of distorted shapes and sounds. If you care to follow Hertzfeldt into similarly surreal and futuristic territory, check out his Oscar nominated short "World of Tomorrow." In this 17 minute film, a little girl named Emily is visited by a version of herself cloned several times over from 227 years into the future. The charming stick figure characters are animated against a colorful backdrop of images, showing us a world of technological advancement and human deterioration where one can surf the outernet, read robot poetry, and perhaps fall in love with a rock. "Emily Prime" is voiced by an actual four year old child (Hertzfeldt's own niece), and her innocent and sometimes nonsensical comments provide a lot humor when juxtaposed with the clone's monotone narration. Equal parts humorous and unsettling, the film comments on class disparity and the absurd lengths to which people may go in pursuit of immortality, while also expressing some beautiful thoughts on what it might mean to be human. The result is startlingly poignant and fascinating. The film has stayed with me and is my personal pick for best animated short.  – Anna Drehmer