Experimental Documentary Gets A Wholehearted "Attaboy"
DIRECTOR: LAURIE ANDERSON/2015
Laurie Anderson isn't a filmmaker. But, you'd never know it.
Sure, she's made a film or two over the years, but really, she hails from the fine art world, where she's enjoyed considerable success as a performer and musician. Now, Anderson has crafted a deeply personal and oddly affecting piece of cinema.
Made up primarily of footage shot on mobile devices, Heart of a Dog is, on its surface, a brief, multi-media meditation by Anderson on her late dog, a small rat terrier called Lolabelle. It the second most experimental rudimentary documentary about a pet dog this year, following Jean-Luc Godard's far more perplexing Goodbye to Language 3D. But then again, neither film is really about their surface dogs (although Godard's film makes a reasonable argument otherwise).
Lolabelle, following an amusing stint as a piano playing pooch, got sick and died a few years ago. Anderson and her rock star husband, the legendary Lou Reed, opted to let their pet come to death on her own terms. Anderson, using her own rough animations, highly filtered and manipulated video footage, and music, circles this event over and over while ruminating on assorted other, seemingly random thoughts, including New York and 9/11, living in a heightened security state, sudden infant death syndrome, and what our minds do when we dream. Mundane details collide unpredictably yet unerringly with raw and free artistic experimentation.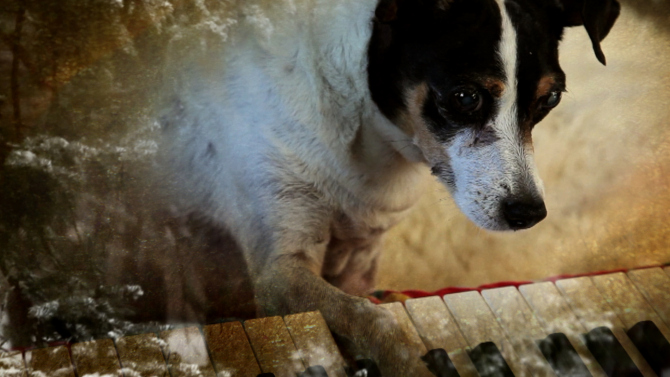 Is Heart of a Dog, so shapeless, so stream of conscious and experimental in its nature, a documentary? The Academy of Motion Picture Arts and Sciences seems to think so, having shortlisted it for consideration in the upcoming 2016 Best Documentary Oscar race. Kudos to the Academy. While far from conventional in shape, form, or execution, Heart of a Dog proves to be a more thorough documentation of Anderson's own notions of life itself, and the major themes and nuances that bond us, shape us, and forever defy us.
With a title like Heart of a Dog, it wouldn't be far fetched to expect a mystery. After all, matters of the heart are never uncomplicated. Yet, a dog is perhaps the most uncomplicated creature on the planet. And so, we arrive at a bit of a dichotomy. It's been said that dogs are the only living things on Earth with an unconditional love so great that they place themselves second to their loved ones. No sooner are we shown how they only see in limited colors, than the dog's green filtered POV switches to a public anti-terrorism security camera, also registering everything in a greenish hue. Passages about the systematic removal of 9/11 twin towers debris flow seamlessly into recollections of Lolabelle's loss of sight, and how it didn't slow her down. The connections between all of these threats is never overt. In fact, it remains unclear. But not improper. The "almost" nature of the connecting or non-connecting logic of it all is at the heart of Anderson's Heart.
Her thesis, so seemingly Buddhist in nature, is that in death, we experience the release of love. Playing like a reassuring sense-memory, "Heart of a Dog" does indeed gently pull in the willing viewer.
It's been said that this is the kind of film that one wants to fall into and get lost within. Anderson, who details a theory that the unexplained phenomenon of sudden infant death syndrome, which occurs at the height of REM sleep, has to do with babies getting so drawn into a dream that transcends their own lifetime, so vivid and so real, that they simply go there… and don't return. Similarly then, maybe that's why she's opted to keep her film to a scant 75 minutes. Any longer, and we might never come out of it.
If resistance to Heart of a Dog is to be met, (that is, by anyone other than cat people and those who don't go for "art films",) it will likely be for Anderson's narration, an aspect that admittedly took some adjusting to. Spoken throughout with the deliberately calming, pronounced veneer of a condescending caregiver, it is Anderson's moments of mundane humor, understatement, and genuine fascination and curiosity that safe it, and in fact carry it.
A couple years ago, Lou Reed also died. To this day, I don't why his death made me so very sad. I was never an active fan of his music, I hate to say; I only ever owned "The Velvet Underground and Nico", the one everybody owns if they own any of his work at all. But slowly it's come to make some sense. Lou Reed, like so many other deeply lyrical and poetic musicians I adore, spoke unique and compelling truths in his own unrelentingly honest, no-holds-barred kind of way. His kinship to the lowliest of the low in life, his sympathies with their plights, and his own grasping at the eternal makes for art so affecting that one almost need not have direct contact with it in order for it to have an impact. His work remains transcendent; he was a rare kind of pop culture prophet.
Although he and Laurie Anderson were only married since 2008, they were romantically linked for far longer. Is Heart of a Dog actually about him? I'll only say that despite a minimal obvious presence in the film, Anderson sees fit to close her intoxicating little film with his more-than-apropos song, "Turning Time Around". It goes a little something like this:
Well for me time has no meaning, no future, no past
And when you're in love, you don't have to ask
There's never enough time to hold love in your grasp
Turning time around