Another Hitman Film Has Been Assassinated
Director: ALEKSANDER BACH/2015
Chalk this one up to another "the sequel/re-boot" no one was asking for.  Hitman, was a 2007 film staring Timothy Olyphant (Live Free or Die Hard) and Olga Kurylenko (Quantum of Solace,Oblivion, The Water Diviner) about an assassin without feeling who begins to "feel" emotions within after encountering a mysterious Russian woman. This leads him to deviate from his orders as he investigates the organization he works for, which is called "The Organization", finding himself in a political conspiracy.  The film landed with a thud despite being based on a popular video game series.  And for 8 years, this film property has lay dormant….and for good reason.
First time director Aleksander Bach helms the new film about Agent 47 that is really more of a reboot than a sequel.  The film proceeds much like a video game with its short-cut editing, stylized shooting scenes with a double-gun approach patterned after most John Woo films without the doves flying around in the background.  It is heavily violent, and attempts to interject some humor into the dialogue.  Agent 47 is notoriously emotionless, so the humor lands about as expected.
The story this time around doesn't deviate much from the 2007 version.  Agent 47 is now played by Rupert Friend (The Zero Theorem) who is again chasing down a mysterious Russian girl, this time played by Hannah Ware (Shame, Oldboy) who has been searching for a mysterious man no one can find but who originated the "agent" program that created 47 and others. The girl is also being targeted by an international corporation called "The Syndicate" (which is bad timing given that it shares the same name as the political antagonist in Mission: Impossible-Rogue Nation).
Their agent is Spock himself, Zachary Quinto (Star Trek Into Darkness, Heroes) who has a ridiculous secret involving his being a "next-generation" killer when compared to Agent 47.  Let's just say James Cameron might just get some royalties for the ripping off of his idea.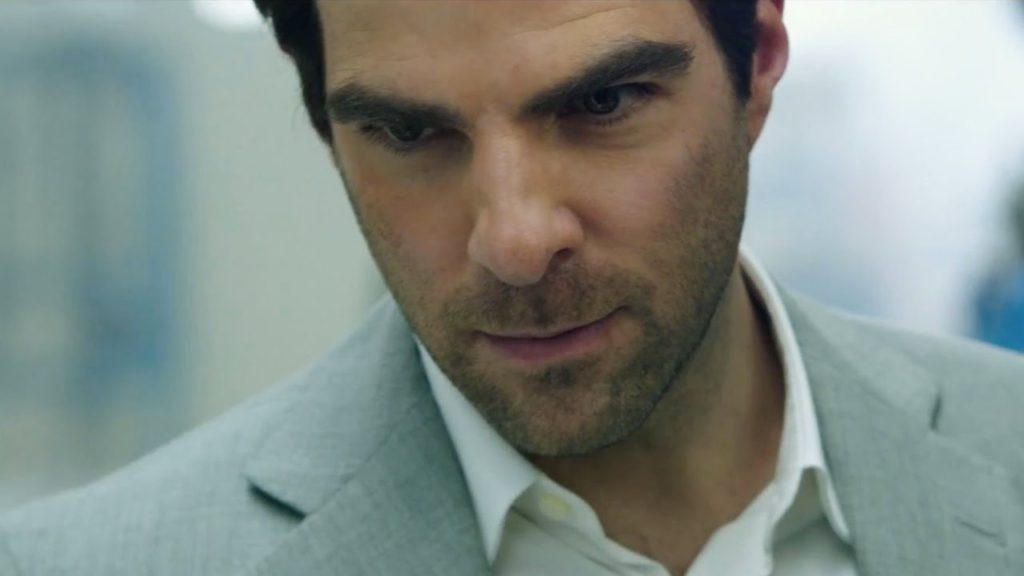 The action is entertaining enough as long as the actors don't talk.  The film has a convoluted storyline if you only pay attention to the dialogue which is moronic at best.  The actual storyline is much more simple and upon further examination, is only being held together by a few specific details.  Hannah Ware is given the start of an interesting and complex character but even she is regulated to be another sexy girl in a video game male fantasy where she has a random shower scene and midnight swim designed to show off her figure (though no nudity) for the mostly male audience.  This only makes her an object and minimizes the character she could have been.
There is also a weird post-film scene added in just before the credits really get going that must be some kind of mind-blowing reveal for those who have played the video game, but it means nothing to those of us who have seen the film.  It actually is so out of place despite building big tension with the slow pan of the camera and the intensity of the music.  You'd think it was the equivalent of revealing Thanos in the first Avengers film which made the fanboys go crazy.  Here, it was a shrug of the shoulders and a "what???" that most people at the screening shared.  I will say, this film must think it is getting itself a sequel.  I can most assuredly tell you that it will not.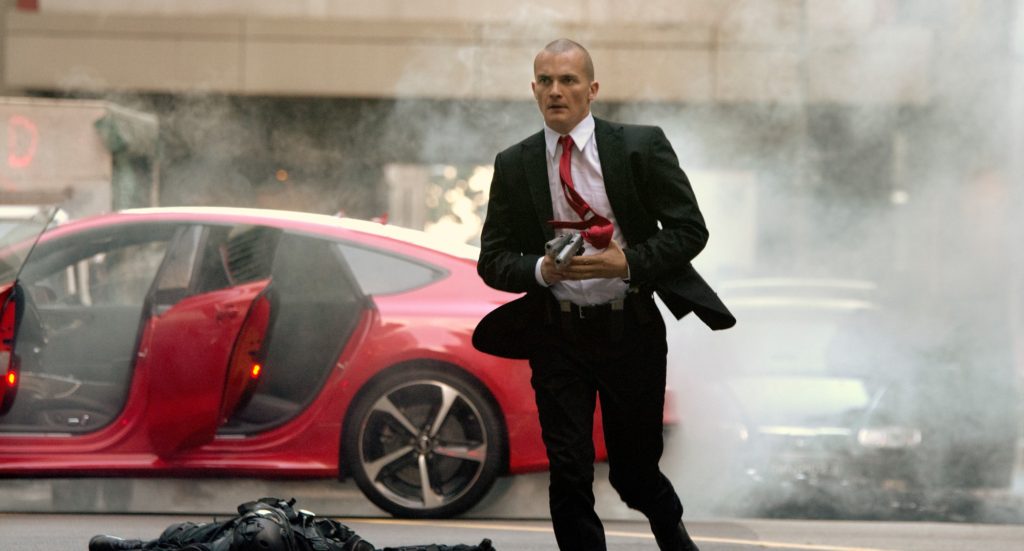 Hitman: Agent 47 is simply another attempt to kick-start a franchise that the general public doesn't really want to see kickstarted at all.  After the failure of the 2007 film, it makes no sense to bring out another video game based film when the game property in question is now 8 years older, and 8 years past the height of its popularity.
There is a "been-there-done-that" feel to this film and that will only add to the notion that Agent 47 is not the world's most lethal killer.
It's the films about Agent 47 that have racked up more kills than the title character.  Unfortunately, the kills are the films themselves. Like its predecessor, Hitman: Agent 47 has already been assassinated.