A Look Back At The Acclaimed Racing Documentary
Originally written for and published at TwitchFilm.com in September of 2011, this is my original opening weekend review of the highly acclaimed racing documentary Senna.  As director Asif Kapadia's new Amy Winehouse documentary, Amy, is set to drop in the U.S. in a few short weeks, I thought I'd take this opportunity to look back on his previous doc, Senna, as it is continues to be remembered as a high-water mark in recent reality-based filmmaking. 
That said, at the time, I was not quite altogether onboard the organically chugging Senna hype train.  In my review, I felt compelled to address the fiery burst of acclaim it was immediately basking in.  It's a choice I've admittedly lived with as an awkward one, although re-reading this review now, I still don't disagree with what I said or how I said it.  It's interesting that Amy is also riding a tide of nearly impossible acclaim, not unlike Senna.  Return to this site once Amy is released to see our thoughts on whether it is truly worthy.  In the meantime, please enjoy my vintage review of Senna:
——-
DIRECTED BY ASIF KAPADIA/2015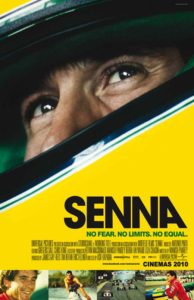 Ayrton Senna was one of the great Formula One racers of modern times. That's something I did not know prior to seeing this film. One thing I did know prior to seeing it is that Senna is one of the great sports documentaries of modern times. Great in reputation, anyhow – the sufficient handful of reviews that I happened to glance upon paint the film as nothing short of roaringly excellent. And so, with expectations solidly raised, I approached the starting line.
Comprised mainly of grainy archival footage spanning Senna's spectacular career (1984-1994), and valiantly not relying on talking head interviews (although there is minimal narration), Senna is a terrifically crafted piece of work that is easily recommendable to all. Notice I did not say that it is one of the greats. It may've fallen slightly short of my heightened expectations, but don't misunderstand, it is still very, very good.
Hailing from impoverished Brazil, Ayrton Senna is depicted as a racer pure of heart, uncomfortably a part of an industry that is driven not by full-throttle talent on the track, but by politics and money. Senna loves his home of Brazil, proudly proclaiming his heritage when most would shun it.
Likewise, when Senna publicly proclaims his thanks to God, it does not play as the usual interpreted platitudes of wealthy professional athletes looking to save face by tipping their hats to the Almighty. Senna started a charitable organization to help the children of his country, but more importantly, he drove very fast and very well, bringing joy and hope to his hometown people. That, at least, is the Senna of director Asif Kapadia's film – and I'm not inclined to doubt any of it.
Senna works to play up the increasing antagonism between fellow racer Alain Prost, a French champion dubbed "the professor", due to his proven method of winning via exploiting the politics and points system of Formula One. Prost is the Apollo Creed of the piece, even if Senna, hailing from a background of privilege, can never be Rocky. This key relationship is where the film warrants a yellow flag from me. The film hinges far too much upon the Senna/Prost rivalry to relegate "the professor" to the role of the real life "villain" (even if he has no mustache to twirl), particularly when it leaves us with an eleventh hour demonstration of character complexity. Perhaps an equal-time Senna/Prost documentary would've been the better approach to true sports documentary greatness. Perhaps, but that's not Senna. Senna is, at the finish line, a film that deserves to celebrated for what it is, and not criticized for what it could've been, nor uselessly inflated through hyperbole.
It's true that, in my estimation, other critics have descended upon Senna like an overly anxious pit crew, rushing to crown the film a champion. On one hand that's fine – I'm glad they liked it – but on the other hand, despite the project's breathtaking onboard camera footage (zipping us along at 300 kph) and its satisfying portrayal of Brazil's racing hero, the truth is that Senna, in its construction, is utilizing formula number one of such documentaries. It comfortably travels from humble beginnings to the climb to glory, to the time at the top to the legacy of the subject without breaking a sweat. And again, that's fine; just don't expect a high-octane shift change in the world of documentaries. Senna is plenty satisfying as it is.