Conceptual Film Follows Nick Cave on his 20,000th day.
DIRECTED BY IAIN FORSYTH, JANE POLLARD/2014
The new Nick Cave documentary 20,000 Days on Earth is about just that, Cave's 20 thousandth day on Earth. Cave, for those who don't know, is the Australian artist, musician god, screenwriter, film score composer, occasional actor, and all around fascinating artist. Directors Ian Forsyth and Jane Pollard wanted to create a film that was equally fascinating, and for the most part succeeded.
Both Forsyth and Pollard are close friends Cave and that noticeably helps the film explore his mindset. The film squarely falls into that emerging pseudo-documentary genre that has revived recently with such films as Exit Through the Gift Shop, but more than that, the movie reminded me of I'm Not There, the Bob Dylan biopic. Both because it is about a musician, but more so because the feeling of the film is more about capturing who Cave is as opposed to the facts of his life.
Cave is very thoughtful and lives up to his reputation of being a brilliant guy. Occasionally stories of what he was like in the 80's will emerge and make you not want to like him, but you can clearly see that middle age has humbled him with an inquisitiveness about himself, and about life, that expands to the film.
If the movie is "about" anything, besides Cave, it's about the making of his fantastic album "Push the Sky Away", which came out a few years ago. Cave continues to improve as a musician in my opinion, and as much credit as The Bad Seeds album prior to that one, "Dig, Lazarus, Dig!" receives, "Push the Sky Away" is the album that will grow on you. This documentary will make sure of that.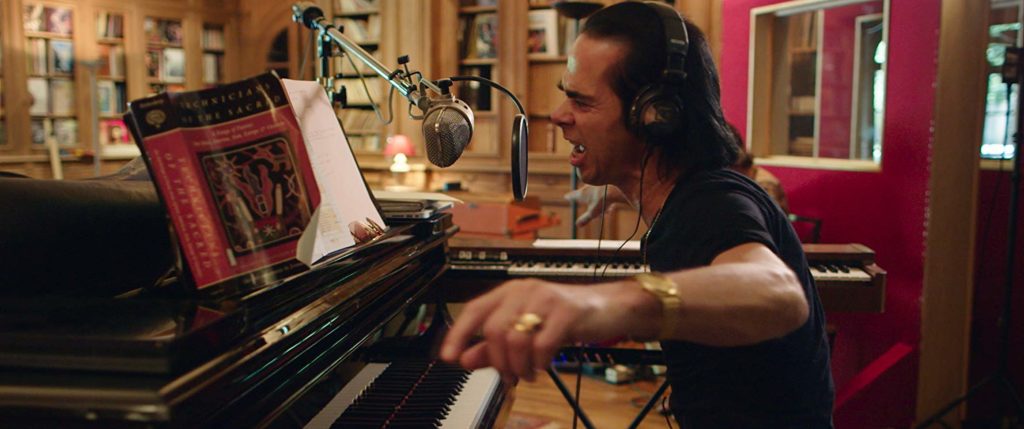 More than just Cave, the movie is about music in general and the artists who create the music. We see them on stage, as gods, and assume they are similar in person. The disparity is really drawn out in the film. Cave, a polite and timid man who questions every decision in life, is a larger-than-life rebel on stage. His fascinating story about Nina Simone, and the difference between who she was on stage and off, is a nice foreshadowing for what 20,000 Days on Earth gives you. All the way until the end of the film, with an electrifying performance that would rival Whiplash for "Best Scene in a Film that Involves a Character Playing Music", if such an award existed.
You don't need to be a Cave fan to enjoy 20,000 Days on Earth, but if you are, you will love it. The documentary is both baffling and enlightening. It's quality filmmaking about a poet and an artist. In one of the most captivating speeches in the film, Cave talks about what makes a great song. It's about disparity, he says. Writing a song is like putting a child, a crazy person and a clown in the same room. And if that doesn't work? Shoot the clown.
I'm not positive what that means, but I'm fairly positive that is the best way to describe 20,000 Days on Earth.