Bronson! At His Most Brutal (Which Is Saying Something)
DIRECTED BY SERGIO SOLLIMO/1970
STREET DATE: MAY 17TH, 2022/KINO LORBER STUDIO CLASSICS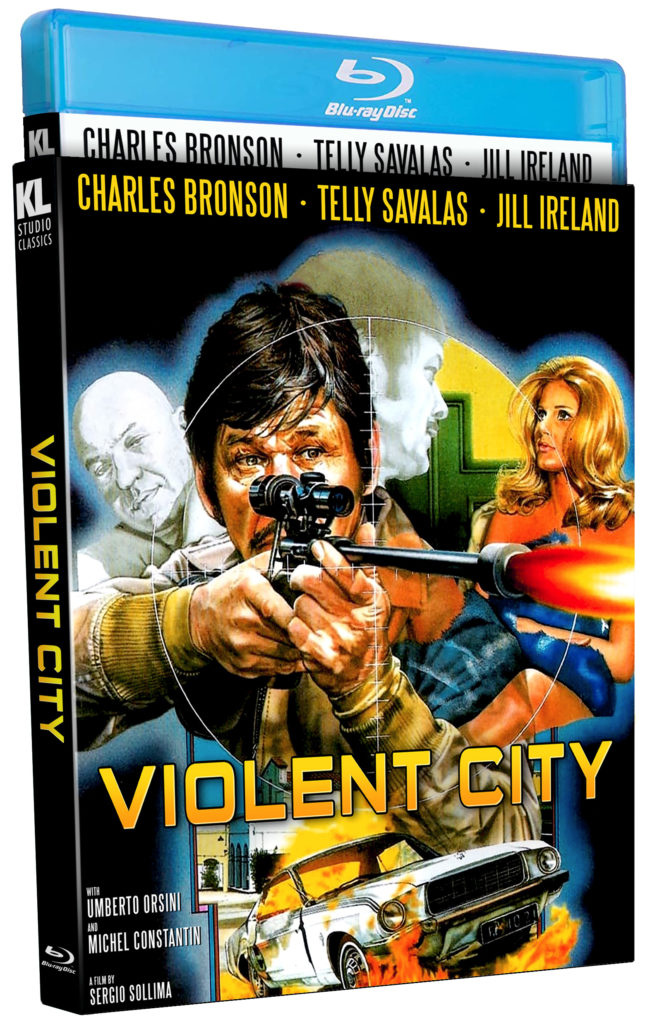 From the Virgin Islands to a Michigan racetrack to a San Francisco skyscraper to the international port of New Orleans – with interiors and driving process shots doubled at Rome's famed Cinecittà Studio – the many locations and settings of 1970's Italian-French co-production Violent City (AKA The Family AKA Città Violenta AKA Final Shot) lead unwary viewers on a crime genre tour of the title in terms of both variety and extremity. Personifying the many shades of cosmopolitan chaos is emerging star Charles Bronson; at age 47 not yet the Hollywood box-office draw he would soon become but well on his way to earning the exclamation point which seems to belong to his last name. Already a major star in Europe but still not quite a marquee name in his native country, Violent City as a foreign-financed and –produced nightmare vision of the United States presents Bronson! at his most brutal. Which of course is really saying something.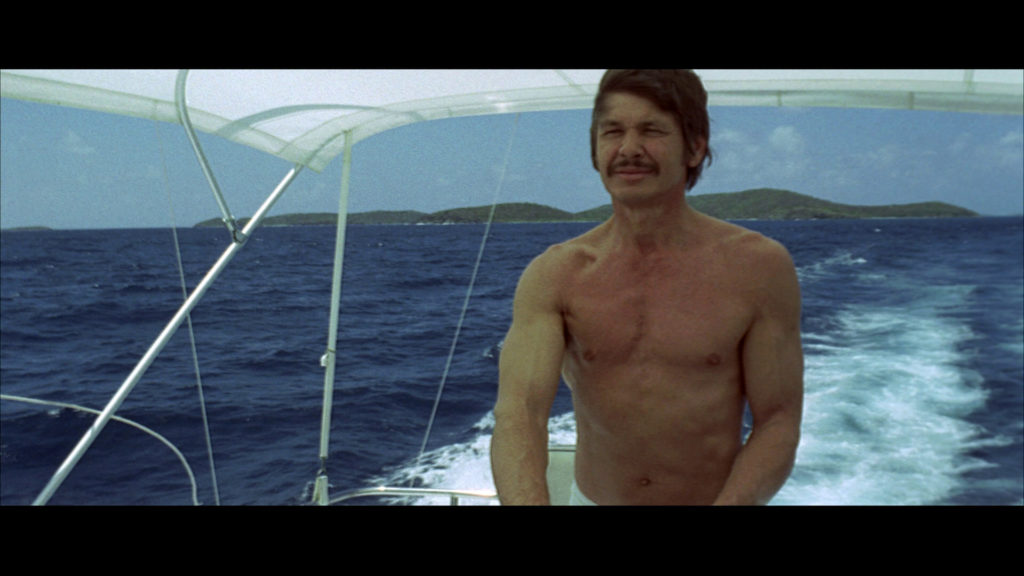 Paradisiac ocean-views and beach-scapes of the U.S. Virgin Islands are undercut in the film's opening credits by graphically-distorted and mono-shaded freeze-cuts suggesting inescapable photo-surveillance on co-stars Charles Bronson and real-life wife Jill Ireland. Bronson, a hit man, and Ireland, a fashion model, are almost immediately screen-thrust into a dialogue-less, reel-filling car chase down narrow cobblestone streets, up hilly country backroads, and up-and-down a concrete park staircase before we even learn who precisely they are. By that point, Bronson's hit man is wrongfully imprisoned, Ireland's model is vanished, and his lawyer (Umberto Ursini), former associates (Michel Constantin, George Savalas) prove less than reliable, and so this deliberate yet decidedly deadly figure of vengeance is eventually unleashed on The City, matching its ruthlessness and violence towards the very bald-domed pinnacle of its criminal empire (Telly Savalas).
But even that chrome-reflective head-head isn't the ultimate end; and as a later crime classic would have it, paraphrased, his true enemies have yet to reveal themselves. This late 60s/early 70s Eurocrime entry, notable for its use of real locations as well as three key action sequences played entirely without dialogue – the aforementioned Virgin Islands-set car chase, along with a mid-film assassination of a racecar driver at the 1969 Can-Am race, and climaxing with a stunning rooftop hit on a skyscraper-ascending glass exterior-elevator – is strangely at its best when actively misleading or even confusing its viewers: leaving us to piece together the backstory and character motivations for ourselves.
Director Sergio Sollima, who with credited co-writer Lina Wertmüller considerably refashioned the more straightforward conflicts and linear narrative of the original screenplay with flashbacks, ellipses, and jarring jumpcuts, instead focuses attention on the moment-by-moment immediacy of the hit man's deteriorating situation – as, one-by-one, each former friend or trusted associate betrays him – and the endlessly resourceful and instinctively improvisatory methods by which he responds to the deepening crisis. Propelled by Ennio Morricone's pulse-pounding score, the film plays beginning-to-end like some atonal jazz symphony epic which effortlessly shifts time and time-schemes without ever feeling like this Violent City and its outcomes are moving anywhere but ineluctably and destructively forward.
Crucial, again, is Bronson's "presence" in the hit man role, who uniquely among performers both before or since has the singular ability to embody an entire character's past and present with a minimum – or even absence – of dialogue. Here, for instance, we follow him silently sighting the probable location of a hidden photographer's surveilling location from the week previous, finding the careless clue left behind, and, a lacuna of a cross-country flight and a fast car-drive later, visually matching the empty pack of cigarettes to the chain-smoker's favored brand before mercilessly shattering the owner's arm with the steel-end of a rusty truck door. Putting the viewer square into the point-of-view of a professional killer through subsequent revolver- and rifle-blasts, near-rape, and point-blank assassinations, Violent City, as enacted by a particularly brutal Bronson, ends up not so much as a fixed location as perhaps a state of mind. Prefiguring the existential killer that would later appear in Bronson and director Michael Winner's 1972 masterpiece The Mechanic, Violent City certainly paves enough stones towards the emergence of the ultimate screen badass a few years later.
Without, curiously, deflecting our interest, sympathy, or even identification with the character. Leaving it at that for now, Kino Lorber's new special edition Blu-ray, released in conjunction with Kino Cult and Unidis Jolly Film, includes a slipcover, reversible artwork on the cover, and not just one but an astonishing three versions of the film. The first, under the title Violent City, is a 2K scan of the original 1970 release with English soundtrack, with the film's Italian soundtrack supplying 13 minutes of (dubbed) footage cut from the original American release. That later version, running 13 minutes shorter and cut for its American drive-in and grindhouse run in 1973 under the title The Family, is included on a second disc as a 2K scan of that cut's original grainy, worn, and line-ridden 35mm print. Finally, a 4K restored scan of the Italian-language version is also included on the second disc under the title Città Violenta, and while visually superior to the other versions, at least conventionally so, individual preference may vary depending on one's feeling for the "best", or most appropriate, appearance of this material.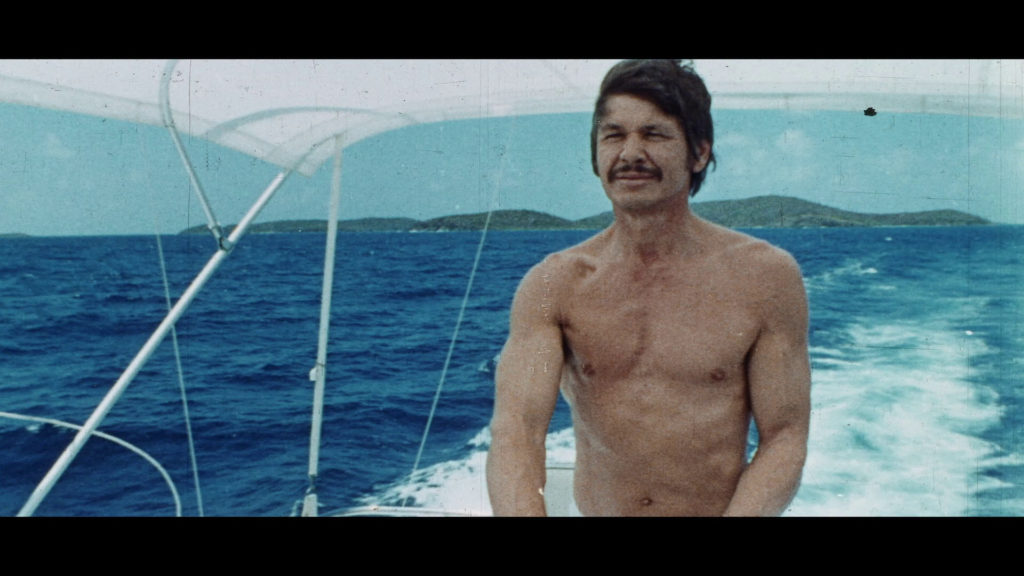 With an archival interview with director Sergio Sollima and a feature-length commentary from Bronson's Loose! writer Paul Talbot included on the first disc, the latter of which recycles some material from previous Bronson commentaries but does offer an interesting drinking game for those viewers thirsting to try Telly Savalas's crime boss character's "midnight passion" concoction for every time Talbot says "Eye-tay-lee-ahn", this exploitation-genre effort of yesteryear certainly receives a bells-and-whistle home video presentation, while harmlessly offering those of us eager to crush bones, crash luxury cars, and take deadly aim along with Bronson! an advantageous vehicle for those Bronson-proxy thrills.
Images are credited to DVDBeaver and are captured directly from Kino Lorber's Blu-ray release.