Blu-ray-Wise, The Apartment is a Welcome Addition to Any Home Library.
DIRECTED BY BILLY WILDER / 1960
BLU-RAY STREET DATE MARCH 8, 2022 / KINO LORBER STUDIO CLASSICS
The Apartment manages to glide between screwball comedy, high drama, devastating heartbreak, slapstick, and lonely melancholy with grace. It's this mastery of tone that has made Billy Wilder's 1960 Best Picture winner remain an enduring classic.
Jack Lemmon plays C.C. Baxter, just another schlub working in a sea of schlubs at a giant life insurance company (Baxter tells us, via narration, that if all the employees were laid end to end, they'd stretch from New York to Pakistan). Baxter's plan for improving his lot is to lend his bachelor's apartment out to his supervisors for their extramarital trysts in exchange for positive performance reviews. While this occasionally means Baxter has to spend his nights away from home while waiting for his apartment to empty (and his neighbors think he's an insatiable lothario), his plan seems to work when he's summoned by the head of personnel, Sheldrake (a delightfully caddish Fred MacMurray).
The problem is that Sheldrake has gotten wind of Baxter's scheme, and he wants in on it too. Compounding that problem is that the woman Sheldrake wants to spend time with is Fran Kubelik (Shirley MacLaine), an elevator operator at the life insurance company that Baxter has an unrequited crush on. By helping Sheldrake with his affair, Baxter gets himself that promotion and is on the fast track to the executive suite, but is the price of his success higher than he's willing to pay?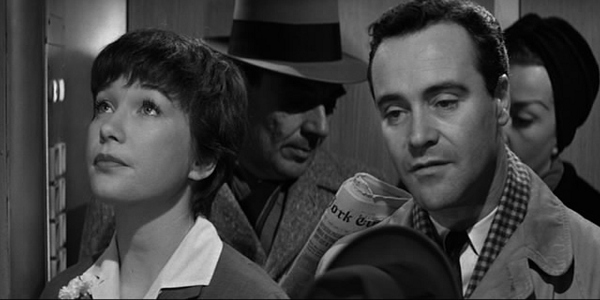 Though MacMurray had played parts of questionable moral standing before (i.e. Wilder's own Double Indemnity), he had just signed a contract with Disney. He was starting to appear in such family-friendly fare as The Shaggy Dog (1959) and would be in The Absent-Minded Professor the year after The Apartment. He would later say that women would berate him for starring in such a "dirty, filthy movie." For those used to seeing MacMurray as a befuddled and benevolent father-figure, his turn as the smarmy Sheldrake comes as a shock – especially given how good he was in the role. MacMurray would commit to never playing such a heel again after this.
For Lemmon, on the other hand, his role in The Apartment would define his career. Lemmon had shot Some Like it Hot previously with Wilder, but as Baxter, Lemmon perfects his quintessential nebbish everyman. This on-screen persona would follow him even when he would take more dramatic roles, such as in Glengarry Glen Ross. MacLaine's Miss Kubelik is the forerunner of the 'manic pixie dream girl,' perky and effervescent on the outside (look at the gestures she makes when she operates her elevator), but nursing a wounded heart on the inside. She knows, deep down, that Sheldrake's no good but she can't help loving him all the same. 
And it's this balance between the goofball and the heartache that powers The Apartment. It's fun watching Baxter strain his spaghetti through a tennis racket while singing an Italian aria, or watching him frantically attempt to juggle his apartment's 'schedule' between all the guys who want to use it. But when the movie ratchets up the dramatic tension at the halfway point with a life-and-death situation, it doesn't provoke any sort of tonal whiplash. It feels earned, and it feels real, and the audience is swept up in the moment.
The Apartment is recently out in a new edition on 4k and Blu-ray from Kino Lorber's Studio Classics label (this review is based on the Blu-ray). The Blu-ray includes two audio commentaries. One is by Film Historian Joseph McBride, Author of Billy Wilder: Dancing on the Edge, and the other by Film Historian Bruce Block. There is a half-hour long documentary on the making of the movie called Inside the Apartment, and a featurette on the work of Jack Lemmon. The new transfer really shows off Joseph LaShelle's award-nominated cinematography and Gordon Sawyer's award-nominated sound.