Javier Bardem, Nicole Kidman and Aaron Sorkin Reboot All the Drama Behind I Love Lucy
DIRECTOR: AARON SORKIN/2021
70 years later, Lucy and Ricky are back on your TV.
If you were one of the 30 million viewers who tuned in each week to watch I Love Lucy or, like me, grew up watching Lucille Ball and Desi Arnaz in reruns, Being the Ricardos has a welcome familiarity. Their romantic chemistry, marital squabbles, and antics with Fred and Ethel made Lucy and Ricky lovable, relatable, and hilarious all at once, and who doesn't want that back on their screen? This film follows one week of production in the classic sitcom from table read to filming in front of a studio audience. As we watch them create the season one episode "Fred and Ethel Fight," we also see their personal lives encroach on their creative ones. Struggles with alcoholism, body image, politics, racism, and sexism make it a complicated week, and that's on top of the interpersonal conflicts within the cast and crew. 
Lucy and Desi are at the center of all of it, which means Nicole Kidman and Javier Bardem are, too. While it took a bit to warm up to their wearing the pearls and coif I watched on the original owners for years, they won me over with their authenticity. Kidman mimics Ball's comedic whine, but she also plays an exacting boss. Bardem belts out the "Babalu," and he commands Desilu Productions. As they balance career and family, reign in creative chaos on set, and fight with a press gossiping about Desi's loyalty to Lucy and her loyalty to the United States, Lucy and Desi become more well-rounded than their TV versions ever could have been. This is not a clip show of I Love Lucy's greatest hits but an introduction to its authors. Thank goodness—no one will ever do "Vitameatavegamin" better than Lucille Ball, and thanks to Arnaz's insistence that I Love Lucy be recorded on film, we can still watch that perfect bit of comedy today. 
At this point I should mention I'm all in on Aaron Sorkin's style and I love Lucy—Being the Ricardos was made for me. If neither are your jam, well, Ricardos may not be your all-time jam, but it's worth checking out if historical character dramas are. Season three of the Turner Classic Movies podcast The Plot Thickens focused on the life of Lucille Ball in the months leading up to this film's release, and this film dramatizes many of the season's major moments with a few creative liberties. Writer/director Sorkin shoves several turning points in the Ricardos' marriage and the run of I Love Lucy into one week, a change he describes as "truth over accuracy." That artistic license feels more than fair since he weaves in so many subplots that are accurate and thematically related.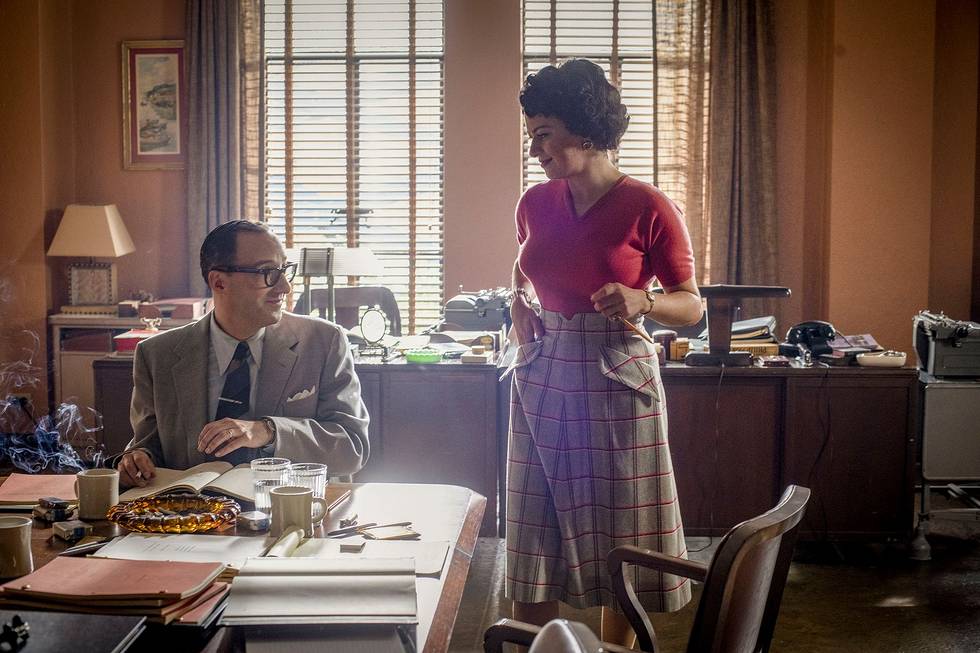 This movie's big question: How much are you willing to sacrifice for your dreams, your art, and your beliefs? For Lucy, the three are the same. Her dream is domestic bliss, she creates art to support that dream, and she believes in no compromises for her family or her job. But this isn't a cliché about a woman trying to "have it all"—every character faces a choice telling them they can't have everything they want. Will Vivian Vance (Nina Arianda) and William Frawley (J.K. Simmons, a surprising doppelgänger) put aside their vanity to save their relationships with their co-workers? Will showrunner Jess Oppenheimer (Tony Hale) defer to his friendship with Lucy and Desi or the success of their show? Will Madelyn Pugh (Alia Shawkat, for a mini Arrested Development reunion) prioritize jokes or messages in her writing? Will CBS support their talent or play it safe when challenged to show an interracial couple and their pregnancy on TV? And a question hangs over Lucy all week: Has Desi been choosing another woman over her? (Mild spoiler alert: The film's one miss for me is Desi's lack of interiority on this issue.)
That's a lot of drama behind one of the great comedies. Though there are laughs thanks to Sorkin's trademark banter and nods to the series' iconic moments, we don't end with closure of a 30-minute sitcom or even a satisfying final note like The Social Network. (Sorkin's bottom floor is higher than most writers, but this doesn't hit my top five for him.) Still, this biopic is more than successful in revealing new layers to people you think you know. It may be about Being the Ricardos, but some of us are meeting the real people behind the Ricardos for the first time.