Hanna-Barbera and AIP Present Late-'70s Family Entertainment Gone to the Dogs!
DIRECTED BY DON CHAFFEY/1979
BLU-RAY STREET DATE: FEBRUARY 22, 2022/CODE RED (VIA KINO LORBER)
Every year, people gather to collectively bust their guts laughing at a ferocious dog in hilarious hot pursuit smashing through a door. That's one of the comedy high points of 1989's National Lampoon's Christmas Vacation– a beloved if highly imperfect movie that has demonstrated exemplary staying power.
A good decade before the aforementioned door bit the dust in that canonized classic, another movie dog smashed through not just doors, but walls, windows, and whatever the heck else. The film was 1979's family-friendly robo-mutt romp, C.H.O.M.P.S.– the product of a unique team-up of its producers' Joseph Barbera and Samuel Z. Arkoff's companies, Hanna-Barbera and American International Pictures. This family matinee-ready bit of fun stars a who's-who of great television talent of the time, including Wesley Eure, Valerie Bertinelli, Conrad Bain, Red Buttons, Larry Bishop, Chuck McCann, and Jim Backus.
The H-B/AIP union was as doomed as it was unusual, a movie-mutt blend of then-popular Benji adventures, Star Wars-inspired robot fascination, and cartoony chaos; a theatrical attraction on a made-for-TV budget.  Presumably, H-B provides the zing and the fantastic animated opening credits, AIP keeps the cost low.  The box office failure of C.H.O.M.P.S. signaled the unfortunate dissolution of the H-B/AIP arrangement after just this first project.  (Which is honestly too bad; apparently there were big plans in the offing).  In short, C.H.O.M.P.S. was never the perennial hit that, say, Christmas Vacation was (although it was also, coincidentally, a December release), but those of us who happened upon this quick-paced escapade back in the day are happy to revisit it every now and again.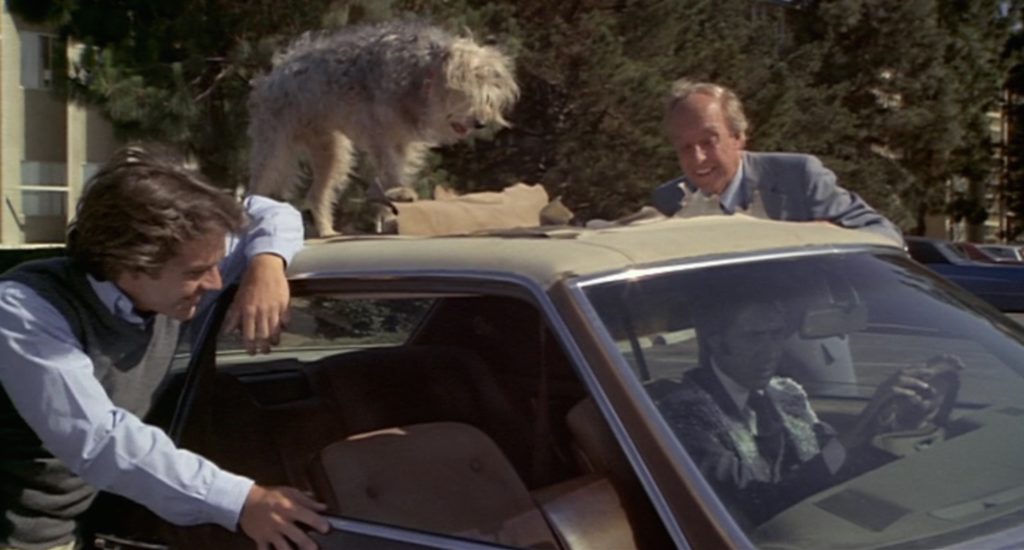 Thanks to the folks at Code Red (via Kino Lorber), C.H.O.M.P.S. has come home as a terrific new Blu-ray edition with a handsome new 2K master. As you sit down to completely immerse yourself in this live-action throwback, for the love of mercy, make sure your home security system is engaged! In the opening moments of the movie, news clips inform us that residential burglary has hit dire levels. Only Land of the Lost star Wesley Eure and his furry prototype Canine Home Protection System-or C.H.O.M.P.S. for short- prove to be a new hope (and last hope) for distressed suburban homeowners everywhere.
What exactly is C.H.O.M.P.S.? Think robot Benji, and you've pretty much got it. Young Eure, desperate to impress his boss and future father-in-law (Conrad Bain of Diff'rent Strokes), releases the mecha-mutt onto the local criminal element. In true Hanna-Barbera fashion, the blinking and beeping mechanical guard dog makes all sorts of comedically disparate sound effects that would make Treg Brown proud.
Little do they know that corporate espionage is afoot, with none other than a cigar chomping and competing home security mogul Jim Backus behind it all. (Backus, you've done it again!) His boots-on-the-ground operatives may leave a bit to be desired in the competency department, but when it comes to an audience-satisfying Laurel & Hardy-esque dynamic, this duo has it in spades. Foiled by C.H.O.M.P.S. again and again, we have a big dumb ski-masked idiot (Chuck McCann) and a little dumb ski-masked idiot (Oscar winner Red Buttons). Home Alonebunglers, eat your hearts out- these guys may not steal much, but they bring a lot to C.H.O.M.P.S.
Code Red, not always known for making with the bonus features, serves up the goods here. Mainly, there's a really great commentary track with star Wesley Eure and co-writer Duane Poole, moderated by venerable film historian Nathaniel Thompson. The track is as lively as the movie, with Thompson doing a fine job of keeping the anecdotes flowing freely. Though plagued here and there by awkward pauses or Zoom-unfriendly burst of quickly-corrected talking over one another, it's all in the spirit of this shaggy dog of a movie.
The commentators get significant milage out of the fact that C.H.O.M.P.S., originally intended as a squeaky-clean G-rated outing, was rendered PG after the fact by adding a few voice-over swear words to the running inner monologue of a grumpy neighborhood pooch called Monster. The mouth on that dog came as quite a surprise to cast members seeing the film at the time. Viewers might be astonished to learn whose idea this was. (Hint: it wasn't drive-in king Arkoff's). We also learn that this was Pete's Dragon director Don Chaffey's final feature film (Chaffey, like most of his cast, went back to television work after this), but adorable Valerie Bertinelli's first… and her first on-screen smooch! An energized Eure turns up elsewhere on the Blu-ray in a surprise introduction to the film as well as a video interview (with the video horizontally flopped, for whatever reason).
While there's plenty to enjoy about C.H.O.M.P.S., from a 2022 perspective, the funniest thing of all might be that the head of a company called "Norton Security Systems" initially starts out vehemently opposed to computer technology. With its unintentionally disturbing frequent shots of the furry prop C.H.O.M.P.S. disassembled in wire-ridden and lit-up pieces on Eure's workbench, maybe it's no wonder that the movie failed to fetch success. (Our seven-year-old loved the film but recoiled a little at the dog's disconnected head as it received routine maintenance). But, for those of us nostalgic for a decent late-'70s canine caper, C.H.O.M.P.S. is still top dog.