Death Rides a Motorcycle in Jean-Louis Trintignant's Darkly Comedic Directorial Debut
DIRECTED BY JEAN-LOUIS TRINTIGNANT/FRENCH/1973
BLU-RAY STREET DATE: SEPTEMBER 28, 2021/KINO LORBER STUDIO CLASSICS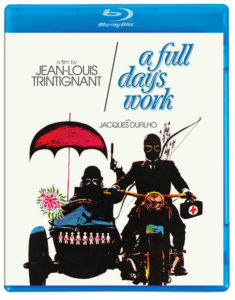 There are many questions one is likely to have while watching the 1973 French peculiarity, A Full Day's Work(Une journée bien riemplie). Such as, "What exactly is this motorcycle-riding murderer up to?" Or "Where did he learn such efficient ways to rig these complicated killings?" And "Why is he hauling his geriatric mother around with him in his sidecar?"
All of those questions, and a myriad of others, are entirely valid. Just don't come expecting much in the way of answers. Rather, do as first-time director and renowned actor Jean-Louis Trintignant intends, and go with the esoteric flow of it all. One thin level underneath A Full Day's Work's initial veneer of Bach music and the inclusion of a rehearsal of Hamlet, there lies a wicked cartoon soul. Verily, the film seems to be asking questions of its own: "What if Wile E. Coyote had a vengeful motive?" And "What if he were fully capable of executing his Acme-enabled death plots?" And "What if a single cartoon's worth of attempts were all a single day?" And "Would his mother go along with it?"
Brick wall character actor Jacques Dufilho plays Jean Rousseau, the protagonist and motorcycle-riding murderer in question. Rousseau excels in efficiency, rigging each of his unique killings quickly and on the fly, using only what's around. He is making a devoted point of offing everyone on his list by day's end. He lacks in dialogue, uttering nothing as he goes about his mission. Wild-eyed but precise, Rousseau reads as thickly callous but not lumbering. In other words, you could smash a glass bottle over his head- but you wouldn't want to.
Rest assured, his purpose is anything but random. As the film unspools, the motive to Rousseau's madness is made clear. With each of his disparate killings, he makes sure that the last image his victims see is a photograph of his uniformed son. Each victim played a part in the fate of the young man, a fate left to his father (and, by extension his grandmother, one supposes) to avenge. The pleasures of the film lie less in its spare plot revelations but in the realizations inherent in the rigging processes, and subsequent surprise and/or confirmation when the traps are sprung. (Again, not unlike Chuck Jones's infamous Coyote). Each is completely different from the others. And somehow, threaded through all of it, is a thread of implied soulful melancholy.
Trintignant is crafty in this. Though A Full Day's Work is his first of only two films he's ever directed, he demonstrates a deft hand. The barren and winding rural roads play into the film's sense of muted macabre delight. (Though far from Hitchcock in execution, the dark yet playful spirit is awfully similar). A more apt comparison might be Douglas Hickox's more horror-centric Theatre of Blood, hailing from the very same year. In watching it, we cannot help reveling in ham actor Vincent Price's depraved delight as he offs his negative critics, each with personalized bloody panache. (Coincidentally, Theatre of Blood is also brand new to Blu-ray via Kino Lorber Studio Classics).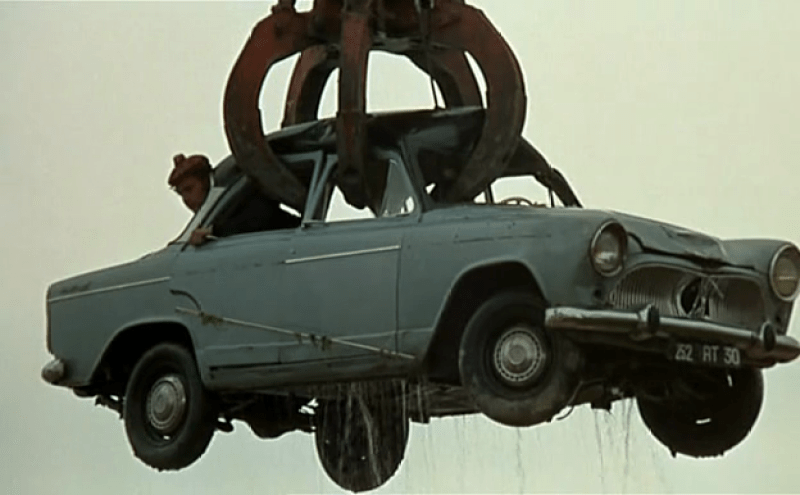 Trintignant would years later quite notably star in Michael Haneke's Amour– an altogether differently toned film that nonetheless is tremendously rooted in darker fixations of love when death intrudes. Though A Full Day's Work proved not to be a hit and has toppled into obscurity, film historian Simon Abrams tells us that the filmmaker (Trintignant was also one of the film's co-writers) savored the project and was quite caught up in the process of making it. Such dedication shows. His traditional actorly perspective can't help but shine through, particularly in the inclusion of the rehearsal of Hamlet's "poison cup" scene.
Abram's audio commentary is an excellent addition to this package. His track is perfectly paced, delivering eloquent and on-point observations spiked with opinions. It might well be the finest audio commentary that Abrams has recorded to date. Lots of contextualization of the choices of classical music that mischievously accompany the film, and even some unearthed reflective words about the film from Trintignant himself. Abrams delivers an array of carefully curated anecdotes rather than simply relaying filmographies and the like. It is the disc's only special feature to speak of, but it's all anyone should need.
Kino Lorber Studio Classics is rolling out A Full Day's Work in high style, as its terrific 4K restoration from the original camera negative is no doubt the product of far more than a full day's work. Film buffs, particularly those who savor off-kilter discoveries, will not want to miss this release. It's a truly odd duck of a movie, but it's a flyingodd duck.