Jacques Doillon's Sensitive Story of a Little Girl Making Sense of Tragedy and Loss
DIRECTED BY JACQUES DOILLON/FRENCH/1996
BLU-RAY STREET DATE: MAY 25, 2021/KINO LORBER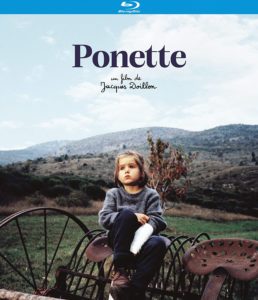 The release of Ponette by Kino Lorber this past May fulfilled a wish that I've had for many years as I longed for an opportunity to revisit a film that made a strong, positive and lasting impression on me when I first stumbled upon it in VHS format back in the mid-1990s. Back then, when my wife and I were in the middle of raising our children and just making ends meet, Ponette's story about a young girl's struggle to make sense of the loss of her mother in a car accident really touched a nerve for both of us. Even though we were both in good health and had no particular reason to anticipate becoming single parents under the most tragic of circumstances, it was very easy to identify with the plight of a grieving father who suddenly had to shoulder the responsibility of parenting his child without the support of his life partner. Simply projecting ourselves into his unfortunate situation was enough to galvanize our emotions into a state of profound empathy.
But witnessing his daughter's process of recovering from the accident (which left her with injuries both physical and emotional) was pretty close to devastating for both of us. The titular Ponette, portrayed with heart-rending poignancy by a four-year-old girl named Victoire Thivisol, is just at that age of dawning awareness of the world around her that so often catches adults off guard as unexpectedly precocious and perceptive.
Her expanding but still naïve vocabulary, her emerging grasp of concepts like time and mortality, and her awkward and startling attempts to incorporate talk about God and spirituality that her caregivers communicate in their efforts to show her their support and concern, all combine in a tumult of emotional reactions and charged dialogues throughout the film that stirred up strong feelings in me, both on the first viewing and in my subsequent revisit some 25 years later. As a movie that I've recommended to others and longed to revisit for a long time, I was both delighted and relieved to see that it not only held up to my lofty expectations, but also delivered surprises that I had not recalled in any detail since my first viewing.
Directed by Jacques Doillon, Ponette earned significant critical acclaim, winning multiple awards in various film competitions around the world, though the film's box office success was significantly more modest, grossing somewhere in the neighborhood of $1.3 million globally. It's one of those films that appears to have made a powerful impact on those who have had a chance to view it over the years, but not quite strong enough to create a massive word-of-mouth campaign that propelled it into broader circulation.
As far as I can tell, the Kino Blu-ray is the first Region A release to make this film available in high definition. The 4K restoration with original stereo soundtrack looks and sounds as clear and sharp as anyone could ask for, and the feature is supplemented with an outstanding full-length commentary track by film historian Samm Deighan. Her insights on the careers of Doillon, Thivisol and actor Marie Trintignant in particular add significant value to the disc. Other extras include a collection of trailers of the kind of films that viewers who appreciate Ponette would also find interesting.
Overall, a fairly basic packaging of a movie that might have flown under the radar for many viewers, but one that I believe is very capable of delivering a powerful impact to just about anyone who has a heart for grieving children and adults in desperate need of making sense of life when tragedy strikes.