DIRECTED BY SIDNEY J. FURIE / 1965
BLU-RAY STREET DATE 10/27/20
KINO LORBER STUDIO CLASSICS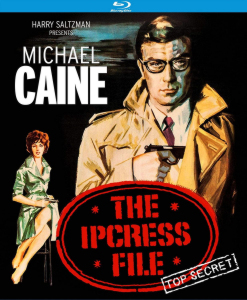 When he first receives his new assignment, being transferred to a new section to replace a murdered agent, the first thing Harry Palmer (Michael Caine) asks about is getting a raise. If the viewer hasn't already figured out that this spy thriller is going to be the antithesis of a James Bond adventure, Palmer's concern over his salary will cement it.
Palmer's position as the "anti-Bond" was no mere coincidence. Harry Saltzman, producer of The Ipcress File was the producer of the Bond films (alongside Albert 'Cubby' Broccoli) through The Man with the Golden Gun, and he wanted to produce a series of more grounded and cynical thrillers as a counterpoint. Saltzman got the rights to author Len Deighton's series of novels, which feature an unnamed British intelligence agent.  
Michael Caine was cast as the agent, named 'Harry Palmer' for the movie adaptation (Harry Palmer being the most boring name Caine could think of, as he recounts in an interview included on the blu-ray). Saltzman had seen Caine in Zulu, and thought he'd be perfect for the part. After the success of Ipcress and the subsequent Alfie, Caine's stardom was assured (worried over concerns he'd be typecast, Palmer's iconic glasses were Caine's idea, figuring he could just take them off and people wouldn't see him as Harry Palmer anymore).
The plot… is probably the least important thing about Ipcress.
But I haven't spoken of the film's plot. Honestly, the plot, for all its twists and turns, is probably the least important thing about Ipcress. Scientists, who are doing work vital to England's interest, are suddenly quitting their jobs, and no one knows why. Perhaps it has something to do with a person of interest code-named 'Jay,' who may have also kidnapped another scientist and murdered Palmer's predecessor. Investigating a warehouse where Palmer suspects the scientist is being held, all he finds is an audiotape labeled 'IPCRESS.' Palmer's subsequent explorations as to the meaning of this word lead him down a rabbit hole of foreign agents, kidnapping, brainwashing, and betrayal.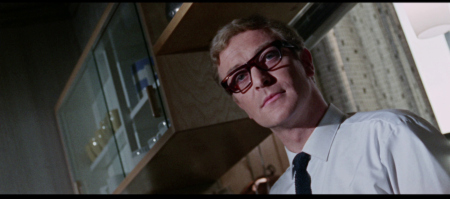 Ipcress is directed with a great deal of panache by Canadian-born directed Sidney J. Furie. I've sang Furie's praises before, particularly in his ability to elicit a great performance from his actors. With Ipcress, Furie shows what he is capable of when he wants to show off. Dutch angles abound (to a point where Furie uses 'dutch angle' as a verb during his feature commentary), and there's no shortage of objects Furie is happy to shoot through be it parking meters or keyholes. In fact, Furie's camera placement was so aggressively offbeat, that Saltzman wanted him fired from the picture. As Furie recounts in his commentary, Saltzman was convinced the footage would never fit together coherently, and asked the film's editor, Peter R. Hunt, to look at it over a weekend. If Hunt wasn't convinced, Furie would be gone. Hunt thought the footage was brilliant and convinced Saltzman to keep Furie on.
Ipcress has plenty of low-key style.
This was by no means the end of the difficulties between Saltzman and Furie during filming. During his interview, Caine recounts an incident where Furie stormed off the set, furious at Saltzman's interference. Caine and Saltzman had to race down the bus Furie was on in order to get the director back on the set. After the movie wrapped, and it was to premiere at Cannes, Furie discovered that he was not invited to the festival's screening. It is no surprise, then, that despite The Ipcress File's success, Furie was not asked to come back for the sequel.
But for all its desire to be a 'down-to-Earth' thriller, Ipcress has plenty of low-key style that only enhances its cool. Palmer might not drive a sports car, but he makes one hell of an omelet. He doesn't bed a bevy of beautiful women, but he still has a romantic dalliance with Sue Lloyd. He might not drink Dom Perignon, but he knows the difference using chanterelles over button mushrooms makes in a dish. John Barry's jazzy score, which uses a harpsichord-like instrument called a cimbalom, evokes Anton Karas's score for The Third Man, another thriller where notions of good versus evil aren't so clear cut, and it's hard to tell who the real bad guys are.
Kino Lorber's blu-ray of The Ipcress File comes packaged with a nice bundle of special features. There's the commentary track by director Furie, who's joined by editor Peter Hunt. This is the same track found on Anchor Bay's (much) earlier DVD release. There is also an all-new commentary by film historians Troy Howarth and Daniel Kremer as well, which does a great job (as KL tracks often do) of contextualizing the film. Also included is a 20-minute interview with Michael Caine, and an interview with production designer Ken Adam. There's a brief excerpt from Trailers from Hell with Howard Rodman, 4 radio advertisements, and 2 theatrical trailers.