A Slightly Obsessed Halloween Special!
This Halloween month I have embarked on a journey of the imagination through the wilds of an Eastern European kingdom of ancient superstition, heedlessly entering "of my own free will" into a remote medieval castle rising up through the mists of the Carpathian Mountains…
Okay, actually I've just been watching a lot of Dracula movies. Subject of an estimated 217 film adaptations—everything from last year's origin story Dracula Untold (2014) to my personal candidate for most absurd title ever conceived, the low-budget Western/horror mash-up Billy the Kid vs. Dracula (1966)—the character has proved as eternal, immortal, and unstoppable for film-goers as the fiendish foreign foe faced by Dr. Van Helsing and his band of stalwart Victorian vampire-hunters in Bram Stoker's classic 1897 horror novel.
And it was my re-reading of the original Dracula that prompted me to seek out as many movie versions of the oft-told tale—and, by extension, versions of the undead Count—that I could find this haunted mid-Autumn season.
Indeed, why so many "Draculas"? What has so held countless generations of film audiences' fascination for nearly 100 years?
I don't know if I answered those questions for myself, much less for anyone else, but I did have fun in the attempt. Below are 12 versions of Dracula—some I had previously seen, some which were new to me—that, with 1 exception (explained at greater lengths in our next entry), re-tell, with varying degrees of fidelity, the original tale of the Old World vampire who travels to a New in search of "fresh blood."
1. Nosferatu: A Symphony of Horror
(1922, Germany, dir. F.W. Murnau)
Though whispers, rumors, and even film stills of previous, now-lost Draculas have passed through various tomes of forgotten film lore—one from the Soviet Union in 1920, another from Dracula's native Hungary in 1921—F.W. Murnau's first-surviving version remains the world's initial vision of dread at horror from beyond the grave! And oh, what a nightmare our first Dracula, re-named "Count Orlok" (Max Schreck), is: pointed-ears, rodent-sharp front teeth, with unnaturally long fingernails reaching talon-like beyond his hands. Suggesting everything from a bat to an insect to a crustacean in its physiognomy, physicality, and bodily movements—manipulated by master lighting cameraman Fritz Arno Wagner to "appear" at varying disconcerting film speeds, with the creature's looming shadow oozing up staircases and through walls—this version of Dracula is certainly the most dreadful.

2. Dracula
(1931, Universal, dir. Tod Browning)

Bram Stoker's widow Florence and her well-publicized copyright-infringement suit against Murnau's film—which resulted in Nosferatu being pulled from distribution and the company that produced it, Prana Film, disbanding—prevented any movie Dracula from being attempted in the interim, but a British stage version of the original novel adapted by Hamilton Deane in 1924 (later revised for Broadway in 1927 by John L. Balderston) had been personally approved by Florence Stoker, and Universal Studio's acquisition of the play in 1930 put the first official movie version of the novel into production as an early talking film. By legend at least, Tod Browning's friend and frequent collaborator Lon Chaney—the silent screen's "man of a thousand faces"—had been possibly slated or intended for the role, but had in any event died before production could begin, so the role fortuitously fell to the 48-year-old Hungarian émigré who had played the role so effectively on Broadway: Bela Lugosi. Essentially a stage performance adapted to the silver screen, Lugosi's old world manners, satin-lined cape, hypnotic and (so the actor claimed) "double-jointed" hand gestures, and—in then-startling close-ups—the actor's unrelenting, arch-eyed "gaze," have become what most people think of when they hear the word "Dracula."
3. Dracula
(1931, Universal, dir. George Melford)
As earliest sound films had not yet perfected post-synchronization audio technology (or "dubbing"), many studios produced simultaneous "foreign-language versions" of their biggest productions—shot on the same sets with the same costumes and using the same script, but filmed in a foreign language with different actors and crew—in order to distribute these films to a larger world audience. Universal's filming of Dracula in 1930 was one of these productions, and so after director Tod Browning, cameraman Karl Freund, and star Bela Lugosi shot their version during the daytime, director George Melford, cameraman George Robinson, and star Carlos Villarías moved onto the same sets—with a Spanish-speaking cast and crew—and shot their Spanish-language version at night. A healthy rivalry seems to have developed between the two concurrent productions and, viewed today, the Spanish-language Dracula actually seems a better film in terms of lighting, camera angles, pacing, and, indeed, imagination. What this otherwise sterling production lacks, however, is that certain crucial element that, for lack of a better term, we shall here call "Lugosi!" Though actor Villarías—with his bulging, unblinking eyes and creepy, rigor mortis-like grin—acquits himself quite well in the role, the sheer animal magnetism and unbeatable authenticity of the Hungarian-born Lugosi simply cannot be replaced. If only Lugosi could have appeared in this version instead!
4. Horror of Dracula
(1958, Hammer, dir. Terence Fisher)
British studio Hammer broke freshly-unconsecrates ground in the horror genre through their frightful, lustful, and "shocking" re-imagining of classic horror characters such as Frankenstein's Monster, The Mummy, The Phantom of the Opera, and, of course, Dracula. Originally titled Dracula (retitled for distribution in the US to avoid confusion with the 1931 Bela Lugosi version), director Terence Fisher's lean, handsome production—blood drips and breasts heave in startlingly lush Technicolor—and Jimmy Sangster's frank, literate script take several liberties with the Bram Stoker novel, going so far as to remove some of the supernatural elements of the original (this Dracula, for instance, cannot transform into a bat or other animal), but still manages to outdo all previous versions in terms of unmitigated TERROR! The late Christopher Lee, I need not exaggerate, effortlessly exudes cunning, forcefulness, and malign in the title role: whereas previous Draculas may have been nightmarishly dreadful or compellingly evil, this is the first screen Dracula that actually seems dangerous. Bursting through doors and windows, sweeping up and down staircases, Lee's vampire is frighteningly kinetic, supremely self-assured, and, as Peter Cushing's Van Helsing learns to his chagrin, is an unstoppable force of pure malevolence.
5. Count Dracula
(1970, Spain/Italy/West Germany, dir. Jess Franco)
Actor Christopher Lee made a total of 6 sequels to the original Hammer Dracula (including my personal favorite, with its trippy, psychedelic visuals and Swinging late-'60s drug-use allegory, 1969's Taste the Blood of Dracula) but in 1970 appeared again as the undead Count in a film outside the Hammer canon for Spanish director Jess Franco. This version attempts to be rigorously faithful to the Bram Stoker novel, restoring characters and plotlines that had been omitted in previous versions, but, alas, is hampered by a smaller budget and threadbare production values. (Those looking for the kinkier sexual elements exploited in other Jess Franco supernatural productions such as Vampyros Lesbos [1971] will also, I fear, be somewhat disappointed.) Besides the effective casting of Klaus Kinski as a (silent) Renfield (also unusual since the actor would later essay a screen Dracula himself—see tomorrow's entry), the main point of interest in this rather pedestrian production is comparing and contrasting Lee's effete Count Dracula here with his more forceful Hammer version: decidedly careworn and world-weary, this is one of the few movie Draculas which retains the novel's depiction of an older, middle-aged vampire who grows young and vigorous after feasting upon fresh blood!
6. Dracula
(1973, UK/US TV-Movie, dir. Dan Curtis)
Dark Shadows creator Dan Curtis teamed with horror scribe Richard Matheson (I Am Legend, Hell House) for one of the more faithful AND effective versions of the vampire tale. A handsome, classy production that nonetheless doesn't stint its audience's insatiable need—along with the title character's—for blood and gore, this is also the first Dracula that introduces an overtly tragic and romantic element to the vampire (both not in the original novel) and his immortal persistence through 5 centuries of violent Eastern European history. Pre-dating Francis Ford Coppola's later theatrical release of Dracula by almost 20 years—indeed, the original title of Curtis and Matheson's television production had itself been Bram Stoker's Dracula—our ancient, 500+-year-old Hungarian aristocrat, played by the physically and emotionally imposing Jack Palance, is explicitly linked with the historical "Vlad III, Prince of Wallachia" (from whom Bram Stoker derived the name "Dracula") who tragically loses his beloved Hungarian princess, whom he finds reincarnated in the modern world and travels to England to "re-claim." Palance's Dracula, with his wounded animal-like ferocity and single-minded obsessiveness, gains a sympathy and human-like understanding, according to Curtis and Matheson's re-interpretation, that adds a compelling dimension to Dracula's character and motives.
7. Count Dracula
(1977, BBC, dir. Philip Saville)
Alongside BBC Television's peerless adaptations of such classic literary works as Anthony Trollope's The Pallisers (1974) and Jane Austen's Pride and Prejudice (1967, 1980, 1995) appeared this 150-minute "transmission" (so much classier than "broadcast"!) on 22 December 1977 of Count Dracula, starring former Hollywood matinee idol and French actor Louis Jourdan as the theatrically suave, sophisticated, though dangerously evil, undead Old World aristocrat. Frequently singled out as the most faithful version conceivable of the original novel, what this television drama gets "right" above all else is, indeed, its adherence to the textual representation of the central character. As such, an old Hollywood star in the "heartthrob" vein, an extravagant bon vivant who can mesmerize his "prey" with a dramatic gesture or with a theatrical inflection of his voice, comes off extremely effectively in the casting of the suitably romantic Jourdan; recalling, perhaps, how Bram Stoker modeled the character and temperament of his vampire anti-hero on that of his friend and employer Sir Henry Irving, who had also been known for his portrayals of charismatic, romantic figures.
8. Dracula
(1979, Universal, dir. John Badham)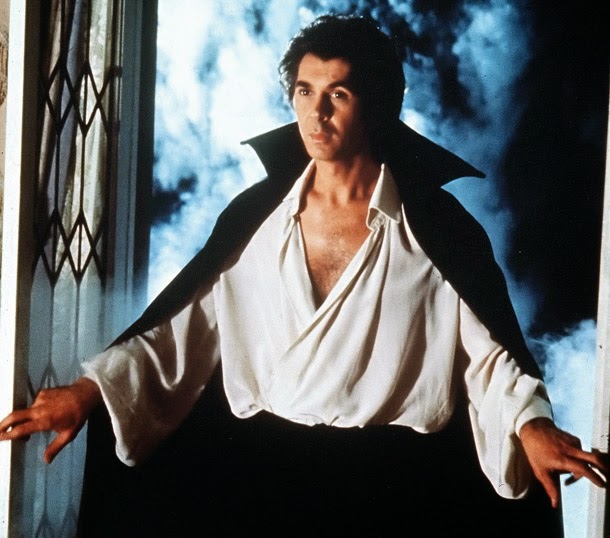 Universal Studio's official "remake" of the 1931 Bela Lugosi Dracula stars Frank Langella, repeating his sexually-charged 1977 Broadway triumph, in a version ostensibly based on the 1920's Hamilton Deane/John L. Balderston play-adaptation of the novel, but which actually goes quite far afield of the play, novel, and original Universal film. Stressing the "romantic" elements of both the character and plot, this Count Dracula is younger-looking (and, of course, sexier) than any incarnation of the King of Vampires (which the script explicitly refers to him as) appearing heretofore. Like any film of the period boasting a rousing John Williams score and fluid camerawork by Gilbert Taylor (who had also previously shot The Omen [1976] and Star Wars[1977]), the film is compulsively watchable, if a trifle, shall we say, "bombastic." (Whispered rumors of a silver-monochromatic director/cinematographer's cut, originally intended to visually-reproduce the Tony Award-winning black-and-white sets designed by illustrator Edward Gorey, would undoubtedly provide an entirely different, and possibly more effective, tone and "mood" for the film.) Though Dracula-purists may object to many of the liberties taken—including setting the film well into the Edwardian, as opposed to the Victorian, period and entirely cutting the iconic sequence where Jonathan Harker arrives at Castle Dracula—this Dracula is a notable effort and enjoyable on its own terms.
9. Nosferatu the Vampyre
(1979, West Germany, dir. Werner Herzog)
1979 was, one supposes, "the year of Dracula" as no less than three versions of the Bram Stoker character appeared that year—including the previously surveyed, Frank Langella-starring vehicle and a modern day-set parody, Love at First Bite, starring George Hamilton. No one, however, expected this version. Directed by Werner Herzog and starring Klaus Kinski in a remake of the un-remakable, if such can possibly be a word, New German Cinema's clinically-insane director and star-team scaled ambition that bears comparison to their previous effort at shooting a film on the Amazon, 1972's Aguirre, the Wrath of God, and later effort to center a film around dragging an entire ship up the side of a mountain, 1982's Fitzcarraldo. Meticulously recreating the tone, atmosphere, and design of F.W. Murnau's 1922 seminal Expressionist masterpiece, Nosferatu, and then adding something a bit "extra," this screen Dracula is every bit as profound and poetic as its artistic forbear. An act of cinematic resurrection worthy of the character, perhaps, this sound and color version of the silent classic seamlessly revives the ghost of movies' past—bridging 57 years of both German history and cinema that had seen, in its interim, the bloodiest and most barbaric regime in human history rise and fall, with Germany and its cinema "re-born" from its ashes—in actor Kinski's deathly pale, inhumanly-feral "creature of the night" that somehow seems more human in its desires and touchingly poetic in its bearing than the zombie-like human characters it appears as a "pestilence" among!
10. Bram Stoker's Dracula
(1992, American Zoetrope, dir. Francis Ford Coppola)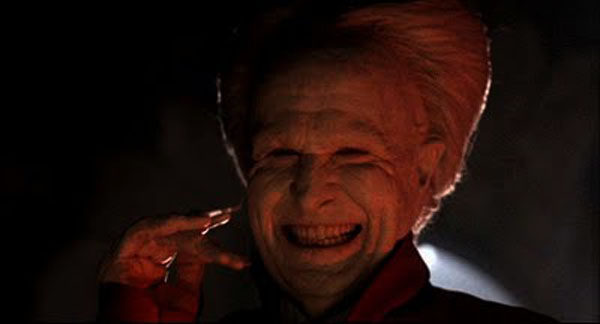 Firing on all cinematic cylinders, Godfather (1972) and Apocalpyse Now! (1979) director Francis Ford Coppola turned his ambition-fueled attentions to the classic vampire tale, infusing the by now well-worn horror property with the feverish intensity and colorful exoticism that lies at the heart of the tale of a foreign, supernatural count who travels across an ocean to wreak havoc on staid Victorian England. Shot entirely on sound stages and with all effects, both special and otherwise, performed "in-camera," this Dracula is a veritable feast for the senses, announcing its fidelity to the source material by its very title but, more importantly, representing the "spirit" of both the novel and historical period by directly addressing, in simultaneously erotic and blasphemous terms, the two thematic aspects originally wrought by author Bram Stoker into pure horror: religion and sex. Following the Dan Curtis/Richard Matheson 1973 TV-Movie adaptation, this Dracula also explicitly links Count Dracula with his 14th century namesake, "Vlad the Impaler," and likewise "humanizes" the supernatural creature's motivations (and self-damnation) through a search across centuries for his great love—both of these elements are added to the original novel in order to impart a greater depth to the character. Gary Oldman's truly otherworldly performance as an almost elemental force of anti-nature, while also enacting the role of a tragic anti-hero, remains, in this Dracula-devotee's humble opinion, the most original and affecting interpretation of the character.
11. Dracula: Dead and Loving It
(1995, Brooksfilms/Castle Rock Entertainment, dir. Mel Brooks)
From The Producers (1967) and The Twelve Chairs (1970) to Spaceballs (1987) and Robin Hood: Men in Tights (1993) I think I could pretty safely be characterized as an unwavering adherent to all things Brooks. (I have even been known to uphold my admiration of his crude-beyond-description parody of spectacle epics, History of the World, Part I [1981], and his truly tasteless satire, Life Stinks [1991], against all sound arguments of quality, good sense, and critical reason.) His mid-70s one-two parodying-punch of both the Western and classic horror movie—Blazing Saddles (1974) and Young Frankenstein (ibid.)—are, for me, pretty much the final word on either genre and, as an embarrassingly giddy effusion gushing forth last year from my click-clacking keyboard made clear, I do consider the latter film to be the funniest movie ever made. And it is my reverence for that superlative send-up of the Universal Frankenstein series that has in fact prevented me from yet viewing Brooks' tickling take on screen Draculas… until now, that is. Yes, Dracula: Dead and Loving It pales in comparison to the towering standard set by Young Frankenstein, but I am happy to report that this Dracula does have a lot to recommend for itself. Among much else, most notably actor Peter MacNicol's delightfully macabre impersonation of Dwight Frye's iconic madman "Renfield," this parody distinguishes itself through its surprisingly faithful script that actually takes its source material—the Bram Stoker novel and its infinitely-replicated screen versions—a good deal more "seriously" than many (many) more apparently "legitimate" adaptations. Leslie Nielsen's klutzy, clueless blood-sucker is essentially Lt. Frank Drebin with a cape, sharpened incisors, and a bad Hungarian accent, but the late, deadpan "King of Parodies" is matched scene-for-scene by director Mel Brooks' uproariously "stalwart" performance as Van Dyke-bearded vampire-hunter, "Van Helsing." (Stick around past the final credits to find out who, in fact, has the "final word": "Vovooshka!")
12. Dracula – Pages from a Virgin's Diary
(2002, Canada, dir. Guy Maddin)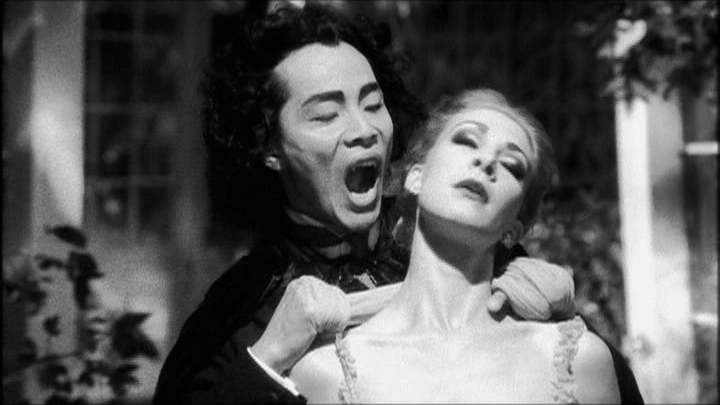 If unfamiliar with the name or works of Canadian filmmaker Guy Maddin—Winnipeg's own "Mad Poet of Manitoba"—I'd humbly suggest that anyone interested in silent cinema, delirious melodrama, and a film aesthetic that defies rational description familiarize themselves instanter. In the early aughts, following his indescribable peep-show art museum installation-turned theatrical release Cowards Bend the Knee (released in 2003), the Royal Winnipeg Ballet approached Maddin about adapting their ballet of Dracula as a TV-movie and the result was a 75-minute black-and-white silent dance film that, counter-intuitively, somehow manages to be the most faithful version of Bram Stoker's novel yet attempted. Starring Chinese-Canadian ballet master Zhang Wei-Qiang as Count Dracula, many of the themes and situations Maddin depicts, through the abstraction of elaborately-choreographed dance sequences, may seem "surreal liberties," but a close reading of the 1897 Dracula reveals that, say, Van Helsing explicitly referring to Dracula's "immigrant child-brain," or Quincey Morris tearing a gash across Dracula's shirt with his bowie knife, from which pours a "golden flood" of coins, or Mina Harker's seemingly irrational cries of "Impure! Impure!" upon the realization that her blood has mingled with the foreign-born monster are, in fact, taken directly from the original text. 19th Century Europe, and Victorian England in particular, was one hell of a strange place, and its obsessive preoccupations with, in succession, "foreign" contagion, wealth and status, and unbridled sexuality—exploited to their horrifying utmost in Bram Stoker's masterful "shilling shocker"—find its fullest expression in Guy Maddin's evocative shadow play of the past.
****
Yes, I did SO want to round out our discussion of movie Draculas with a suitably unlucky thirteenth "face."
Fortunately, though, rules are made to be broken; especially when dealing with the undead and especially when dealing with the KING of the undead, whose shadowy influence reaches wide!
So for our final entry, fellow Dracula fiends, I fear we shall have to break ever-so-slightly with our premise and include for our thirteenth "face" a film that is neither based on the original 1897 Bram Stoker Dracula, nor that includes a direct representation of a vampire named "Dracula," but which nonetheless, I shall argue, is firmly in the tradition of screen Draculas.
13. What We Do In The Shadows
(2015, New Zealand/US, dir. Taika Waititi & Jemaine Clement)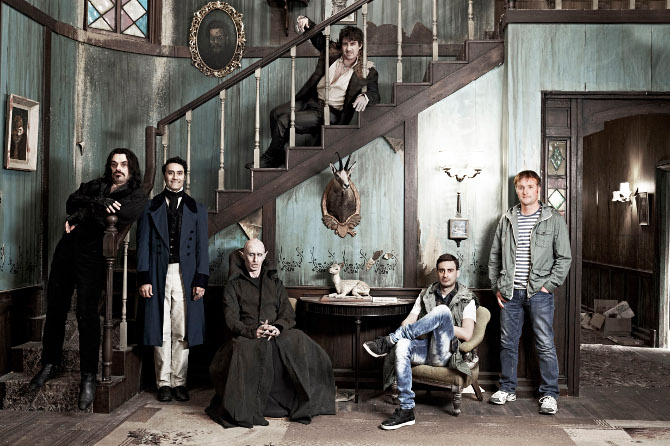 Possibly my most enjoyable film-going experience in 15 years, co-directors Taika Waititi and Jemaine Clement (TV's Flight of the Conchords) serve up ghastly grins and gruesome guffaws in their tale of four ancient vampires sharing a flat in modern-day Wellington, New Zealand. A free-ranging "mockumentary" in the This is Spinal Tap-vein, the film hilariously depicts the querulous quartet's passive-aggressive inabilities to adjust to the modern world, or even set up a simple schedule for distributing household chores (the literally "bloody" dishes, for instance, have sat untouched in the sink for at least a decade), as we, the audience, learn that the true price of immortality may very well be everyday gripes and the painfully quotidian. Denizens of this unhappy, supernatural household include human bat-like "Petyr" (Ben Fransham), an 8,000-year-old former cave vampire who mostly confines himself to a stone sarcophagus in the basement; medieval-era torturer "Vladislav" (Jemaine Clement), who has carried on a millennium-long battle with a fearsome rival known only as "The Beast;" Enlightenment-era dandy (and all-around nice guy) "Viago" (Taika Waititi), who daintily tucks on a bib when he (very apologetically) opens a bursting jugular vein on one of his hapless victims; and, finally, the "young, hip cool guy" of the group, the crude 19th century peasant "Deacon" (Jonathan Brugh), who once had the incredible misfortune of being both a vampire AND a Nazi. Petyr's (accidental) blood-transfused initiation of a fifth member to Vampire House-Kiwi, the brain-dead frat-boy "Nick" (Cori Gonzalez-Macauer), and Nick's incredibly passive, good-natured buddy, the computer programmer "Stu"(Stu Rutherford), effect the vampire band's reluctant entrance into the early 21st century—in one of my favorite bits from the film, Deacon mournfully watches a sunrise on YouTube—and a tragedy involving a latter-day vampire hunter and a delirious vampire masquerade later, even manage to come to a truce (of sorts) with the local Werewolf pack (headed by Rhys Darby as the not-so-fearsome Alpha, "Anton"). All I can say is, if you have not already, SEE IT! As a previously alluded-to devotee of all things comedy, vampires, and horror, the film finds a perfect, unstinting balance between laughs and gore, and, as for why I included it on this list, its meta-variation on and clever awareness of nearly every depiction of screen vampires since 1922's Nosferatu through the modern-day Twilight films plays like a PhD candidate's dissertation on "multiple images of the vampire in pop culture history."