Weirdly Brusque Preminger Drama Leaves Question Marks
DIRECTED BY OTTO PREMINGER/1947
STREET DATE: NOVEMBER 15, 2016/KINO LORBER STUDIO CLASSICS
Otto Preminger was never one to shy away from strange tales of sexual obsession, especially in late career movies like Anatomy of a Murder, The Moon is Blue and Bunny Lake is Missing, when movie censors had loosened their grips on studios. In 1944's Laura, he famously cast Dana Andrews as a taciturn police detective who falls in love with the woman whose murder he's investigating, solely from the lush portrait of her that looms over her living quarters. That film became a solid noir classic, and his 1947 movie Daisy Kenyon, recently released on Blu-Ray by Kino Lorber, shares its dour worldview. But is this a noir film? It certainly feels like one, though it features no hint of criminal hijinks. It's basically a movie about three Manhattan masochists trying to work out their self-flagellation schedules. 
Crawford's Daisy feels soured and unlovable, so much so that the film's central mystery seems to center around why anyone would fall for this woman whose independence is, frankly, kind of refreshing for a film from this period
Joan Crawford, who feels a bit too old for this role by this point (she was 42 at the time, though, to be fair, so was Fonda), plays a New York advertising artist who's sick of waiting around for boorish Dana Andrews, a shitheel bigwig lawyer who's promised he's going to divorce his shrill wife (Ruth Warrick) and marry her. She loves this cad, for some reason, but she's had it with hanging out by the phone, waiting for his calls in the shadowy Greenwich Village apartment she shares with roommate Martha Stewart and a dog that disappears midway through the film. So her eyes drift to damaged war veteran and widower Henry Fonda, who strangely crows his undying desire for her after their first date. Crawford, as usual for this always unsettling actress, is stern and unmoved; she's realistic about her feelings for him, which are gentle at best. But she considers his offer of marriage seriously, sensing that he is a good man underneath all his tortured talk. By the time Crawford and Fonda are escaping to a wintery lakeside shack, where this formal naval officer is refurbishing a boat, Andrews is finally getting up the nerve to cut his wife loose.
It took a while to get used to the film's odd flavor. It's not easy to like any of its characters. Crawford's Daisy feels soured and unlovable, so much so that the film's central mystery seems to center around why anyone would fall for this woman whose independence is, frankly, kind of refreshing for a film from this period. This feels like the kind of role that Crawford was begging studios to cast her in after her 1945 Best Actress Oscar win for Mildred Pierce, even though the story clearly calls for a softer, younger actress (cinematographer Leon Shamroy keenly employs strong keylights on Crawford's face to obscure her age). I'll admit, though, it's certainly arguable that a younger woman in the role (Jennifer Jones was originally cast in it) would have seemed an unlikely match for the two male stars (both of whom weren't excited by playing second and third bananas to Crawford). Meanwhile, Dana Andrews is an entitled ass of the first order who thinks nothing of barging into Crawford's apartment unannounced, calling her "baby" and treating her like a stale, low-class bon bon he's waited too long to gobble down. And Henry Fonda works against his shambling nice guy routine at times, ominously spying on Daisy from the deserted streets outside her place and just generally giving off creepy vibes ("The world's dead and everybody in it is dead but you," he tells her in his best stab at pitching woo).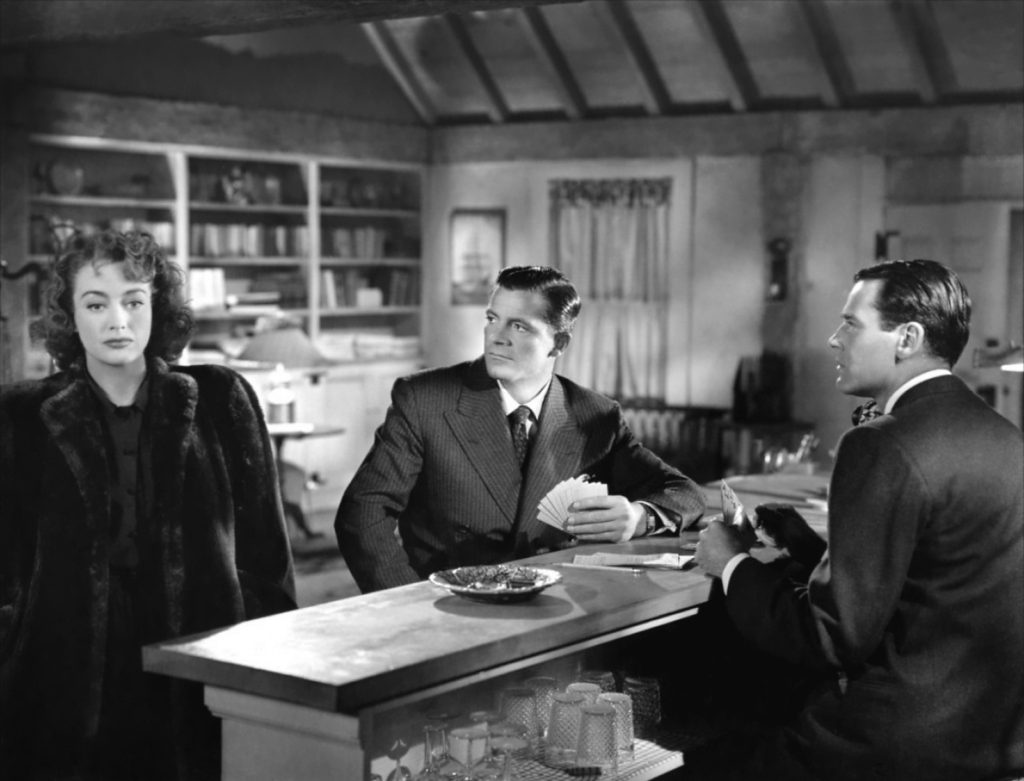 Yet, undeniably, by the film's second act, we're curious how this is all going to play out. How is Andrews' frazzled high society wife going to handle this affair we know she's going to discover (we find out she thinks nothing of slapping their children, the oldest one played by A Tree Grows in Brooklyn star Peggy Ann Garner). In the film's most startling scene, Andrews openly fantasizes about killing his wife, right to her face, and with their youngest daughter (Connie Marshall) hovering low in the frame, wide-eyed and terrified. In another, Andrews stops short of raping Crawford. Is anyone in the film going to realize what a villain he is? (He seems to be admired by all but Fonda, who certainly has his number.) We're curious, too, whether Crawford and Fonda's romance is ever going to find sure footing, even if the stars look fine peering through windows at the rain outside, ponderous over whether or not their love is authentic. Before we know it, the three stars are facing each other over cocktails like spoiled adults gearing up for a romantic joust that really has no winners. 
And so, with Shamroy's eerie photography, David Raskin's terrific score (though not as memorable as the one he contributed to Laura), and distinguished art direction from George Davis and Lyle Wheeler, we find ourselves pulled into Preminger's film despite feeling somewhat unmoored by its lonesome, melodramatic air. Daisy Kenyon is a weirdly brusque movie that leaves us with big question marks over our heads, but it's an important sidestep in the career of its idiosyncratic director, and for that reason primarily, it's mildly essential viewing.
The images in this review are not representative of the actual Blu-ray's image quality, and are included only to represent the film itself.