Just What Do Our Individual Lists Combine to Reveal?
Had enough Best of 2013 lists yet? Good, we didn't think so!
In finale to ZekeFilm's big year-end multi-critic Best of 2013 list deluge, I've surveyed the results site-wide, and tallied the results to determine which movies were the collective favorites of this site's participating writers. The process was pretty straight-forward: Not possessing any real statistics-mashing talent, nor even computer spreadsheet talent (hey, I'm a film critic, not a bookie!), I jotted each title that appeared on the individual top ten lists of the seven precincts reporting (in order: Sharon Autenrieth, Victor Labrada, Rob Gabe, Erik Yates, Jim Tudor, Paul Hibbard, and Dave Henry), then weighing each list equally, I inverted the one thru ten rankings to assign point values to each film based on it's placement(s). Meaning, if someone placed Saving Mr. Banks at #10 (and no one did), that would be worth one point for that title. Similarly, a #9 placement would net it two points, a #8 three points, a #7 four points, and so on. A #1 placement is worth ten points. The films' final point tallies are displayed in parenthesis next to the title.
If you haven't yet perused our individual year-end lists, I encourage you to take a few minutes and do so.  When taken together, these picks may say as much about our separate priorities, values, and preferences in cinema as they do about the movies themselves.  Who knows, maybe one or more of these groupings will catch your eye, and you'll find a new film critic to relate to and regularly follow.  After all, a recommendation is one thing, but a trusted recommendation is something else entirely.
But I digress…  Without further ado, here are the site-wide ZekeFilm.org results…
1. 12 Years a Slave  (38)
Although only placing a single number one ranking (with Erik Yates), Steve McQueen's harrowing slavery masterpiece placed on four of our seven individual lists, including two near-misses at #1 with myself and Paul Hibbard. Not everyone's convinced about the longterm significance of this film, but I certainly think ZekeFilm, having arrived at this consensus, has nothing to be embarrassed about.
2. Gravity  (32)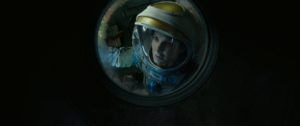 Perhaps more statistically impressive than 12 Years landing the collective #1 with only one individual #1 finish is Alfonso Cuarón's weightless high-end potboiler drifitng into the number two position with no individual #1 wins. It did snag a small space capsule's worth of #2 finishes (Dave, Victor), and placed at least somewhere on most our other lists.
3. Her  (28)
Perhaps the single most impressive finish is Spike Jonze's dramatic sci-fi romance, Her. With only four of us having even seen the film, it hit number one on two lists (again Paul Hibbard and myself), and #3 on Sharon's. That means Her has the highest ranking with fewest votes. Had Erik, Victor and Rob had a chance to see this amazing film before our deadline, this would likely be a very different finale.
4. Frances Ha  (20)
This Noah Baumbach/Greta Gerwig collaboration dances into the number four position in a surprise upset! Again, no #1 votes fuel this placement, but having made impressive showings all over ZekeFilm's Best Films of 2013, it's nonetheless great to see this little movie that could make the grade at the end of the day.
5. (tie)The Act of Killing
Philomena  (18 each)
On the strength of two lists, including Dave's surprise #1 nod, the uniquely heroic documentary The Act of Killing managed to amass eighteen points to tie it with the more widely recognized/thinly spread Philomena.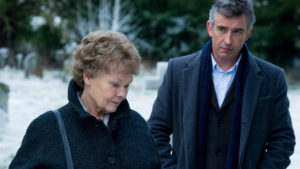 6. (tie) Before Midnight
Blue Jasmine  (17 each)
Victor Labrada's #1 pick of Woody Allen's Blue Jasmine went most of the way to racking up it's 17 points, tying it with Richard Linklater's trilogy-capping Before Midnight – a deep favorite of both Paul Hibbard and Erik Yates.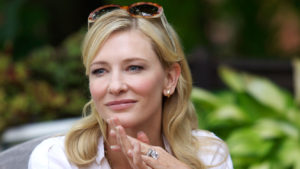 7. (tie) Wadjda
The World's End  (15 each)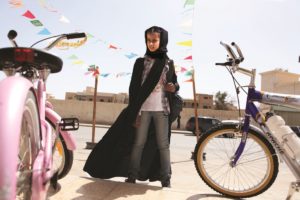 Victor and I can claim credit for the revolutionary Saudi Arabian child's tale peddling this far with us, while several of us opted to single out the latest Edgar Wright/Simon Pegg/Nick Frost geek-out comedy.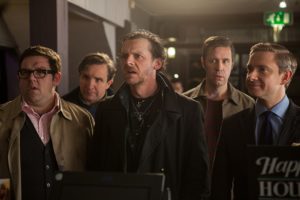 8. (tie) American Hustle
What Maisie Knew  (13 each)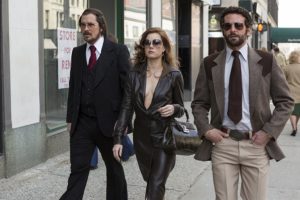 Sharon's top spot awarding of the broken home drama What Maisie Knew gave the contemporary Henry James adaptation most of its points to place as our collective number eight, tying with David O. Russell's sublime American Hustle.
9. The Way Way Back  (11)
This coming of age comedy with unforgettable turns by Sam Rockwell and Steve Carrell ticked a good number of us, earning it this collective top ten spot.
10. The Place Beyond the Pines  (10)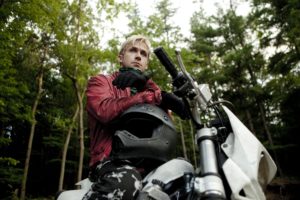 Although no one else opted to single out Derek Cianfrance's triptych of cyclical sins, Rob Gabe picked it as his #1 of the year – enough to bring it in as number ten here.
The rest:
11. (tie) Maniac
Pacific Rim  (8 each)
12. (tie) Blood Brother
Prisoners
Spring Breakers  (7 each)
13. (tie) About Time
Don Jon
Enough Said
Fruitvale Station
The Hunger Games: Catching Fire
Mud
Muscle Shoals  (6 each)
14. (tie) All is Lost
Lords of Salem
Short Term 12
Warm Bodies  (5 each)
15. (tie) Out of the Furnace
The Spectacular Now  (4 each)
16. (tie) The Conjuring
Much Ado About Nothing
Rush  (2 each)
17. (tie) In a World
The Silence
Thor: The Dark World
The Wolf of Wall Street  (1 each)
And… FADE OUT, 2013!  A big thanks to our trusty stable of deticated contributors who work hard to keep the site timely, topical and always engaging.  We could not do it without them, or without you, dear reader!  I'll take this opportunity to say THANK YOU for checking us out, and continuing to come back!  Just a reminder, this site, ZekeFilm.org, features fresh content most days, so you can always find new things to read and consider.  And if you like to talk movies with like-minded Facebook users, be sure to join our always active ZekeFilm Discussion Group!
Hope this amassing of movie is helpful, and that you've enjoyed our year-end favorites sharing. Please continue to enjoy and share ZekeFilm with your movie-loving friends in 2014!